Abstract
By exploiting the spin degree of freedom of carriers inside electronic devices, spintronics has a huge potential for quantum computation and dissipationless interconnects1. Pure spin currents in spintronic devices should be driven by a spin voltage generator, able to drive the spin distribution out of equilibrium without inducing charge currents. Ideally, such a generator should operate at room temperature, be highly integrable with existing semiconductor technology, and not interfere with other spintronic building blocks that make use of ferromagnetic materials. Here we demonstrate a device that matches these requirements by realizing the spintronic equivalent of a photovoltaic generator. Whereas a photovoltaic generator spatially separates photoexcited electrons and holes, our device exploits circularly polarized light to produce two spatially well-defined electron populations with opposite in-plane spin projections. This is achieved by modulating the phase and amplitude of the light wavefronts entering a semiconductor (germanium) with a patterned metal overlayer (platinum). The resulting light diffraction pattern features a spatially modulated chirality inside the semiconductor, which locally excites spin-polarized electrons thanks to electric dipole selection rules2.
Relevant articles
Open Access articles citing this article.
Haozhe Yang

,

Eva Schmoranzerová

…

Ioan-Mihai Miron

Nature Communications Open Access 10 November 2022

Clara I. Osorio

,

Abbas Mohtashami

&

A. Femius Koenderink

Scientific Reports Open Access 30 April 2015
Access options
Subscribe to Journal
Get full journal access for 1 year
$119.00
only $9.92 per issue
All prices are NET prices.
VAT will be added later in the checkout.
Tax calculation will be finalised during checkout.
Buy article
Get time limited or full article access on ReadCube.
$32.00
All prices are NET prices.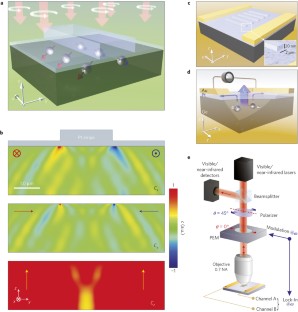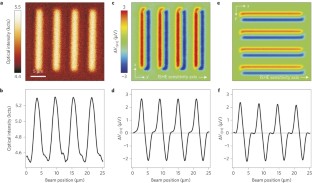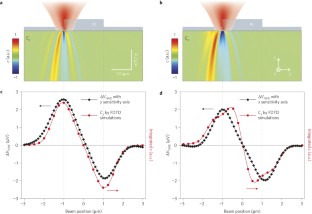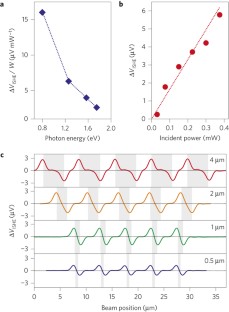 References
Zutić, I., Fabian, J. & Das Sarma, S. Spintronics: Fundamentals and applications. Rev. Mod. Phys. 76, 323–410 (2004).

Meier, F. & Zakharchenya, B. P. Optical Orientation: Modern Problems in Condensed Matter Sciences Vol. 8 (Elsevier Science, 1984).

Jansen, R. Spintronics: Solar spin devices see the light. Nature Mater. 12, 779–780 (2013).

Endres, B. et al. Demonstration of the spin solar cell and spin photodiode effect. Nature Commun. 4, 2068 (2013).

Kondo, T., Hayafuji, J-J. & Munekata, H. Investigation of spin voltaic effect in a p–n heterojunction. Jpn. J. Appl. Phys. 45, L663 (2006).

Zutić, I., Fabian, J. & Das Sarma, S. Spin-polarized transport in inhomogeneous magnetic semiconductors: Theory of magnetic/nonmagnetic p–n junctions. Phys. Rev. Lett. 88, 066603 (2002).

Zutić, I., Fabian, J. & Das Sarma, S. Spin injection through the depletion layer: A theory of spin-polarized p–n junctions and solar cells. Phys. Rev. B 64, 121201(R) (2001).

Guite, C. & Venkataraman, V. Temperature dependence of spin lifetime of conduction electrons in bulk germanium. Appl. Phys. Lett. 101, 252404 (2012).

Pezzoli, F. et al. Optical spin injection and spin lifetime in Ge heterostructures. Phys. Rev. Lett. 108, 156603 (2012).

Hochberg, M. & Baehr-Jones, T. Towards fabless silicon photonics. Nature Photon. 4, 492–494 (2010).

Süess, M. J. et al. Analysis of enhanced light emission from highly strained germanium microbridges. Nature Photon. 7, 466–472 (2013).

Allenspach, R., Meier, F. & Pescia, D. Experimental symmetry analysis of electronic states by spin-dependent photoemission. Phys. Rev. Lett. 51, 2148–2150 (1983).

Ferrari, A., Bottegoni, F., Isella, G., Cecchi, S. & Ciccacci, F. Epitaxial Si1−xGex alloys studied by spin-polarized photoemission. Phys. Rev. B 88, 115209 (2013).

Lampel, G. Nuclear dynamic polarization by optical electronic saturation and optical pumping in semiconductors. Phys. Rev. Lett. 20, 491–493 (1968).

Loren, E. J. et al. Hole spin relaxation and intervalley electron scattering in germanium. Phys. Rev. B 84, 214307 (2011).

Sinova, J. & Zutić, I. New moves of the spintronics tango. Nature Mater. 11, 368–371 (2012).

Jungwirth, T., Wunderlich, J. & Olejník, K. Spin Hall effect devices. Nature Mater. 11, 382–390 (2012).

McMaster, W. H. Matrix representation of polarization. Rev. Mod. Phys. 33, 8–27 (1961).

Bottegoni, F. et al. Photoinduced inverse spin Hall effect in Pt/Ge(001) at room temperature. Appl. Phys. Lett. 102, 152411 (2013).

Saitoh, E., Ueda, M., Miyajima, H. & Tatara, G. Conversion of spin current into charge current at room temperature: Inverse spin-Hall effect. Appl. Phys. Lett. 88, 182509 (2006).

Valenzuela, S. O. & Tinkham, M. Direct electronic measurement of the spin Hall effect. Nature 442, 176–179 (2006).

Rioux, J. & Sipe, J. E. Optical injection and control in germanium: Thirty-band k ⋅ p theory. Phys. Rev. B 81, 155215 (2010).

Slachter, A., Bakker, F. L., Adam, J-P. & van Wees, B. J. Thermally driven spin injection from a ferromagnet into a non-magnetic metal. Nature Phys. 6, 879–882 (2010).

Le Breton, J-C. et al. Thermal spin current from a ferromagnet to silicon by Seebeck spin tunnelling. Nature 475, 82–85 (2011).

Palik D. (ed.) Handbook of Optical Constants of Solids III (Academic, 1998).

Adachi, S. Model dielectric constants of Si and Ge. Phys. Rev. B 38, 12966–12976 (1988).
Acknowledgements
The authors would like to thank L. Duò for fruitful discussions. The CARIPLO foundation is acknowledged for partially funding this work through the NANOGAP (2010-0632) project. The research leading to these results has received funding from the European Union's Seventh Framework Programme under grant agreement No 613055.
Ethics declarations
Competing interests
The authors declare no competing financial interests.
Supplementary information
About this article
Cite this article
Bottegoni, F., Celebrano, M., Bollani, M. et al. Spin voltage generation through optical excitation of complementary spin populations. Nature Mater 13, 790–795 (2014). https://doi.org/10.1038/nmat4015
Received:

Accepted:

Published:

Issue Date:

DOI: https://doi.org/10.1038/nmat4015
This article is cited by
Haozhe Yang
Eva Schmoranzerová
Ioan-Mihai Miron

Nature Communications (2022)

Clara I. Osorio
Abbas Mohtashami
A. Femius Koenderink

Scientific Reports (2015)