Abstract
Understanding nanoscale friction and dissipation is central to nanotechnology1,2,3,4. The recent detection of the electronic-friction drop caused by the onset of superconductivity in Nb (ref. 5) by means of an ultrasensitive non-contact pendulum atomic force microscope (AFM) raised hopes that a wider variety of mechanical-dissipation mechanisms become accessible. Here, we report a multiplet of AFM dissipation peaks arising a few nanometres above the surface of NbSe2—a layered compound exhibiting an incommensurate charge-density wave (CDW). Each peak appears at a well-defined tip–surface interaction force of the order of a nanonewton, and persists up to 70 K, where the short-range order of CDWs is known to disappear. Comparison of the measurements with a theoretical model suggests that the peaks are associated with local, tip-induced 2π phase slips of the CDW, and that dissipation maxima arise from hysteretic behaviour of the CDW phase as the tip oscillates at specific distances where sharp local slips occur.
Access options
Subscribe to Journal
Get full journal access for 1 year
$99.00
only $8.25 per issue
All prices are NET prices.
VAT will be added later in the checkout.
Tax calculation will be finalised during checkout.
Rent or Buy article
Get time limited or full article access on ReadCube.
from$8.99
All prices are NET prices.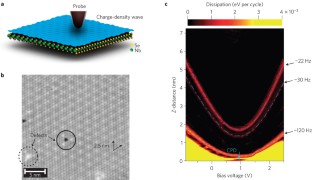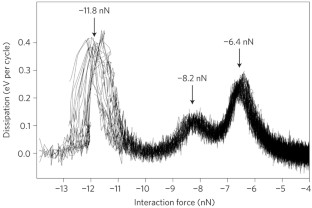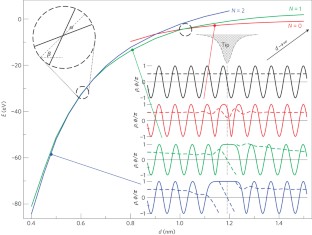 References
1

Urbakh, M. & Meyer, E. Nanotribology: The renaissance of friction. Nature Mater. 9, 8–10 (2010).

2

Lantz, M. A., Wiesmann, D. & Gotsmann, B. Dynamic superlubricity and the elimination of wear on the nanoscale. Nature Nanotech. 4, 586–591 (2009).

3

Socoliuc, A. et al. Atomic-scale control of friction by actuation of nanometer-sized contacts. Science 313, 207–210 (2006).

4

Vanossi, A., Manini, N., Urbakh, M., Zapperi, S. & Tosatti, E. Modeling friction: From nanoscale to mesoscale. Rev. Mod. Phys. 85, 529–552 (2013).

5

Kisiel, M. et al. Suppression of electronic friction on Nb films in the superconducting state. Nature Mater. 10, 119–122 (2011).

6

Volokitin, A. I., Persson, B. N. J. & Ueba, H. Giant enhancement of noncontact friction between closely spaced bodies by dielectric films and two-dimensional systems. J. Exp. Theor. Phys. 104, 96–110 (2007).

7

Stipe, B. C., Mamin, H. J., Stowe, T. D., Kenny, T. W. & Rugar, D. Noncontact friction and force fluctuations between closely spaced bodies. Phys. Rev. Lett. 87, 096801 (2001).

8

Kuehn, S., Loring, R. F. & Marohn, J. A. Dielectric fluctuations and the origins of noncontact friction. Phys. Rev. Lett. 96, 156103 (2006).

9

Wilson, J. A., Di Salvo, F. J. & Mahajan, S. Charge-density waves and superlattices in the metallic layered transition metal dichalcogenides. Adv. Phys. 24, 117–201 (1975).

10

Moncton, D. E., Axe, J. D. & DiSalvo, F. J. Study of superlattice formation in 2H-NbSe2 and 2H-TaSe2 by neutron scattering. Phys. Rev. Lett. 34, 734–737 (1975).

11

Inosov, D. S. et al. Fermi surface nesting in several transition metal dichalcogenides. New J. Phys. 10, 125027 (2008).

12

Shen, D. W. et al. Primary role of the barely occupied states in the charge density wave formation of NbSe2 . Phys. Rev. Lett. 101, 226406 (2008).

13

Borisenko, S. V. et al. Two energy gaps and Fermi-surface arcs in NbSe2 . Phys. Rev. Lett. 102, 166402 (2009).

14

Weber, F. et al. Extended phonon collapse and the origin of the charge-density wave in 2H- NbSe2 . Phys. Rev. Lett. 107, 107403 (2011).

15

Chockalingam, S. P. et al. Visualizing the charge density wave transition in 2H-NbSe2 in real space. Preprint at http://arxiv.org/abs/1307.2282 [cond-mat.str-el] (2013).

16

Guillamón, I. et al. Superconducting density of states and vortex cores of 2H- NbS2 . Phys. Rev. Lett. 101, 166407 (2008).

17

Soumyanarayanan, A. et al. Quantum phase transition from triangular to stripe charge order in NbSe2 . Proc. Natl Acad. Sci. USA 110, 1623–1627 (2013).

18

Cleveland, J. P., Anczykowski, B., Schmid, A. E. & Elings, V. B. Energy dissipation in tapping-mode atomic force microscopy. Appl. Phys. Lett. 72, 2613–2615 (1998).

19

Sader, J. E. & Jarvis, S. P. Accurate formulas for interaction force and energy in frequency modulation force spectroscopy. Appl. Phys. Lett. 84, 1801–1803 (2004).

20

Saitoh, K., Hayashi, K., Shibayama, Y. & Shirahama, K. Gigantic maximum of nanoscale noncontact friction. Phys. Rev. Lett. 105, 236103 (2010).

21

Fukuyama, H. & Lee, P. A. Dynamics of the charge-density wave. I. Impurity pinning in a single chain. Phys. Rev. B 17, 535–541 (1978).

22

Lee, P. A. & Rice, T. M. Electric field depinning of charge density waves. Phys. Rev. B 19, 3970–3980 (1979).

23

Tucker, J. R. Impurity pinning of sliding charge-density waves. Phys. Rev. B 40, 5447–5459 (1989).

24

She, J-H. & Balatsky, A. V. Noncontact friction and relaxational dynamics of surface defects. Phys. Rev. Lett. 108, 136101 (2012).

25

Li, L-J., Xu, Z-A., Shen, J-Q., Qiu, L-M. & Gan, Z-H. The effect of a charge-density wave transition on the transport properties of 2H-NbSe2 . J. Phys. Conden. Matter 17, 493–498 (2005).

26

Kershaw, R., Vlasse, M. & Wold, Aaron The preparation of and electrical properties of niobium selenide and tungsten selenide. Inorg. Chem. 6, 1599–1602 (1967).

27

Gysin, U., Rast, S., Kisiel, M., Werle, C. & Meyer, E. Low temperature ultrahigh vacuum noncontact atomic force microscope in the pendulum geometry. Rev. Sci. Instrum. 82, 023705 (2011).

28

Rast, S. et al. Force microscopy experiments with ultrasensitive cantilevers. Nanotechnology 17, 189–194 (2006).

29

Press, W. H., Teukolsky, S. A., Vetterling, W. T. & Flannery, B. P. Numerical Recipes: The Art of Scientific Computing 3rd edn (Cambridge Univ. Press, 2007).
Acknowledgements
F.P., G.E.S. and E.T. acknowledge research support by MIUR, through PRIN— 2010LLKJBX_001, by SNSF, through SINERGIA Project CRSII2 136287/1, and by the EU-Japan Project LEMSUPER. E.T. acknowledges financial support from the ERC Advanced Research Grant No. 320796 MODPHYSFRICT. R.B. acknowledges financial support by the CNR program Short Term Mobility STM 2011. M.L., M.K., R.P., A.B. and E.M. acknowledge financial support from the Swiss National Science Foundation (NSF), the SINERGIA Project CRSII2 136287/1 and the Swiss National Center of Competence in Research on Nanoscale Science (NCCR-NANO). G.B. acknowledges financial support from EPSRC, UK(EP/I007210/1).
Ethics declarations
Competing interests
The authors declare no competing financial interests.
Supplementary information
About this article
Cite this article
Langer, M., Kisiel, M., Pawlak, R. et al. Giant frictional dissipation peaks and charge-density-wave slips at the NbSe2 surface. Nature Mater 13, 173–177 (2014). https://doi.org/10.1038/nmat3836
Received:

Accepted:

Published:

Issue Date: