Abstract
Over the past few years, single-photon generation has been realized in numerous systems: single molecules1, quantum dots2,3,4, diamond colour centres5 and others6. The generation and detection of single photons play a central role in the experimental foundation of quantum mechanics7 and measurement theory8. An efficient and high-quality single-photon source is needed to implement quantum key distribution, quantum repeaters and photonic quantum information processing9. Here we report the identification and formation of ultrabright, room-temperature, photostable single-photon sources in a device-friendly material, silicon carbide (SiC). The source is composed of an intrinsic defect, known as the carbon antisite–vacancy pair, created by carefully optimized electron irradiation and annealing of ultrapure SiC. An extreme brightness (2×106 counts s−1) resulting from polarization rules and a high quantum efficiency is obtained in the bulk without resorting to the use of a cavity or plasmonic structure. This may benefit future integrated quantum photonic devices9.
Relevant articles
Open Access articles citing this article.
Oliver Lerstøl Hebnes

,

Marianne Etzelmüller Bathen

…

Morten Hjorth-Jensen

npj Computational Materials Open Access 28 September 2022

Daichi Kozawa

,

Xiaojian Wu

…

Yuichiro K. Kato

Nature Communications Open Access 20 May 2022

Elizabeth M. Y. Lee

,

Alvin Yu

…

Giulia Galli

Nature Communications Open Access 03 November 2021
Access options
Subscribe to Journal
Get full journal access for 1 year
$119.00
only $9.92 per issue
All prices are NET prices.
VAT will be added later in the checkout.
Tax calculation will be finalised during checkout.
Buy article
Get time limited or full article access on ReadCube.
$32.00
All prices are NET prices.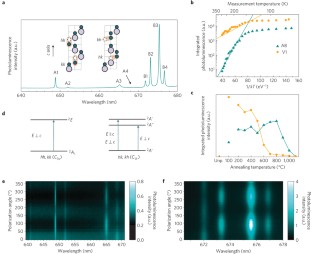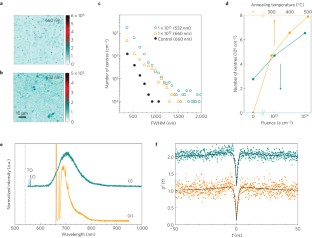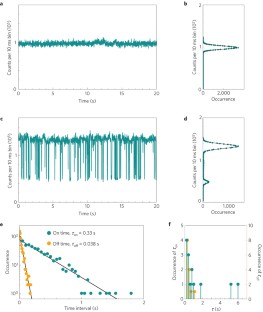 References
Basché, T., Moerner, W. E., Orrit, M. & Talon, H. Photon anti-bunching in the fluorescence of a single dye molecule trapped in a solid. Phys. Rev. Lett. 69, 1516–1519 (1992).

Michler, P. et al. Quantum correlation among photons from a single quantum dot at room temperature. Nature 406, 968–970 (2000).

Santori, C., Fattal, D., Vuckovic, J., Solomon, G. S. & Yamamoto, Y. Indistinguishable photons from a single-photon device. Nature 419, 594–597 (2002).

Shields, A. J. Semiconductor quantum light sources. Nature Photon. 1, 215–223 (2007).

Kurtsiefer, C., Mayer, S., Zarda, P. & Weinfurter, H. Stable solid-state source of single photons. Phys. Rev. Lett. 85, 290–293 (2000).

Kolesov, R. et al. Optical detection of a single rare-earth ion in a crystal. Nature Commun. 3, 1029 (2012).

Peruzzo, A., Shadbolt, P., Brunner, N., Popescu, S. & O'Brien, J. L. A quantum delayed-choice experiment. Science 338, 634–637 (2012).

Lundeen, J. S., Sutherland, B., Patel, A., Stewart, C. & Bamber, C. Direct measurement of the quantum wavefunction. Nature 474, 188–191 (2011).

Politi, A., Matthews, J. C. F. & O'Brien, J. L. Shor's quantum factoring algorithm on a photonic chip. Science 325, 1221 (2009).

Yamada, S., Song, B-S., Asano, T. & Noda, S. Silicon carbide-based photonic crystal nanocavities for ultra-broadband operation from infrared to visible wavelengths. Appl. Phys. Lett. 99, 201102 (2011).

Madar, R. Materials science: Silicon carbide in contention. Nature 430, 974–975 (2004).

Nakamur, D. et al. Ultrahigh-quality silicon carbide single crystals. Nature 430, 1009–1012 (2004).

Lu, X., Lee, J. Y., Feng, P. X-L. & Lin, Q. Silicon carbide microdisk resonator. Opt. Lett. 38, 1304–1306 (2013).

Fan, J. et al. 3C–SiC nanocrystals as fluorescent biological labels. Small 4, 1058–1062 (2008).

Beke, D. et al. Silicon carbide quantum dots for bioimaging. J. Mater. Res. 28, 205–209 (2013).

Gali, A. Excitation spectrum of point defects in semiconductors studied by time-dependent density functional theory. J. Mater. Res. 27, 897–909 (2012).

Weber, J. R. et al. Quantum computing with defects. Proc. Natl Acad. Sci. USA 107, 8513–8518 (2010).

Koehl, W. F., Buckley, B. B., Heremans, F. J., Calusine, G. & Awschalow, D. D. Room temperature coherent control of defect spin qubits in silicon carbide. Nature 479, 84–87 (2011).

Baranov, P. G. et al. Silicon vacancy in SiC as a promising quantum system for single-defect and single-photon spectroscopy. Phys. Rev. B 83, 125203 (2011).

Falk, A. L. et al. Polytype control of spin qubits in silicon carbide. Nature Commun. 4, 1819 (2013).

DiVincenzo, D. Quantum bits: Better than excellent. Nature Mater. 9, 468–469 (2010).

Aharonovich, I. et al. Chromium single-photon emitters in diamond fabricated by ion implantation. Phys. Rev. B 81, 121201 (2010).

Aharonovich, I. et al. Two-level ultrabright single photon emission from diamond nanocrystals. Nano Lett. 9, 3191–3195 (2009).

Neu, E. et al. Single photon emission from silicon-vacancy colour centres in chemical vapour deposition nano-diamonds on iridium. New J. Phys. 13, 025012 (2011).

Schröder, T., Gädeke, F., Banholzer, M. J. & Benson, O. Ultrabright and efficient single-photon generation based on nitrogen-vacancy centres in nanodiamonds on a solid immersion lens. New J. Phys. 13, 055017 (2011).

Ates, S. et al. Improving the performance of bright quantum dot single photon sources using temporal filtering via amplitude modulation. Sci. Rep. 3, 1397 (2013).

Steeds, J. W. Photoluminescence study of the carbon antisite-vacancy pair in 4H-and 6H–SiC. Phys. Rev. B 80, 245202 (2009).

Steeds, J. et al. Transmission electron microscope radiation damage of 4H and 6H SiC studied by photoluminescence spectroscopy. Diamond Relat. Mater. 11, 1923–1945 (2002).

Soltamov, V. A., Soltamova, A. A., Baranov, P. G. & Proskuryakov, I. I. Room temperature coherent spin alignment of silicon vacancies in 4H-and 6H–SiC. Phys. Rev. Lett. 108, 226402 (2012).

Bockstedte, M., Mattausch, A. & Pankratov, O. Ab initio study of the annealing of vacancies and interstitials in cubic SiC: Vacancy-interstitial recombination and aggregation of carbon interstitials. Phys. Rev. B 69, 235202 (2004).

Fuchs, F. et al. Silicon carbide light-emitting diode as a prospective room temperature source for single photons. Sci. Rep. 3, 1637 (2013).

Umeda, T. et al. Identification of the carbon antisite-vacancy pair in 4H-SiC. Phys. Rev. Lett. 96, 145501 (2006).

Deák, P., Aradi, B., Frauenheim, T., Janzén, E. & Gali, A. Accurate defect levels obtained from the HSE06 range-separated hybrid functional. Phys. Rev. B 81, 153203 (2010).

Ivády, V., Gällström, A., Son, N. T., Janzén, E. & Gali, A. Asymmetric split-vacancy defects in SiC polytypes: A combined theoretical and electron spin resonance study. Phys. Rev. Lett. 107, 195501 (2011).

Umeda, T. et al. Identification of positively charged carbon antisite-vacancy pairs in 4H-SiC. Phys. Rev. B 75, 245202 (2007).
Acknowledgements
S.C. acknowledges partial financial support from the Australian Research Council, Centre of Excellence Engineered Quantum Systems (CE110001013). B.C.J. acknowledges financial support from the Japanese Society for the Promotion of Science (JSPS; Grant-in-aid for Scientific Research, 22.00802) and the Australian Research Council Centre for Quantum Computation and Communication Technology (CE110001027). This study is also partially supported by the Ministry of Education, Science, Sports and Culture, Grant-in-Aid for Challenging Exploratory Research, 2012, 24656025. A.G. acknowledges the EU FP7 Grant No. 270197 (DIAMANT), the Hungarian OTKA Grant Nos K101819 and K106114 and the support from the Knut and Alice Wallenberg Foundation.
Ethics declarations
Competing interests
The authors declare no competing financial interests.
Supplementary information
About this article
Cite this article
Castelletto, S., Johnson, B., Ivády, V. et al. A silicon carbide room-temperature single-photon source. Nature Mater 13, 151–156 (2014). https://doi.org/10.1038/nmat3806
Received:

Accepted:

Published:

Issue Date:

DOI: https://doi.org/10.1038/nmat3806