The search for materials with colossal permittivity for use in capacitors has been met with limited success. A newly discovered co-doped titanium oxide material has an extremely high permittivity and negligible dielectric losses, and is likely to enable further scaling in electronic and energy-storage devices.
Access options
Subscribe to Journal
Get full journal access for 1 year
$209.00
only $17.42 per issue
All prices are NET prices.
VAT will be added later in the checkout.
Rent or Buy article
Get time limited or full article access on ReadCube.
from$8.99
All prices are NET prices.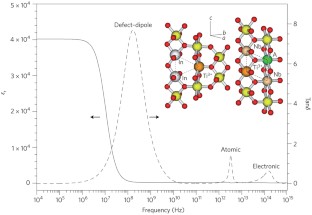 References
1

Conway, B. E. Electrochemical Supercapacitors: Scientific Fundamentals and Technological Applications (Springer, 1999).

2

Hu, W. et al. Nature Mater. 12, 821–826 (2013).

3

Parker, R. A. Phys. Rev. 124, 1719–1722 (1961).

4

Ramirez, A. P. et al. Solid-State Commun. 115, 217–220 (2000).

5

Subramanian, M. A., Li, D., Duan, N., Reisner, B. A. & Sleight, A. W. J. Solid State Chem. 151, 323–325 (2000).

6

Grubbs, R. K. et al. Phys. Rev. B 72, 104111 (2005).

7

Sinclair, D. C., Adams, T. B., Morrison, F. D. & West, A. R. Appl. Phys. Lett. 80, 2153–2155 (2002).
About this article
Cite this article
Homes, C., Vogt, T. Doping for superior dielectrics. Nature Mater 12, 782–783 (2013). https://doi.org/10.1038/nmat3744