A general approach for decorating nanoparticles with a highly dense shell of DNA linkers expands the range of building blocks that can be used for DNA-mediated nanoparticle self-assembly.
Access options
Subscribe to Journal
Get full journal access for 1 year
$119.00
only $9.92 per issue
All prices are NET prices.
VAT will be added later in the checkout.
Tax calculation will be finalised during checkout.
Buy article
Get time limited or full article access on ReadCube.
$32.00
All prices are NET prices.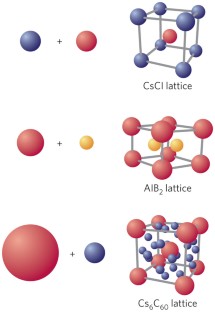 References
Schmid, G. (ed.) Nanoparticles – From Theory to Application 2nd edn (Wiley, 2010).

Talapin, D. V., Lee, J.-S., Kovalenko, M. V. & Shevchenko, E. V. Chem. Rev. 110, 389–458 (2010).

Zhang, C. et al. Nature Mater. 12, 741–746 (2013).

Mirkin, C. A., Letsinger, R. L., Mucic, R. C. & Storhoff, J. J. Nature 382, 607–609 (1996).

Alivisatos, A. P. et al. Nature 382, 609–611 (1996).

Park, S. et al. Nature 451, 553–556 (2008).

Nykypanchuk, D., Maye, M. M., van der Lelie, D. & Gang, O. Nature 451, 549–552 (2008).

Agard, N. J., Prescher, J. A. & Bertozzi, C. R. J. Am. Chem. Soc. 126, 15046–15047 (2004).

Pauling, L. The Nature of the Chemical Bond 3rd edn (Cornell Univ. Press, 1960).

Macfarlane, R. J. et al. Science 334, 204–208 (2011).

Cutler, J. I., Auyeung, E. & Mirkin, C. A. J. Am. Chem. Soc. 134, 1376–1391 (2012).
About this article
Cite this article
Simon, U. Bonding them all. Nature Mater 12, 694–696 (2013). https://doi.org/10.1038/nmat3715
Published:

Issue Date:

DOI: https://doi.org/10.1038/nmat3715