The complete elastic response of a spider's orb web has been quantified by non-invasive light scattering, revealing important insights into the architecture, natural material use and mechanical properties of the web. This knowledge advances our understanding of the prey-catching process and the role of supercontraction therein.
Access options
Subscribe to Journal
Get full journal access for 1 year
$119.00
only $9.92 per issue
All prices are NET prices.
VAT will be added later in the checkout.
Tax calculation will be finalised during checkout.
Buy article
Get time limited or full article access on ReadCube.
$32.00
All prices are NET prices.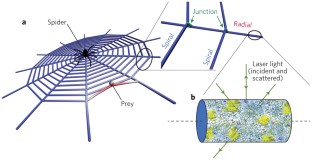 References
Omenetto, F. G. & Kaplan, D. L. Science 329, 528–531 (2010).

Gosline, J. M., Guerette, P. A., Ortlepp, C. S. & Savage, K. N. J. Exp. Biol. 202, 3295–3303 (1999).

Blackledge, T. A. et al. Proc. Natl Acad. Sci. USA 106, 5229–5234 (2009).

Swanson, B. O., Anderson, S. P., DiGiovine, C., Ross, R. N. & Dorsey, J. P. Integr. Comparative Biol. 49, 21–31 (2009).

Cranford, S. W., Tarakanova, A., Pugno, N. M. & Buehler, M. J. Nature 482, 72–76 (2012).

Arrhenius, S., Granstrom, H., Hirsch, N., Kastner, J. & Obrist, H. U. Tomas Saraceno: 14 Billions (Skira Editore, 2012).

Nova, A., Keten, S., Pugno, N. M., Redaelli, A. & Buehler, M. J. Nano Lett. 10, 2626–2634 (2010).

Eisoldt, L., Smith, A. & Scheibel, T. Mater. Today 14, 80–86 (March, 2011).

Sahni, V., Harris, J., Blackledge, T. A. & Dhinojwala, A. Nature Commun. 3, 1106 (2012).

Koski, K. J., Akhenblit, P., McKiernan, K. & Yarger, J. L. Nature Mater. 12, 262–267 (2013).

Work, R. W. & Morosoff, N. Tex. Res. J. 52, 349–356 (1982).

Blamires, S. J., Chao, Y. C., Liao, C. P. & Tso, I. M. Anim. Behav. 81, 955–961 (2011).

Termonia, Y. Macromolecules 27, 7378–7381 (1994).
About this article
Cite this article
Qin, Z., Buehler, M. Webs measure up. Nature Mater 12, 185–187 (2013). https://doi.org/10.1038/nmat3578
Published:

Issue Date:

DOI: https://doi.org/10.1038/nmat3578