Abstract
Cuprate materials hosting high-temperature superconductivity (HTS) also exhibit various forms of charge and spin ordering1,2,3,4,5,6 whose significance is not fully understood7. So far, static charge-density waves8 (CDWs) have been detected by diffraction probes only at particular doping levels9,10,11 or in an applied external field12 . However, dynamic CDWs may also be present more broadly and their detection, characterization and relationship with HTS remain open problems. Here we present a method based on ultrafast spectroscopy to detect the presence and measure the lifetimes of CDW fluctuations in cuprates. In an underdoped La1.9Sr0.1CuO4 film (Tc = 26 K), we observe collective excitations of CDW that persist up to 100 K. This dynamic CDW fluctuates with a characteristic lifetime of 2 ps at T = 5 K that decreases to 0.5 ps at T = 100 K. In contrast, in an optimally doped La1.84Sr0.16CuO4 film (Tc = 38.5 K), we detect no signatures of fluctuating CDWs at any temperature, favouring the competition scenario. This work forges a path for studying fluctuating order parameters in various superconductors and other materials.
This is a preview of subscription content
Access options
Subscribe to Journal
Get full journal access for 1 year
$99.00
only $8.25 per issue
All prices are NET prices.
VAT will be added later in the checkout.
Tax calculation will be finalised during checkout.
Buy article
Get time limited or full article access on ReadCube.
$32.00
All prices are NET prices.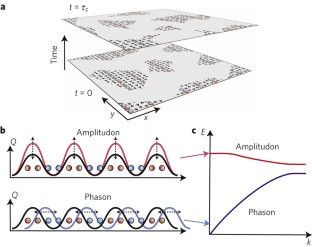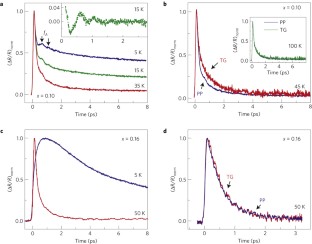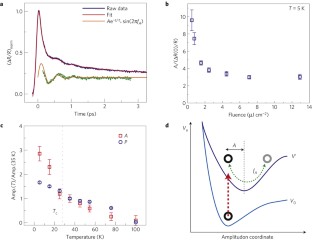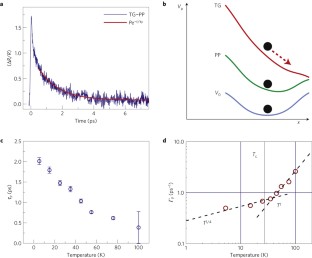 References
Parker, C. V. et al. Fluctuating stripes at the onset of the pseudogap in the high-Tc superconductor Bi2Sr2CaCu2O8+x . Nature 468, 677–680 (2010).

Hoffman, J. E. et al. A four unit cell periodic pattern of quasi-particle states surrounding vortex cores in Bi2Sr2CaCu2O8+δ . Science 295, 466–469 (2002).

Wise, W. D. et al. Charge-density-wave origin of cuprate checkerboard visualized by scanning tunnelling microscopy. Nature Phys. 4, 696–699 (2008).

Wu, T. et al. Magnetic-field-induced charge-stripe order in the high-temperature superconductor YBa2Cu3Oy . Nature 477, 191–194 (2011).

Ghiringhelli, G. et al. Long-range incommensurate charge fluctuations in (Y,Nd)Ba2Cu3O6+x . Science 337, 821–825 (2012).

Chang, J. et al. Direct observation of competition between superconductivity and charge density wave order in YBa2Cu3Oy . Nature Phys. 8, 871–876 (2012).

Kivelson, S., Bindloss, I. & Fradkin, E. How to detect fluctuating stripes in the high-temperature superconductors. Rev. Mod. Phys. 75, 1201–1241 (2003).

Abbamonte, P. et al. Spatially modulated 'Mottness' in La2−xBaxCuO4 . Nature Phys. 1, 155–158 (2005).

Tranquada, J., Sternlieb, B., Axe, J. & Nakamura, Y. Evidence for stripe correlations of spins and holes in copper oxide superconductors. Nature 375, 561–563 (1995).

Crawford, M. K. et al. Lattice instabilities and the effect of copper-oxygen-sheet distortions on superconductivity in doped La2CuO4 . Phys. Rev. B 44, 7749–7752 (1991).

Klauss, H-H. et al. From antiferromagnetic order to static magnetic stripes: The phase diagram of (La,Eu)2−xSrxCuO4 . Phys. Rev. Lett. 85, 4590–4593 (2000).

Axe, J. D. et al. Structural phase transformations and superconductivity in La2−xBaxCuO4 . Phys. Rev. Lett. 62, 2751–2754 (1989).

Zaanen, J. & Gunnarsson, O. Charged magnetic domain lines and the magnetism of high- Tc oxides. Phys. Rev. B 40, 7391–7394 (1989).

Bilbro, L. S. et al. Temporal correlations of superconductivity above the transition temperature in La2−xSrxCuO4 probed by terahertz spectroscopy. Nature Phys. 7, 298–302 (2011).

Lake, B. et al. Antiferromagnetic order induced by an applied magnetic field in a high-temperature superconductor. Nature 415, 299–302 (2002).

Averitt, R. D. & Taylor, A. J. Ultrafast optical and far-infrared quasiparticle dynamics in correlated electron materials. J. Phys. Condens. Matter 14, R1357 (2002).

Demsar, J., Biljakovic, K. & Mihailovic, D. Single particle and collective excitations in the one-dimensional charge density wave solid K0.3MoO3 probed in real time by femtosecond spectroscopy. Phys. Rev. Lett. 83, 800–803 (1999).

Tassini, L. et al. Dynamical properties of charged stripes in La2−xSrxCuO4 . Phys. Rev. Lett. 95, 117002 (2005).

Sugai, S., Takayanagi, Y. & Hayamizu, N. Phason and amplitudon in the charge-density-wave phase of one-dimensional charge stripes in La2−xSrxCuO4 . Phys. Rev. Lett. 96, 137003 (2006).

Ren, Y., Xu, Z. & Lüpke, G. Ultrafast collective dynamics in the charge-density-wave conductor K0.3MoO3 . J. Chem. Phys. 120, 4755–4758 (2004).

Sagar, D. M., Tsvetkov, A. A., Fausti, D., Smaalen, S. V. & Loosdrecht, P. H. M. V. Coherent amplitudon generation in blue bronze through ultrafast interband quasi-particle decay. J. Phys. Condens. Matter 19, 346208 (2007).

Schmitt, F. et al. Transient electronic structure and melting of a charge density wave in TbTe3 . Science 321, 1649–1652 (2008).

Liu, H. Y. et al. Possible coherent phason oscillations in the optically-driven K0.3MoO3 charge density wave. Preprint at http://arxiv.org/abs/1206.5743 (2012).

Gedik, N. & Orenstein, J. Absolute phase measurement in heterodyne detection of transient gratings. Opt. Lett. 29, 2109–2111 (2004).

Takada, S., Wong, K. & Holstein, T. Damping of charge-density-wave motion. Phys. Rev. B 32, 4639–4652 (1985).

Levanyuk, A. P., Minyukov, S. A., Etrillard, J. & Toudic, B. Low-frequency phonon dynamics and spin-lattice relaxation time in the incommensurate phase at low temperatures. Phys. Rev. B 56, 8734–8742 (1997).

Bianchi, G., Chen, C., Nohara, M., Takagi, H. & Ryan, J. F. Competing phases in the superconducting state of La2−xSrxCuO4: Temperature and magnetic field dependent quasiparticle relaxation measurements. Phys. Rev. B 72, 094516 (2005).

Beyer, M. et al. Photoinduced melting of superconductivity in the high-Tc superconductor La2−xSrxCuO4 probed by time-resolved optical and terahertz techniques. Phys. Rev. B 83, 214515 (2011).

Sugai, S. et al. Symmetry breaking on the phonon Raman spectra only at the superconductor compositions in La2−xSrxCuO4 . Solid State Commun. 76, 371–376 (1990).

Wang, C-Z., Yu, R. & Krakauer, H. First-principles calculations of phonon dispersion and lattice dynamics in La2CuO4 . Phys. Rev. B 59, 9278–9284 (1999).

Zeiger, H. et al. Theory for displacive excitation of coherent phonons. Phys. Rev. B 45, 768–778 (1992).

Dhar, L., Rogers, J. A. & Nelson, K. A. Time-resolved vibrational spectroscopy in the impulsive limit. Chem. Rev. 94, 157–193 (1994).

Yan, Y-X. & Nelson, K. A. Impulsive stimulated light scattering. I. general theory. J. Chem. Phys. 87, 6240–6256 (1987).

Gedik, N., Orenstein, J., Liang, R., Bonn, D. A. & Hardy, W. N. Diffusion of nonequilibrium quasi-particles in a cuprate superconductor. Science 300, 1410–1412 (2003).

Bozovic, I. et al. Long-lived coherent acoustic waves generated by femtosecond light pulses. Phys. Rev. B 69, 132503 (2004).

Kim, Y-J., Gu, G., Gog, T. & Casa, D. X-ray scattering study of charge density waves in La2−xBaxCuO4 . Phys. Rev. B 77, 064520 (2008).

Wilkins, S. et al. Comparison of stripe modulations in La1.875Ba0.125CuO4 and La1.48Nd0.4Sr0.12CuO4 . Phys. Rev. B 84, 195101 (2011).

Lee, P. A. & Rice, T. M. Electric field depinning of charge density waves. Phys. Rev. B 19, 3970–3980 (1979).

Richard, J. & Chen, J. Damping of charge density waves in NbSe3 . Solid State Commun. 86, 485–488 (1993).

Bozovic, I. Atomic-layer engineering of superconducting oxides: Yesterday, today, tomorrow. IEEE Trans. Appl. Supercond. 11, 2686–2695 (2001).
Acknowledgements
The authors would like to thank S. Todadri, P. Lee and S. Kivelson for useful discussions. D.H.T., F.M. and N.G. were supported by NSF Career Award DMR-0845296. I.B. and A.T.B. were supported by the US Department of Energy, Basic Energy Sciences, Materials Sciences and Engineering Division.
Ethics declarations
Competing interests
The authors declare no competing financial interests.
Supplementary information
About this article
Cite this article
Torchinsky, D., Mahmood, F., Bollinger, A. et al. Fluctuating charge-density waves in a cuprate superconductor. Nature Mater 12, 387–391 (2013). https://doi.org/10.1038/nmat3571
Received:

Accepted:

Published:

Issue Date:

DOI: https://doi.org/10.1038/nmat3571