Abstract
Molecular orientation critically influences the mechanical, chemical, optical and electronic properties of organic materials. So far, molecular-scale ordering in soft matter could be characterized with X-ray or electron microscopy techniques only if the sample exhibited sufficient crystallinity. Here, we show that the resonant scattering of polarized soft X-rays (P-SoXS) by molecular orbitals is not limited by crystallinity and that it can be used to probe molecular orientation down to size scales of 10 nm. We first apply the technique on highly crystalline small-molecule thin films and subsequently use its high sensitivity to probe the impact of liquid-crystalline ordering on charge mobility in polymeric transistors. P-SoXS also reveals scattering anisotropy in amorphous domains of all-polymer organic solar cells where interfacial interactions pattern orientational alignment in the matrix phase, which probably plays an important role in the photophysics. The energy and q-dependence of the scattering anisotropy allows the identification of the composition and the degree of orientational order in the domains.
Relevant articles
Open Access articles citing this article.
Ramin Noruzi

,

Eunhee Lim

…

Baskar Ganapathysubramanian

npj Computational Materials Open Access 11 March 2022

Subhrangsu Mukherjee

,

Jason K. Streit

…

Dean M. DeLongchamp

Nature Communications Open Access 12 August 2021

Terry McAfee

,

Thomas Ferron

…

Brian A. Collins

Nature Communications Open Access 25 May 2021
Access options
Subscribe to this journal
Receive 12 print issues and online access
$259.00 per year
only $21.58 per issue
Rent or buy this article
Prices vary by article type
from$1.95
to$39.95
Prices may be subject to local taxes which are calculated during checkout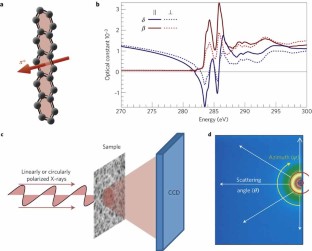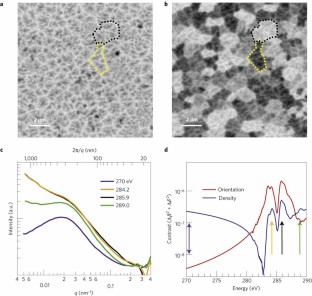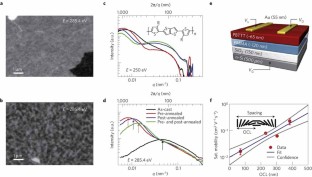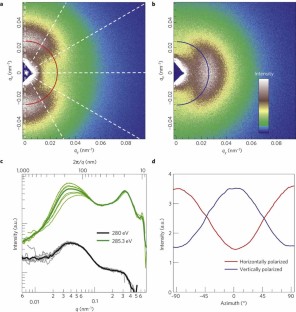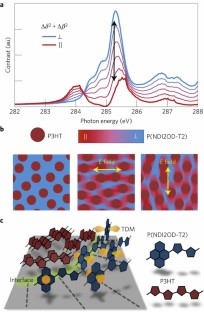 References
Simmons, A. H., Michal, C. A. & Jelinski, L. W. Molecular orientation and two-component nature of the crystalline fraction of spider dragline silk. Science 271, 84–87 (1996).

Vollrath, F. & Knight, D. P. Liquid crystalline spinning of spider silk. Nature 410, 541–548 (2001).

Schmidt-Mende, L. et al. Self-organized discotic liquid crystals for high-efficiency organic photovoltaics. Science 293, 1119–1122 (2001).

Chen, W., Qi, D-C., Huang, H., Gao, X. & Wee, A. T. S. Organic–organic heterojunction interfaces: Effect of molecular orientation. Adv. Funct. Mater. 21, 410–424 (2011).

Salleo, A., Kline, R. J., DeLongchamp, D. M. & Chabinyc, M. L. Microstructural characterization and charge transport in thin films of conjugated polymers. Adv. Mater. 22, 3812–3838 (2010).

Friend, R. H. et al. Electroluminescence in conjugated polymers. Nature 397, 121–128 (1999).

Sirringhaus, H. Mobility enhancement in conjugated polymer field-effect transistors through chain alignment in a liquid-crystalline phase. Appl. Phys. Lett. 77, 406–408 (2000).

Yan, H. et al. A high-mobility electron-transporting polymer for printed transistors. Nature 457, 679–686 (2009).

Zhang, X. et al. In-plane liquid crystalline texture of high-performance thienothiophene copolymer thin films. Adv. Funct. Mater. 20, 4098–4106 (2010).

Ade, H. & Hsiao, B. X-ray linear dichroism microscopy. Science 262, 1427–1429 (1993).

Ade, H., Toledo-Crow, R., Vaez-Iravani, M. & Spontak, R. J. Observation of polymer birefringence in near-field optical microscopy. Langmuir 12, 231–234 (1996).

Brauer, B. et al. X-ray microscopy imaging of the grain orientation in a pentacene field-effect transistor. Chem. Mater. 22, 3693–3697 (2010).

Hub, C., Burkhardt, M., Halik, M., Tzvetkov, G. & Fink, R. In situ STXM investigations of pentacene-based OFETs during operation. J. Mater. Chem. 20, 4884–4887 (2010).

McNeill, C. R. Imaging the domain structure of organic semiconductor films. J. Polymer Sci. B 49, 909–919 (2011).

Günes, S., Neugebauer, H. & Sariciftci, N. S. Conjugated polymer-based organic solar cells. Chem. Rev. 107, 1324–1338 (2007).

Dennler, G., Scharber, M. C. & Brabec, C. J. Polymer-fullerene bulk-heterojunction solar cells. Adv. Mater. 21, 1323–1338 (2009).

Facchetti, A. π-conjugated polymers for organic electronics and photovoltaic cell applications. Chem. Mater. 23, 733–758 (2011).

Street, R. A. Thin-film transistors. Adv. Mater. 21, 2007–2022 (2009).

Glatter, O. & Kratky, O. Small Angle X-Ray Scattering (Academic, 1982).

Roe, R. J. Methods of X-Ray and Neutron Scattering in Polymer Science (Oxford Univ. Press, 2000).

Stribeck, N. X-Ray Scattering of Soft Matter (Springer, 2007).

Materlik, G., Sparks, C. J. & Fischer, K. Resonant Anomalous X-Ray Scattering: Theory and Applications (North-Holland, 1994).

Swaraj, S. et al. Nanomorphology of bulk heterojunction photovoltaic thin films probed with resonant soft X-ray scattering. Nano Lett. 10, 2863–2869 (2010).

Virgili, J. M., Tao, Y. F., Kortright, J. B., Balsara, N. P. & Segalman, R. A. Analysis of order formation in block copolymer thin films using resonant soft X-ray scattering. Macromolecules 40, 2092–2099 (2007).

Mitchell, G. E. et al. Molecular bond selective X-ray scattering for nanoscale analysis of soft matter. Appl. Phys. Lett. 89, 044101 (2006).

Yan, H. et al. Correlating the efficiency and nanomorphology of polymer blend solar cells utilizing resonant soft X-ray scattering. ACS Nano 6, 677–688 (2012).

Stöhr, J. NEXAFS Spectroscopy (Springer, 1992).

Mezger, M. et al. Molecular orientation in soft matter thin films studied by resonant soft X-ray reflectivity. Phys. Rev. B 83, 155406 (2011).

Mach, P. et al. Structures of chiral smectic-C mesophases revealed by polarization-analyzed resonant X-ray scattering. Phys. Rev. E 60, 6793–6802 (1999).

Wang, C. et al. Resonant soft X-ray scattering of polymers with a 2D detector: Initial results and system developments at the Advanced Light Source. IOP Conf. Ser.: Mater. Sci. Eng. 14, 012016 (2010).

Kilcoyne, A. L. D. et al. Interferometer-controlled scanning transmission X-ray microscopes at the Advanced Light Source. J. Synchrotron. Radiat. 10, 125–136 (2003).

Kim, C., Facchetti, A. & Marks, T. J. Polymer gate dielectric surface viscoelasticity modulates pentacene transistor performance. Science 318, 76–80 (2007).

Chabinyc, M. L. et al. Lamination method for the study of interfaces in polymeric thin film transistors. J. Am. Chem. Soc. 126, 13928–13929 (2004).

Watts, B., Schuettfort, T. & McNeill, C. R. Mapping of domain orientation and molecular order in polycrystalline semiconducting polymer films with soft X-ray microscopy. Adv. Funct. Mater. 21, 1122–1131 (2011).

Kline, R. J. et al. Significant dependence of morphology and charge carrier mobility on substrate surface chemistry in high performance polythiophene semiconductor films. Appl. Phys. Lett. 90, 062117 (2007).

Bronstein, H. et al. Thieno[3,2-b]thiophene-diketopyrrolopyrrole-containing polymers for high-performance organic field-effect transistors and organic photovoltaic devices. J. Am. Chem. Soc. 133, 3272–3275 (2011).

Moore, J. R. et al. Polymer blend solar cells based on a high-mobility naphthalenediimide-based polymer acceptor: Device physics, photophysics and morphology. Adv. Energ. Mater. 1, 230–240 (2011).

Lee, M. J. et al. Anisotropy of charge transport in a uniaxially aligned and chain-extended, high-mobility, conjugated polymer semiconductor. Adv. Funct. Mater. 21, 932–940 (2011).

Rivnay, J. et al. Unconventional face-on texture and exceptional in-plane order of a high mobility n-type polymer. Adv. Mater. 22, 4359–4363 (2010).

Westenhoff, S. et al. Charge recombination in organic photovoltaic devices with high open-circuit voltages. J. Am. Chem. Soc. 130, 13653–13658 (2008).

Huang, Y-s. et al. Electronic structures of interfacial states formed at polymeric semiconductor heterojunctions. Nature Mater. 7, 483–489 (2008).

Morteani, A. C., Sreearunothai, P., Herz, L. M., Friend, R. H. & Silva, C. Exciton regeneration at polymeric semiconductor heterojunctions. Phys. Rev. Lett. 92, 247402 (2004).

Price, S. C., Stuart, A. C., Yang, L., Zhou, H. & You, W. Fluorine substituted conjugated polymer of medium band gap yields 7% efficiency in polymer-fullerene solar cells. J. Am. Chem. Soc. 133, 4625–4631 (2011).

Shapiro, D. et al. Biological imaging by soft X-ray diffraction microscopy. Proc. Natl Acad. Sci. USA 102, 15343–15346 (2005).

Thibault, P. et al. High-resolution scanning X-ray diffraction microscopy. Science 321, 379–382 (2008).

Dierolf, M. et al. Ptychographic X-ray computed tomography at the nanoscale. Nature 467, 436–439 (2010).

Zhu, D. et al. High-resolution X-ray lensless imaging by differential holographic encoding. Phys. Rev. Lett. 105, 043901 (2010).
Acknowledgements
Discussions with and help from A. L. D. Kilcoyne, T. Tyliszczak, T. Young, A. Hexemer, G. Cody, S. Kevan and J. Kortright are gratefully acknowledged. P-SoXS development and blend film characterization by B.A.C., H.Y., E.G. and H.A. are supported by DOE (DE-FG02-98ER45737), GAANN Fellowship (E.G.) and ALS Fellowship (H.Y.). Characterization of PBTTT films by B.A.C., H.Y. and H.A. are supported by NSF (DMR-0906457, ARRA). M.L.C. and J.E.C. are supported by NSF (DMR-0906224, ARRA). C.H. and R.F. are supported by BMBF (contract 05 K10WEA). C.R.M. acknowledges support from the EPSRC (EP/E051804/1) and ARC (FT100100275). We graciously thank I. McCulloch and M. Heeney (Imperial College, UK) for samples of PBTTT. Part of this research was undertaken on the soft X-ray beamline at the Australian Synchrotron, Victoria, Australia. Data were acquired at beamlines 11.0.1.2., 7.3.3. and 5.3.2.2. at the ALS, which is supported by DOE (DE-AC02-05CH1123) and the LDRD programme under DOE (DE-AC02-05CH11231).
Ethics declarations
Competing interests
The authors declare no competing financial interests.
Supplementary information
About this article
Cite this article
Collins, B., Cochran, J., Yan, H. et al. Polarized X-ray scattering reveals non-crystalline orientational ordering in organic films. Nature Mater 11, 536–543 (2012). https://doi.org/10.1038/nmat3310
Received:

Accepted:

Published:

Issue Date:

DOI: https://doi.org/10.1038/nmat3310