Living cells regulate their area through active mechanisms, which often lead to the fusion and fission of lipid vesicles. It is now found that bilayers adhered to elastic substrates can also adjust their area passively, in response to applied lateral strains.
Access options
Subscribe to Journal
Get full journal access for 1 year
$119.00
only $9.92 per issue
All prices are NET prices.
VAT will be added later in the checkout.
Tax calculation will be finalised during checkout.
Buy article
Get time limited or full article access on ReadCube.
$32.00
All prices are NET prices.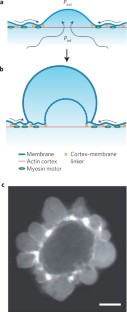 References
Kwok, R. & Evans, E. Biophys. J. 35, 637–652 (1981).

Staykova, M., Holmes, D. P., Read, C. & Stone, H. A. Proc. Natl Acad. Sci. USA 108, 9084–9088 (2011).

Sanii, B., Smith, A. M., Butti, R., Brozell, A. M. & Parikh, A. N. Nano Lett. 8, 866–871 (2008).

Mills, L. R. & Morris, C. E. J. Membr. Biol. 166, 223–235 (1998).

Charras, G. T., Yarrow, J. C., Horton, M. A., Mahadevan, L. & Mitchison, T. J. Nature 435, 365–369 (2005).

Charras, G. & Paluch, E. Nature Rev. Mol. Cell Biol. 9, 730–736 (2008).

Tinevez, J. Y. et al. Proc. Natl Acad. Sci. USA 106, 18581–18586 (2009).

Pontani, L. L. et al. Biophys. J. 96, 192–198 (2009).

Chang, T. M. Nature Rev. Drug Discov. 4, 221–235 (2005).
About this article
Cite this article
Dogterom, M., Koenderink, G. Vesicles in and tubes out. Nature Mater 10, 561–562 (2011). https://doi.org/10.1038/nmat3081
Published:

Issue Date:

DOI: https://doi.org/10.1038/nmat3081