Abstract
Gears are microfabricated down to diameters of a few micrometres. Natural macromolecular motors, of tens of nanometres in diameter, also show gear effects1. At a smaller scale, the random rotation of a single-molecule rotor encaged in a molecular stator has been observed2, demonstrating that a single molecule can be rotated with the tip of a scanning tunnelling microscope3,4 (STM). A self-assembled rack-and-pinion molecular machine where the STM tip apex is the rotation axis of the pinion was also tested5. Here, we present the mechanics of an intentionally constructed molecule-gear on a Au(111) surface, mounting and centring one hexa-t-butyl-pyrimidopentaphenylbenzene molecule on one atom axis. The combination of molecular design, molecular manipulation and surface atomic structure selection leads to the construction of a fundamental component of a planar single-molecule mechanical machine. The rotation of our molecule-gear is step-by-step and totally under control, demonstrating nine stable stations in both directions.
Access options
Subscribe to this journal
Receive 12 print issues and online access
$259.00 per year
only $21.58 per issue
Rent or buy this article
Prices vary by article type
from$1.95
to$39.95
Prices may be subject to local taxes which are calculated during checkout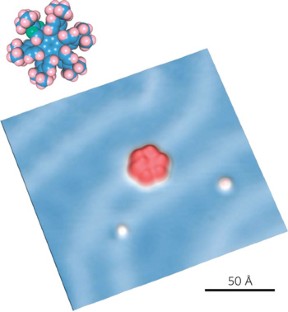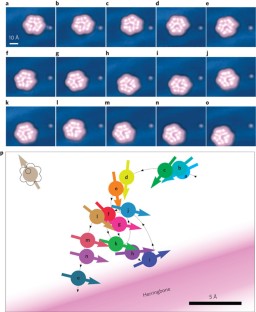 References
Browne, W. R. & Feringa, B. L. Making molecular machines work. Nature Nanotechnol. 1, 25–35 (2006).

Gimzewski, J. K. et al. Rotation of a single molecule within a supramolecular bearing. Science 281, 531–533 (1998).

Stipe, B. C., Rezaei, M. A. & Ho, W. Inducing and viewing the rotational motion of a single molecule. Science 279, 1907–1909 (1998).

Stipe, B. C., Rezaei, M. A. & Ho, W. Coupling of vibrational excitation to the rotational motion of a single adsorbed molecule. Phys. Rev. Lett. 81, 1263–1266 (1998).

Chiravalloti, F. et al. A rack-and-pinion device at the molecular scale. Nature Mater. 6, 30–33 (2007).

Gross, L. et al. Tailoring molecular self-organization by chemical synthesis: Hexaphenylbenzene, hexa-peri-hexabenzocoronene, and derivatives on Cu (111). Phys. Rev. B 71, 165428 (2005).

De Sarkar, A., Manzano, C., Soe, W.-H., Chandrasekhar, N. & Joachim, C. Conformational dependence of tag induced intramolecular STM contrast in hexaphenylbenzene molecules. Surf. Sci. Lett. 603, L57–L61 (2009).

Barth, J. V., Brune, H., Ertl, G. & Behm, R. J. Scanning tunneling microscopy observations on the reconstructed Au(111) surface: Atomic structure, long-range superstructure, rotational domains, and surface defects. Phys. Rev. B 42, 9307–9318 (1990).

Eigler, D. M. & Schweizer, E. K. Positioning single atoms with a scanning tunneling microscope. Nature 344, 524–526 (1990).

Stroscio, J. A. & Eigler, D. M. Atomic and molecular manipulation with the scanning tunneling microscope. Science 254, 1319–1326 (1991).

Jung, T. A., Schlittler, R. R., Gimzewski, J. K., Tang, H. & Joachim, C. Controlled room-temperature positioning of individual molecules: Molecular flexure and motion. Science 271, 181–184 (1996).

Meyer, G. & Rieder, K.-H. Controlled manipulation of single atoms and small molecules with the scanning tunneling microscope. Surf. Sci. 377–379, 1087–1093 (1997).

Gross, L. et al. Trapping and moving metal atoms with a six-leg molecule. Nature Mater. 4, 892–895 (2005).

Ample, F. & Joachim, C. A semi-empirical study of polyacene molecules adsorbed on a Cu(110) surface. Surf. Sci. 600, 3243–3251 (2006).

Sautet, P. & Joachim, C. Calculation of the benzene on rhodium STM images. Chem. Phys. Lett. 185, 23–30 (1991).
Acknowledgements
We acknowledge the Agency for Science Technology and Research (A*STAR) for financial support provided through the Visiting Investigatorship Program (phase I) 'Atomic Scale Technology Project'.
Supplementary information
Supplementary Information (PDF 421 kb)
Supplementary Movie 1 (AVI 1461 kb)
Supplementary Movie 2 (AVI 2072 kb)
About this article
Cite this article
Manzano, C., Soe, WH., Wong, H. et al. Step-by-step rotation of a molecule-gear mounted on an atomic-scale axis. Nature Mater 8, 576–579 (2009). https://doi.org/10.1038/nmat2467
Received:

Accepted:

Published:

Issue Date:

DOI: https://doi.org/10.1038/nmat2467