A large modulation of magnetic moments in superconductor/ferromagnet superlattices raises intriguing questions about the interaction between these competing states.
Access options
Subscribe to Journal
Get full journal access for 1 year
$119.00
only $9.92 per issue
All prices are NET prices.
VAT will be added later in the checkout.
Tax calculation will be finalised during checkout.
Buy article
Get time limited or full article access on ReadCube.
$32.00
All prices are NET prices.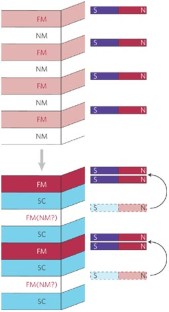 References
Hoppler et al. Nature Mater. 8, 315–319 (2009).

Ginzburg, V. L. Sov. Phys. JETP 4, 153–161 (1957).

Maple, M. B. & Fischer, O. (eds) Superconductivity in Ternary Compounds II: Superconductivity and Magnetism (Springer, 1982).

Eisaki, H. et al. Phys. Rev. B 50, 647–650 (1994).

Saxena, S. S. et al. Nature 406, 587–592 (2000).

Kotegawa, H. et al. J. Phys. Soc. Jpn 74, 705–711 (2005).

Buzdin, A. I. Rev. Mod. Phys. 77, 935–976 (2005).

Hwang, H. Y. Mater. Res. Soc. Bull. 31, 28–35 (2006).

Pena, V. et al. Phys. Rev. Lett. 94, 057002 (2005).

Chakalian, J. et al. Nature Phys. 2, 244–248 (2006).
About this article
Cite this article
Takagai, H. A tale of two enemies. Nature Mater 8, 251–252 (2009). https://doi.org/10.1038/nmat2414
Issue Date:

DOI: https://doi.org/10.1038/nmat2414