Abstract
Molecular rotation has attracted much attention with respect to the development of artificial molecular motors, in an attempt to mimic the intelligent and useful functions of biological molecular motors. Random motion of molecular rotators—for example the 180∘ flip-flop motion of a rotatory unit—causes a rotation of the local structure. Here, we show that such motion is controllable using an external electric field and demonstrate how such molecular rotators can be used as polarization rotation units in ferroelectric molecules. In particular, m-fluoroanilinium forms a hydrogen-bonding assembly with dibenzo[18]crown-6, which was introduced as the counter cation of [Ni(dmit)2]− anions (dmit2−=2-thioxo-1,3-dithiole-4,5-dithiolate). The supramolecular rotator of m-fluoroanilinium exhibited dipole rotation by the application of an electric field, and the crystal showed a ferroelectric transition at 348 K. These findings will open up new strategies for ferroelectric molecules where a chemically designed dipole unit enables control of the nature of the ferroelectric transition temperature.
Access options
Subscribe to Journal
Get full journal access for 1 year
$59.00
only $4.92 per issue
All prices are NET prices.
VAT will be added later in the checkout.
Tax calculation will be finalised during checkout.
Rent or Buy article
Get time limited or full article access on ReadCube.
from$8.99
All prices are NET prices.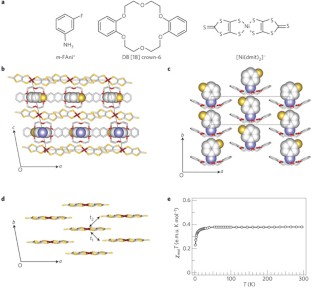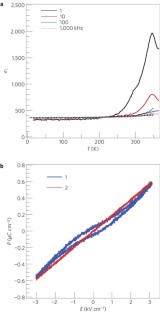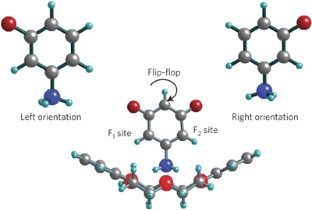 References
1

Thomas, H. & Mueller, K. A. Structural Phase Transition I (Springer, 1981).

2

Lines, M. E. & Glass, A. M. Principles and Applications of Ferroelectrics and Related Materials 293–327 (Clarendon, 1977).

3

Johnson, R. D. et al. C60 rotation in the solid state: Dynamics of a faceted spherical top. Science 255, 1235–1238 (1992).

4

Stryer, L. Biochemistry 4th edn391–411 (Freeman, 1995).

5

Kelly, T. R., De Silva, H. & Silva, R. A. Unidirectional rotary motion in a molecular system. Nature 401, 150–152 (1999).

6

Koumura, N. et al. Light-driven monodirectional molecular rotor. Nature 401, 152–155 (1999).

7

Leigh, D. A., Wong, J. K. Y., Dehez, F. & Zerbetto, F. Unidirectional rotation in a mechanically interlocked molecular rotor. Nature 424, 174–179 (2003).

8

Kottas, G. S. et al. Artificial molecular rotors. Chem. Rev. 105, 1281–1376 (2005).

9

Kay, E. R., Leigh, D. A. & Zerbetto, F. Synthetic molecular motors and mechanical machines. Angew. Chem. Int. Ed. 46, 72–191 (2007).

10

Nakamura, T. et al. A molecular metal with ion-conducting channels. Nature 394, 159–160 (1998).

11

Akutagawa, T., Takeda, S., Hasegawa, T. & Nakamura, T. Proton-transfer and dielectric phase transition in molecular conductor (HDABCO+)2(TCNQ)3 . J. Am. Chem. Soc. 126, 291–294 (2004).

12

Sherwood, J. N. (ed.) The Plastically Crystalline State (Wiley, 1979).

13

Garcia-Garibay, M. A. Crystalline molecular machines: Encoding supramolecular dynamics into molecular structure. Proc. Natl Acad. Sci. 102, 10771–10776 (2005).

14

Horansky, R. D. et al. Dielectric response of a dipolar molecular rotor crystal. Phys. Rev. B 72, 014302 (2005).

15

Nishihara, S. et al. Multirotations of (anilinium+)([18]crown-6) supramolecular cation structure in magnetic [Ni(dmit)2]− salt. Chem. Asian J. 2, 1083–1090 (2007).

16

Sato, D. et al. Supramolecular rotor of adamantylammonium([18]crown-6) in [Ni(dmit)2]− salt. Inorg. Chem. 46, 363–365 (2007).

17

Akutagawa, T. et al. Solid state molecular rotators of anilinium and adamantylammonium in [Ni(dmit)2]− salts with diverse magnetic properties. Inorg. Chem. 47, 5951–5962 (2008).

18

Horiuchi, S. et al. Ferroelectricity near room temperature in co-crystals of nonpolar organic molecules. Nature Mater. 4, 163–166 (2005).

19

Katrusiak, A. & Szafrański, M. Ferroelectricity in NH–N hydrogen bonded crystals. Phys. Rev. Lett. 82, 576–579 (1999).

20

Horiuchi, S. & Tokura, Y. Organic ferroelectrics. Nature Mater. 7, 357–366 (2008).

21

Desiraju, G. R. & Steiner, T. The Weak Hydrogen Bond 122–292 (Oxford Univ. Press, 1999).

22

Kao, K. C. Dielectric Phenomena in Solids (Elsevier, 2004).
Acknowledgements
This work was supported in part by a Grant-in-Aid for Science Research from the Ministry of Education, Culture, Sports, Science, and Technology of Japan. We would like to thank J. Kawamata and H. Yamaki (Yamaguchi Univ.) for conducting the second harmonic generation measurements.
Supplementary information
About this article
Cite this article
Akutagawa, T., Koshinaka, H., Sato, D. et al. Ferroelectricity and polarity control in solid-state flip-flop supramolecular rotators. Nature Mater 8, 342–347 (2009). https://doi.org/10.1038/nmat2377
Received:

Accepted:

Published:

Issue Date: