Despite recent advances, thermoelectric energy conversion will never be as efficient as steam engines. That means thermoelectrics will remain limited to applications served poorly or not at all by existing technology. Bad news for thermoelectricians, but the climate crisis requires that we face bad news head on.
Access options
Subscribe to Journal
Get full journal access for 1 year
$119.00
only $9.92 per issue
All prices are NET prices.
VAT will be added later in the checkout.
Tax calculation will be finalised during checkout.
Buy article
Get time limited or full article access on ReadCube.
$32.00
All prices are NET prices.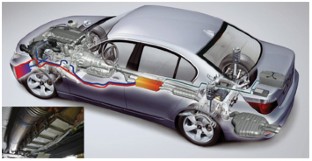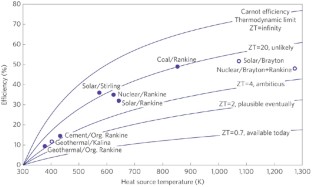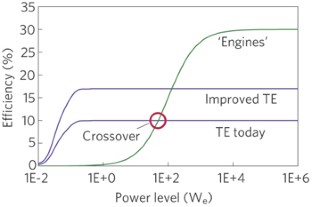 References
Vining, C. B. in: European Conference on Thermoelectrics, ECT2007 (ed. Semenyuk, V.) (Odessa, Ukraine, 2007); http://ect2007.its.org/system/files/u1/pdf/02.pdf

Crabtree, G. W. & Lewis, N. S. Phys. Today 60, 37–42 (2007).

Lewis, N. S. & Crabtree, G. W. Basic Research Needs for Solar Energy Utilization (US Department of Energy, 2005); http://www.sc.doe.gov/bes/reports/abstracts.html#SEU

Bell, L. E. Science 321, 1457–1461 (2008).

Tritt, T. M., Böttner, H. & Chen, L. Mater. Res. Soc. Bull. 33, 366–368 (2008).

Harman, T. C., Taylor, P. J., Spears, D. L. & Walsh, M. P. J. Electron. Mater. 29, L1–L4 (2000).

Harman, T. C., Walsh, M. P., Laforge, B. E. & Turner, G. W. J. Electron. Mater. 34, L19–L22 (2005).

Venkatasubramanian, R., Silvola, E., Colpitts, T. & O'Quinn, B. Nature 413, 597–602 (2001).

Hsu, K. F. et al. Science 303, 818–821 (2004).

Poudel, B. et al. Science 320, 634–638 (2008).

Kadota, M. & Yamamoto, K. in Advanced Hybrid Vehicle Powertrain 2008–01–310 (SAE International, 2008).
Acknowledgements
I wish to thank A. Gore, L. Bell, J. Snyder, J. Stockholm, C. Uher, B. LeSage, B. Nickerson, R. Venkatasubramanian, D. Rowe, T. Kajikawa, J.-P. Fleurial, T. Caillat, J. Heath, L. Whitlow, H. Böttner, E. P. Vining and many others throughout the thermoelectric community for discussions and input. The opinions, errors and omissions, however, are solely my own.
Ethics declarations
Competing interests
C.B.V. is an independent energy conversion consultant.
About this article
Cite this article
Vining, C. An inconvenient truth about thermoelectrics. Nature Mater 8, 83–85 (2009). https://doi.org/10.1038/nmat2361
Issue Date:

DOI: https://doi.org/10.1038/nmat2361