A newly developed microdiffraction technique for solving the structure of very small single crystals hails a new era in the structural characterization of complex materials.
This is a preview of subscription content
Access options
Subscribe to Journal
Get full journal access for 1 year
$99.00
only $8.25 per issue
All prices are NET prices.
VAT will be added later in the checkout.
Tax calculation will be finalised during checkout.
Buy article
Get time limited or full article access on ReadCube.
$32.00
All prices are NET prices.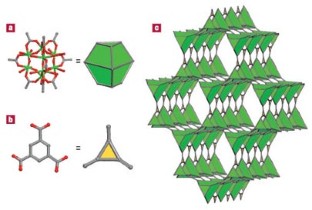 References
Eddaoudi, M. et al. Acc. Chem. Res. 34, 319–330 (2001).

Moulton, B. & Zaworotko, M. J. Chem. Rev. 101, 1629–1658 (2001).

Ferey, G. et al. Science 309, 2040–2042 (2005).

Kitagawa, S., Kitaura, R. & Noro, S.-I. Angew. Chem. Int. Edn 43, 2334–2375 (2004).

Yaghi, O. M. et al. Nature 423, 705–714 (2003).

Ferey, G. J. Solid State Chem. 152, 37–48 (2000).

Liu, Y. L., Kravtsov V. C., Larsen, R. & Eddaoudi, M. Chem. Commun. 14, 1488–1490 (2006).

Volkringer, C. et al. Nature Mater. 6, 760–764 (2007).

Ferey. G. in Introduction to Zeolite Science and Practice (eds Ceijka, J., vas Bekkum, H., Corma, A. and Schuth F.) 327–374 (Studies in Surface Science and Catalysis Series, Vol. 168, Elsevier, 2007).
About this article
Cite this article
Eddaoudi, M. Size almost doesn't matter. Nature Mater 6, 718–719 (2007). https://doi.org/10.1038/nmat2020
Issue Date:

DOI: https://doi.org/10.1038/nmat2020