Abstract
The ability to integrate distinct functional elements into a single device structure enables the realization of systems with higher-level functionality. Here we report on the design and fabrication of a fibre device structure that contains integrated optical, electrical and thermal elements for self-monitored optical transport. The fibre transmission element uses a hollow-core multilayer cylindrical photonic bandgap structure1,2 designed to guide high-power radiation at 10.6 μm along the fibre axis3. Multiple thermal-detection elements are placed in the vicinity of the hollow core for the purpose of temperature monitoring along the entire fibre length. Metal wires bridged by a semiconductor layer extend along the length of the fibre and deliver an electrical response to the fibre ends on change in the fibre temperature. The multimaterial fibre is drawn at high speeds from a single preform4 to produce extended lengths of optically and thermally functional fibres. The exponential dependence on temperature of the electrical conductivity of the semiconducting material allows for the discrimination, in real time, between normal transmission conditions and those that are indicative of localized defect formation, thus enabling a self-monitoring high-power optical transmission line for failure prediction and prevention.
Relevant articles
Open Access articles citing this article.
Maxime Rioux

,

Yannick Ledemi

…

Younès Messaddeq

Scientific Reports Open Access 03 March 2017

Michael Rein

,

Etgar Levy

…

Yoel Fink

Nature Communications Open Access 04 October 2016

Marco Consales

,

Marco Pisco

&

Andrea Cusano

Photonic Sensors Open Access 13 October 2012
Access options
Subscribe to Journal
Get full journal access for 1 year
$119.00
only $9.92 per issue
All prices are NET prices.
VAT will be added later in the checkout.
Tax calculation will be finalised during checkout.
Buy article
Get time limited or full article access on ReadCube.
$32.00
All prices are NET prices.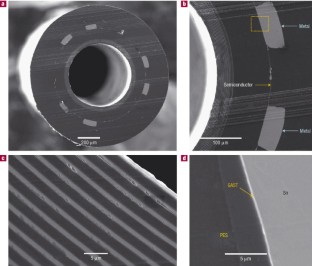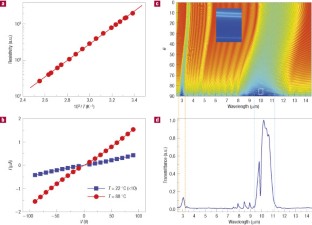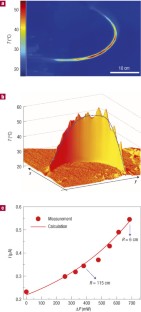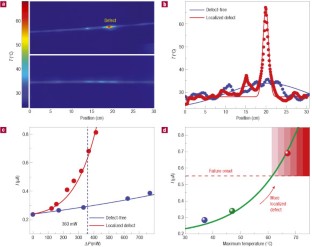 References
Yeh, P., Yariv, A. & Marom, E. Theory of Bragg fiber. J. Opt. Soc. Am. 68, 1196–1201 (1978).

Fink, Y. et al. A dielectric omnidirectional reflector. Science 282, 1679–1682 (1998).

Temelkuran, B., Hart, S. D., Benoit, G., Joannopoulos, J. D. & Fink, Y. Wavelength-scalable hollow optical fibres with large photonic bandgaps for CO2 laser transmission. Nature 420, 650–653 (2002).

Bayindir, M. et al. Metal–insulator–semiconductor optoelectronic fibres. Nature 431, 826–829 (2004).

Inagawa, I., Iizuka, R., Yamagishi, T. & Yokota, R. Optical and thermal properties of chalcogenide Ge-As-Se-Te glasses for IR fibers. J. Non-Cryst. Solids 95–96, 801–808 (1987).

Tikhomirov, V. K. et al. Glass formation in the Te-enriched part of the quaternary Ge–As–Se–Te system and its implication for mid-infrared optical fibres. Infrared Phys. Technol. 45, 115–123 (2004).

Popescu, M. A. Non-Crystalline Chalcogenides (Kluwer Academic, Dordrecht, 2000).

Shephard, J. D. et al. High energy nanosecond laser pulses delivered single-mode through hollow-core PBG fibers. Opt. Express 12, 717–723 (2004).

Harrington, J. A. Infrared Fibers and Their Applications (SPIE, Bellingham, Washington, 2004).

Abel, T., Hirsch, J. & Harrington, J. A. Hollow glass waveguides for broadband infrared transmission. Opt. Lett. 19, 1034–1036 (1994).

Katagiri, T., Matsuura, Y. & Miyagi, M. Metal-covered photonic bandgap multilayer for infrared hollow waveguides. Appl. Opt. 41, 7603–7606 (2002).

Dayan, A., Goren, A. & Gannot, I. Theoretical and experimental investigation of the thermal effects within body cavities during transendoscopical CO2, laser-based surgery. Laser Surg. Med. 35, 18–27 (2004).

Karasawa, S., Miyagi, M. & Nishida, S. Temperature distribution along oversized hollow-core waveguides for infrared radiation. Appl. Opt. 26, 4581–4586 (1987).

Johnson, S. G. et al. Low-loss asymptotically single-mode propagation in large-core omniguide fibers. Opt. Express 7, 748–779 (2001).

Shapira, O., Abouraddy, A. F., Joannopoulos, J. D. & Fink, Y. Complete modal decomposition for optical waveguides. Phys. Rev. Lett. 94, 143902 (2005).

Su, D., Somkuarnpanit, S., Hall, D. R. & Jones, J. D. C. Thermal effects in a hollow waveguide beam launch for CO2 laser power delivery. Appl. Opt. 35, 4787–4789 (1996).

Devaiah, A. K. et al. Surgical utility of a new carbon dioxide laser fiber: Functional and histological study. Laryngoscope 115, 1463–1468 (2005).
Acknowledgements
We thank N. Orf for measuring the glass-transition temperature of the GAST glass. This work was supported in part by DARPA, the ARO, the ONR, the US DOE, and the ISN. This work was also supported in part by the MRSEC Program of the National Science Foundation. D.S.H. was partly supported by the Istanbul Technical University president office grant.
Ethics declarations
Competing interests
The authors declare no competing financial interests.
About this article
Cite this article
Bayindir, M., Shapira, O., Saygin-Hinczewski, D. et al. Integrated fibres for self-monitored optical transport. Nature Mater 4, 820–825 (2005). https://doi.org/10.1038/nmat1512
Received:

Accepted:

Published:

Issue Date:

DOI: https://doi.org/10.1038/nmat1512