Abstract
For the first time in thirty five years, the clockspeed of the fastest commercial computer chips has not increased. Is the semiconductor industry just pausing for breath or about to suffer a fate similar to that of aerospace?
Relevant articles
Open Access articles citing this article.
Kuan-Bo Lin

,

Yen-Hsun Su

&

Chao-Cheng Kaun

Scientific Reports Open Access 24 March 2020

Fernando Ramiro-Manzano

,

Roberto Fenollosa

…

Francisco Meseguer

Nanoscale Research Letters Open Access 03 September 2012
Access options
Subscribe to Journal
Get full journal access for 1 year
$119.00
only $9.92 per issue
All prices are NET prices.
VAT will be added later in the checkout.
Tax calculation will be finalised during checkout.
Buy article
Get time limited or full article access on ReadCube.
$32.00
All prices are NET prices.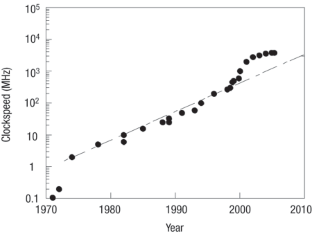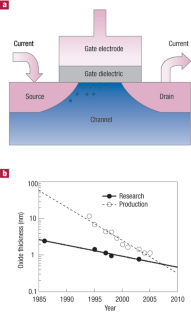 References
Moore, G. Cramming more components onto integrated circuits. Electronics 38, 144–117 (1965).

Moore, G. in IEEE International Solid-State Circuits Conference Vol. 1, 20–23 (IEEE, San Francisco, 2003).

Dennard, R. et al. design of ion-implanted MOSFET's with very small physical dimensions. IEEE J. Solid-State Circuits 9, 256–268 (1974).

Sze, S. M. Semiconductor Devices: Physics and Technology (Wiley, New York, 1985).

Muller, D. A. et al. The electronic structure at the atomic scale of ultra-thin gate oxides. Nature 399, 758–761 (1999).

Mahajan, R. et al. Emerging directions for packaging technologies. Intel Technol. J. 6, 62–75 (2002).

Nowak, E. J. Maintaining the benefits of CMOS scaling when scaling bogs down. IBM J. Res. Dev. 46, 169–180 (2002).

Doyle, B. et al. Transistor elements for 30nm physical gate lengths and beyond. Intel Technol. J. 6, 42–54 (2002).

Wallace, R. M. & Wilk, G. D. Alternative gate dielectrics for microelectronics. Mater. Res. Soc. Bull. 27, 186–191 (2002).

Semiconductor Industry Association International Technology Roadmap for Semiconductors, Update (2000); see http://public.itrs.net/Files/2000UpdateFinal/2kUdFinal.htm.

Chau, R. et al. Benchmarking nanotechnology for high-performance and low-power logic transistor applications. IEEE Trans. Nanotechnol. 4, 153–158 (2005).

Hiremane, R. From Moore's law to Intel innovation—prediction to reality. Intel Mag. 1–9 (April 2005).

Markoff, J. in New York Times C3 (New York, 7 February 2005).

Horiguchi, S., Kobayashi, T., Miyake, M., Oda, M. & Kiuchi, K. Extremely high transconductance (above 500 mS/mm) MOSFET with 2.5 nm gate oxide. IEDM Tech. Dig. 761–773 (1985).

Momose, H. S. et al. 1.5 nm direct-tunneling gate oxide Si MOSFETs. IEEE Trans. Elec. Dev. 43, 1233–1242 (1996).

Chau, R. et al. High-k/metal gate stack and its MOSFETs characteristics. IEEE Elect. Dev. Lett. 25, 408–410 (2004).

Thompson, S. et al. 130nm logic technology featuring 60nm transistors, low-k dielectrics, and Cu interconnects. Intel Technol. J. 6, 5–13 (2002).

The History of United Airlines http://www.united.com/page/middlepage/0,6823,2286,00.html.

National Museum of the United States Airforce; www.wpafb.af.mil.museum.htm.
About this article
Cite this article
Muller, D. A sound barrier for silicon?. Nature Mater 4, 645–647 (2005). https://doi.org/10.1038/nmat1466
Issue Date:

DOI: https://doi.org/10.1038/nmat1466