Abstract
Assembly of colloidal particles on fluid interfaces is a promising technique for synthesizing two-dimensional microcrystalline materials useful in fields as diverse as biomedicine1, materials science2, mineral flotation3 and food processing4. Current approaches rely on bulk emulsification methods, require further chemical and thermal treatments, and are restrictive with respect to the materials used5,6,7,8,9. The development of methods that exploit the great potential of interfacial assembly for producing tailored materials have been hampered by the lack of understanding of the assembly process. Here we report a microfluidic method that allows direct visualization and understanding of the dynamics of colloidal crystal growth on curved interfaces. The crystals are periodically ejected to form stable jammed shells, which we refer to as colloidal armour. We propose that the energetic barriers to interfacial crystal growth and organization can be overcome by targeted delivery of colloidal particles through hydrodynamic flows. Our method allows an unprecedented degree of control over armour composition, size and stability.
Relevant articles
Open Access articles citing this article.
Greet Dockx

,

Steffen Geisel

…

Jan Vermant

Nature Communications Open Access 12 November 2018

Zbigniew Rozynek

,

Alexander Mikkelsen

…

Jon Otto Fossum

Nature Communications Open Access 23 May 2014

Paul Dommersnes

,

Zbigniew Rozynek

…

Jon Otto Fossum

Nature Communications Open Access 28 June 2013
Access options
Subscribe to Journal
Get full journal access for 1 year
$119.00
only $9.92 per issue
All prices are NET prices.
VAT will be added later in the checkout.
Tax calculation will be finalised during checkout.
Buy article
Get time limited or full article access on ReadCube.
$32.00
All prices are NET prices.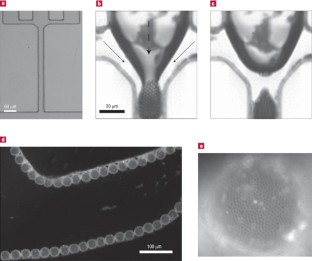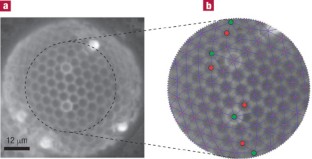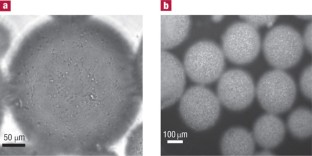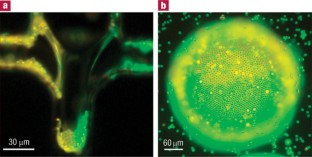 References
Schutt, E. G., Klein, D. H., Mattrey, R. M. & Reiss, J. G. Injectable microbubbles as contrast agents for diagnostic ultrasound imaging: The key role of perfluorochemicals. Angew. Chem. Int. Edn 42, 3218–3235 (2003).

Krachelsvky, P. A., Nagayama, K. & Nagayama, K. Particles at Fluid Interfaces and Membranes (Elsevier Science, New York, 2001).

Adamson, A. W. & Gast, A. P. Physical Chemistry of Surfaces 6th edn, 471–478 (Wiley-Interscience, New York, 1997).

Gibbs, B. F., Kermasha, S., Alli, I. & Mulligan, C. N. Encapsulation in the food industry: A review. Int. J. Food Sci. Nutr. 50, 213–224 (1999).

Velev, O. D., Furusawa, K. & Nagayama, K. Assembly of latex particles by using emulsion droplets as templates. 1. Microstructured hollow spheres. Langmuir 12, 2374–2384 (1996).

Velev, O. D. & Nagayama, K. Assembly of latex particles by using emulsion droplets. 3. Reverse (water in oil) system. Langmuir 13, 1856–1859 (1997).

Dinsmore, A. D. et al. Colloidosomes: Selectively permeable capsules composed of colloidal particles. Science 298, 1006–1009 (2002).

Cayre, O. J., Noble, P. F. & Paunov, V. N. Fabrication of novel colloidosome microcapsules with gelled aqueous cores. J. Mater. Chem. 14, 3351–3355 (2004).

Noble, P. F., Cayre, O. J., Alargova, R. J., Velev, O. D. & Paunov, V. N. Fabrication of "hairy" colloidosomes with shells of polymeric microrods. J. Am. Chem. Soc. 126, 8092–8093 (2004).

Pieranski, P. Two-dimensional interfacial colloidal crystals. Phys. Rev. Lett. 45, 569–572 (1980).

Mbamala, E. C. & von Frunberg, H. H. Effective interaction of a charged colloidal particle with an air-water interface. J. Phys. Condens. Matter 14, 4881–4900 (2002).

Nelson, D., Piran, T. & Weinberg, S. (eds) Statistical Mechanics of Membranes and Surfaces 2nd edn (World Scientific, Singapore, 2004).

Bausch, A. R. et al. Grain boundary scars and spherical crystallography. Science 299, 1716–1718 (2003).

Tarimala, S. & Dai, L. L. Structure of microparticles in solid-stabilized emulsions. Langmuir 20, 3492–3494 (2004).

Cates, M. E., Wittmer, J. P., Bouchaud, J.-P. & Claudin, P. Jamming, force chains, and fragile matter. Phys. Rev. Lett. 81, 1841–1844 (1998).

Liu, A. J. & Nagel, S. R. Jamming is not just cool any more. Nature 396, 21–22 (1998).

Whitesides, T. H. & Ross, D. S. Experimental and theoretical-analysis of the limited coalescence process - stepwise limited coalescence. J. Colloid Interface Sci. 169, 48–59 (1995).

Abdel-Fattah, A. I. & El-Genk, M. S. Sorption of hydrophobic, negatively charged microspheres onto a stagnant air/water interface. J. Colloid Interface Sci. 202, 417–429 (1998).

Dong, L. & Johnson, D. Surface tension of charge-stabilized colloidal suspensions at the water-air interface. Langmuir 19, 10205–10209 (2003).

Du, Z. et al. Outstanding stability of particle-stabilized bubbles. Langmuir 19, 3106–3108 (2003).

Dickinson, E., Ettelaie, R., Kostakis, T. & Murray, B. S. Factors controlling the formation and stability of air bubbles stabilized by partially hydrophobic silica nanoparticles. Langmuir 20, 8517–8525 (2004).

McDonald, J. C. & Whitesides, G. M. Poly(dimethylsiloxane) as a material for fabricating microfluidic devices. Acc. Chem. Res. 35, 491–499 (2002).
Acknowledgements
We thank R. Larsen, A. Lips, L. Mahadevan and R. Subramanian for helpful conversations. Support from Unilever Research and the Harvard Material Research Science and Engineering Center (DMR-0213805) are gratefully acknowledged.
Ethics declarations
Competing interests
The authors declare no competing financial interests.
Supplementary information
About this article
Cite this article
Subramaniam, A., Abkarian, M. & Stone, H. Controlled assembly of jammed colloidal shells on fluid droplets. Nature Mater 4, 553–556 (2005). https://doi.org/10.1038/nmat1412
Received:

Accepted:

Published:

Issue Date:

DOI: https://doi.org/10.1038/nmat1412