Abstract
The effects of vascular endothelial growth factor (VEGF) blockade on the vascular biology of human tumors are not known. Here we show here that a single infusion of the VEGF-specific antibody bevacizumab decreases tumor perfusion, vascular volume, microvascular density, interstitial fluid pressure and the number of viable, circulating endothelial and progenitor cells, and increases the fraction of vessels with pericyte coverage in rectal carcinoma patients. These data indicate that VEGF blockade has a direct and rapid antivascular effect in human tumors.
This is a preview of subscription content
Access options
Subscribe to Journal
Get full journal access for 1 year
$59.00
only $4.92 per issue
All prices are NET prices.
VAT will be added later in the checkout.
Tax calculation will be finalised during checkout.
Rent or Buy article
Get time limited or full article access on ReadCube.
from$8.99
All prices are NET prices.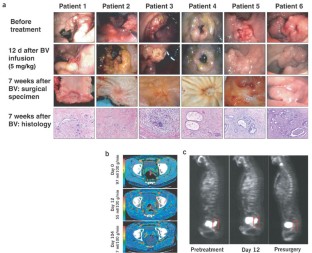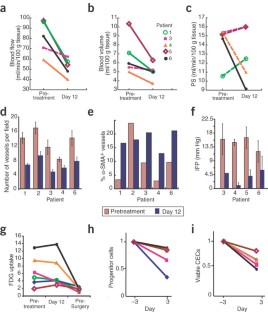 References
1

Carmeliet, P. & Jain, R.K. Nature 407, 249–257 (2000).

2

Dvorak, H.F. J. Clin. Oncol. 20, 4368–4380 (2002).

3

Ferrara, N., Gerber, H.P. & LeCouter, J. Nat. Med. 9, 669–676 (2003).

4

Kerbel, R. & Folkman, J. Nat. Rev. Cancer 2, 727–739 (2002).

5

McCarthy, M. Lancet 361, 1959 (2003).

6

Lee, C. et al. Cancer Res. 60, 5565–5570 (2000).

7

Yuan, F. et al. Proc. Natl. Acad. Sci. USA 93, 14765–14770 (1996).

8

Jain, R.K. Nat. Med. 7, 987–989 (2001).

9

Jain, R.K. Nat. Med. 9, 685–693 (2003).

10

Wildiers, H. et al. Br. J. Cancer 88, 1979–1986 (2003).

11

Rafii, S. et al. Nat. Rev. Cancer 2, 826–835 (2002).

12

Mancuso, P. et al. Blood 97, 3658–3661 (2001).

13

Monestiroli, S. et al. Cancer Res. 61, 4341–4344 (2001).

14

Yang, J.C. et al. N. Engl. J. Med. 349, 427–434 (2003).

15

Teicher, B.A. Cancer Metastasis Rev. 15, 247–272 (1996).
Acknowledgements
This study was supported by two National Cancer Institute grants (R21 CA099237 to C.G.W. and PO1 CA80124 to R.K.J.). D.G.D. is a Cancer Research Institute fellow. R.T.T. is a fellow of the Susan G. Komen Breast Cancer Foundation. We thank T. Lee for his contribution to the CT analysis, M. Ancukiewicz, T.P. Padera and W. Strauss for helpful comments, and J. Tooredman for the ELISAs.
Ethics declarations
Competing interests
The authors declare no competing financial interests.
Supplementary information
About this article
Cite this article
Willett, C., Boucher, Y., di Tomaso, E. et al. Direct evidence that the VEGF-specific antibody bevacizumab has antivascular effects in human rectal cancer. Nat Med 10, 145–147 (2004). https://doi.org/10.1038/nm988
Received:

Accepted:

Published:

Issue Date: