Abstract
Although naturally occurring smallpox was eliminated through the efforts of the World Health Organization Global Eradication Program, it remains possible that smallpox could be intentionally released. Here we examine the magnitude and duration of antiviral immunity induced by one or more smallpox vaccinations. We found that more than 90% of volunteers vaccinated 25–75 years ago still maintain substantial humoral or cellular immunity (or both) against vaccinia, the virus used to vaccinate against smallpox. Antiviral antibody responses remained stable between 1–75 years after vaccination, whereas antiviral T-cell responses declined slowly, with a half-life of 8–15 years. If these levels of immunity are considered to be at least partially protective, then the morbidity and mortality associated with an intentional smallpox outbreak would be substantially reduced because of pre-existing immunity in a large number of previously vaccinated individuals.
Access options
Subscribe to Journal
Get full journal access for 1 year
$59.00
only $4.92 per issue
All prices are NET prices.
VAT will be added later in the checkout.
Tax calculation will be finalised during checkout.
Rent or Buy article
Get time limited or full article access on ReadCube.
from$8.99
All prices are NET prices.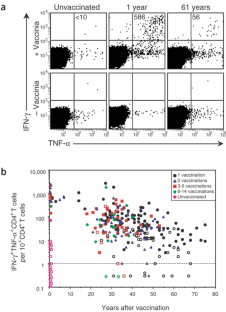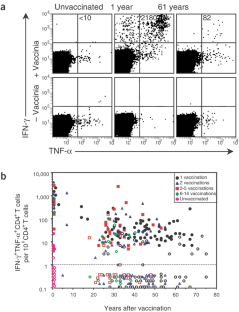 References
1

Henderson, D.A. The looming threat of bioterrorism. Science 283, 1279–1282 (1999).

2

Meltzer, M.I., Damon, I., LeDuc, J.W. & Millar, J.D. Modeling potential responses to smallpox as a bioterrorist weapon. Emerg. Infect. Dis. 7, 959–969 (2001).

3

Gani, R. & Leach, S. Transmission potential of smallpox in contemporary populations. Nature 414, 748–751 (2001).

4

Kaplan, E.H., Craft, D.L. & Wein, L.M. Emergency response to a smallpox attack: the case for mass vaccination. Proc. Natl. Acad. Sci. USA 99, 10935–10940 (2002).

5

O'Toole, T., Mair, M. & Inglesby, T.V. Shining light on "Dark Winter". Clin. Infect. Dis. 34, 972–983 (2002).

6

Smith, G.L. & McFadden, G. Science and society. Smallpox: anything to declare? Nat. Rev. Immunol. 2, 521–527 (2002).

7

Fenner, F., Henderson, D.A., Arita, I., Jezek, Z. & Ladnyi, I.D. in The Pathogenesis, Immunology, and Pathology of Smallpox and Vaccinia (World Health Organization, Geneva, 1988).

8

Mack, T.M., Noble, J. Jr & Thomas, D.B. A prospective study of serum antibody and protection against smallpox. Am. J. Trop. Med. Hyg. 21, 214–218 (1972).

9

Sarkar, J.K., Mitra, A.C. & Mukherjee, M.K. The minimum protective level of antibodies in smallpox. Bull. World Health Organ. 52, 307–311 (1975).

10

Downie, A.W. & McCarthy, K. The antibody response in man following infection with viruses of the pox group. III. Antibody response in smallpox. J. Hyg. 56, 479–487 (1958).

11

Slifka, M.K. & Whitton, J.L. Activated and memory CD8+ T cells can be distinguished by their cytokine profiles and phenotypic markers. J. Immunol. 164, 208–216 (2000).

12

Nyerges, G., Hollos, I., Losonczy, G., Erdos, L. & Petras, G. Development of vaccination immunity in hospital personnel revaccinated at three-year intervals. Acta Microbiol. Acad. Sci. Hung. 19, 63–68 (1972).

13

el-Ad, B. et al. The persistence of neutralizing antibodies after revaccination against smallpox. J. Infect. Dis. 161, 446–448 (1990).

14

Terajima, M. et al. Quantitation of CD8+ T cell responses to newly identified HLA-A*0201-restricted T cell epitopes conserved among vaccinia and variola (smallpox) viruses. J. Exp. Med. 197, 927–932 (2003).

15

Speller, S.A. & Warren, A.P. Ex vivo detection and enumeration of human antigen-specific CD8+ T lymphocytes using antigen delivery by a recombinant vaccinia expression vector and intracellular cytokine staining. J. Immunol. Methods 262, 167–180 (2002).

16

McCarthy, K. & Downie, A.W. The antibody response in man following infection with viruses of the pox group. II. Antibody response following vaccination. J. Hyg. 56, 466–478 (1958).

17

Stienlauf, S. et al. Kinetics of formation of neutralizing antibodies against vaccinia virus following re-vaccination. Vaccine 17, 201–204 (1999).

18

Centers for Disease Control. Vaccinia (smallpox) vaccine: recommendations of the Advisory Committee on Immunization practices (ACIP). Morb. Mortal. Wkly. Rep. 50, 1–25 (2001).

19

Frey, S.E., Newman, F.K., Yan, L. & Belshe, R.B. Response to smallpox vaccine in persons immunized in the distant past. J. Am. Med. Assoc. 289, 3295–3299 (2003).

20

Frey, S.E. et al. Dose-related effects of smallpox vaccine. N. Engl. J. Med. 346, 1275–1280 (2002).

21

Ennis, F.A., Cruz, J., Demkowicz, W.E. Jr, Rothman, A.L. & McClain, D.J. Primary induction of human CD8+ cytotoxic T lymphocytes and interferon-γ-producing T cells after smallpox vaccination. J. Infect. Dis. 185, 1657–1659 (2002).

22

CDC. Smallpox - Stockholm, Sweden, 1963. Morb. Mortal. Wkly. Rep. 12, 172, 174–176, 183, 188, 191, 220, 236 (1963).

23

Mack, T.M. Smallpox in Europe, 1950–1971. J. Infect. Dis. 125, 161–169 (1972).

24

Gayton, W. in The value of vaccination as shown by an analysis of 10,403 cases of smallpox (Gillett & Henty, London, 1885).

25

Hanna, W. in Studies in smallpox and vaccination (William Wood and Company, New York, 1913).

26

Hanna, W. & Baxby, D. Studies in smallpox and vaccination. 1913. Rev. Med. Virol. 12, 201–209 (2002).

27

Heiner, G.G. et al. A study of inapparent infection in smallpox. Am. J. Epidemiol. 94, 252–268 (1971).

28

Kempe, C.H. Studies on smallpox and complications of smallpox vaccination. Pediatrics 25, 176–189 (1960).

29

Czerny, C.P. & Mahnel, H. Structural and functional analysis of orthopoxvirus epitopes with neutralizing monoclonal antibodies. J. Gen. Virol. 71 (Pt. 10), 2341–2352 (1990).

30

Galmiche, M.C., Goenaga, J., Wittek, R. & Rindisbacher, L. Neutralizing and protective antibodies directed against vaccinia virus envelope antigens. Virology 254, 71–80 (1999).

31

Ramirez, J.C., Tapia, E. & Esteban, M. Administration to mice of a monoclonal antibody that neutralizes the intracellular mature virus form of vaccinia virus limits virus replication efficiently under prophylactic and therapeutic conditions. J. Gen. Virol. 83, 1059–1067 (2002).

32

Zinkernagel, R.M. & Althage, A. Antiviral protection by virus-immune cytotoxic T cells: infected target cells are lysed before infectious virus progeny is assembled. J. Exp. Med. 145, 644–651 (1977).

33

Derby, M., Alexander-Miller, M., Tse, R. & Berzofsky, J. High-avidity CTL exploit two complementary mechanisms to provide better protection against viral infection than low-avidity CTL. J. Immunol. 166, 1690–1697 (2001).

34

Appay, V. et al. Characterization of CD4(+) CTLs ex vivo. J. Immunol. 168, 5954–5958 (2002).

35

Yanai, F. et al. Essential roles of perforin in antigen-specific cytotoxicity mediated by human CD4+ T lymphocytes: analysis using the combination of hereditary perforin-deficient effector cells and Fas-deficient target cells. J. Immunol. 170, 2205–2213 (2003).

36

Littaua, R.A., Takeda, A., Cruz, J. & Ennis, F.A. Vaccinia virus-specific human CD4+ cytotoxic T-lymphocyte clones. J. Virol. 66, 2274–2280 (1992).

37

Erickson, A.L. & Walker, C.M. Class I major histocompatibility complex-restricted cytotoxic T cell responses to vaccinia virus in humans. J. Gen. Virol. 74, 751–754 (1993).

38

Demkowicz, W.E.J., Littaua, R.A., Wang, J. & Ennis, F.A. Human cytotoxic T-cell memory: long-lived responses to vaccinia virus. J. Virol. 70, 2627–2631 (1996).

39

Zarling, J.M. et al. Proliferative and cytotoxic T cells to AIDS virus glycoproteins in chimpanzees immunized with a recombinant vaccinia virus expressing AIDS virus envelope glycoproteins. J. Immunol. 139, 988–990 (1987).

40

Breman, J.G. & Henderson, D.A. Diagnosis and management of smallpox. N. Engl. J. Med. 346, 1300–1308 (2002).

41

Perrin, L.H., Reynolds, D., Zinkernagel, R. & Oldstone, M.B. Generation of virus-specific cytolytic activity in human peripheral lymphocytes after vaccination with vaccinia virus and measles virus. Med. Microbiol. Immunol. (Berl.) 166, 71–79 (1978).

42

Perrin, L.H., Zinkernagel, R.M. & Oldstone, M.B. Immune response in humans after vaccination with vaccinia virus: generation of a virus-specific cytotoxic activity by human peripheral lymphocytes. J. Exp. Med. 146, 949–969 (1977).

43

Kempe, C.H., Berge, T.O. & England, B. Hyperimmune vaccinial γ globulin. Pediatrics 18, 177 (1956).

44

Peirce, E.R., Melville, F.S., Downie, A.W. & Duckworth, M.J. Antivaccinial γ-globulin in smallpox prophylaxis. Lancet 2, 635–638 (1958).

45

Kempe, C.H. et al. The use of vaccinia hyperimmune γ-globulin in the prophylaxis of smallpox. Bull World Health Organ. 25, 41–48 (1961).

46

Slifka, M.K. & Ahmed, R. Long-term humoral immunity against viruses: revisiting the issue of plasma cell longevity. Trends Microbiol. 4, 394–400 (1996).

47

Frelinger, J.A. & Garba, M.L. How durable are the immune responses after smallpox vaccination? N. Engl. J. Med. 347, 689–690 (2002).

48

Slifka, M.K. & Ahmed, R. Limiting dilution analysis of virus-specific memory B cells by an ELISPOT assay. J. Immunol. Meth. 199, 37–46 (1996).

49

Anderson, S.G. & Skegg, J. The international standard for anti-smallpox serum. Bull. World Health Organ. 42, 515–523 (1970).

50

Cutchins, E., Warren, J. & Jones, W.P. The antibody response to smallpox vaccination as measured by a tissue culture plaque technique. J. Immunol. 85, 275–283 (1960).
Acknowledgements
We thank the many volunteers for the generous gift of their time and their unselfish participation in this research study; S. Tofte, T. Gromlich and K. Buxton for technical assistance; J. Kravitz, A. Melnick and G. Oxman for their support; and J.L. Whitton for insightful discussions. This work was supported by Oregon Health and Science University postdoctoral fellowship T32HL07781 (to S.G.H.), National Institutes of Health grants AI21640 (to J.A.N.) and AI051346 (to M.K.S.), Public Health Service grant 5 M01 RR00334 (to M.K.S.) and Oregon National Primate Research Center grant RR00163 (to M.K.S.).
Ethics declarations
Competing interests
The authors declare no competing financial interests.
About this article
Cite this article
Hammarlund, E., Lewis, M., Hansen, S. et al. Duration of antiviral immunity after smallpox vaccination. Nat Med 9, 1131–1137 (2003). https://doi.org/10.1038/nm917
Received:

Accepted:

Published:

Issue Date: