Abstract
Selective skewing of autoreactive interferon-γ (IFN-γ)-producing T helper cells (Th1) toward an interleukin-4 (IL-4)-producing (Th2) phenotype can in experimental animals alleviate autoimmune disease without inducing general immunosuppression. In a prospective dose escalation study, we assessed treatment with human IL-4 (rhuIL-4) in 20 patients with severe psoriasis. The therapy was well tolerated, and within six weeks all patients showed decreased clinical scores and 15 improved more than 68%. Stable reduction of clinical scores was significantly better at 0.2–0.5 μg rhuIL-4 than at ≤0.1 μg rhuIL-4 (P = 0.009). In psoriatic lesions, treatment with 0.2–0.5 μg/kg rhuIL-4 reduced the concentrations of IL-8 and IL-19, two cytokines directly involved in psoriasis; the number of chemokine receptor CCR5+ Th1 cells; and the IFN-γ/IL-4 ratio. In the circulation, 0.2–0.5 μg/kg rhuIL-4 increased the number of IL-4+CD4+ T cells two- to three-fold. Thus, IL-4 therapy can induce Th2 differentiation in human CD4+ T cells and has promise as a potential treatment for psoriasis, a prototypic Th1-associated autoimmune disease.
Relevant articles
Open Access articles citing this article.
Cristine Steen-Louws

,

Peter Boross

…

Jelena Popov-Celeketic

Pharmaceutical Research Open Access 26 December 2019

Bi-Jhen Syu

,

Chia-En Loh

…

Ya-Hui Chuang

Scientific Reports Open Access 10 October 2016
Access options
Subscribe to Journal
Get full journal access for 1 year
$79.00
only $6.58 per issue
All prices are NET prices.
VAT will be added later in the checkout.
Tax calculation will be finalised during checkout.
Buy article
Get time limited or full article access on ReadCube.
$32.00
All prices are NET prices.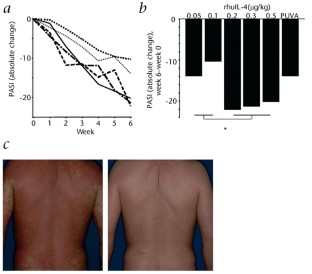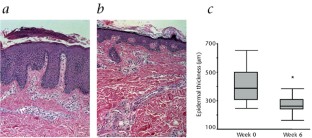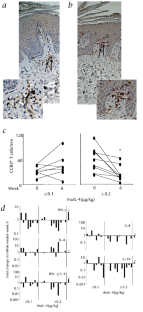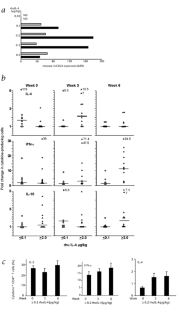 References
Christophers, E. & Mrowietz, U. Psoriasis. in Dermatology in General Medicine edn. 5 (eds. Fitzpatrick, T.B., Eisen, A.Z. & Freedberg, I.M.) 495–521 (McGraw-Hill, New York, 1999).

Krueger, G. et al. The impact of psoriasis on quality of life: Results of a 1998 National Psoriasis Foundation patient-membership survey. Arch. Dermatol. 137, 280–284 (2001).

Prinz, J.C. et al. Selection of conserved TCR VDJ rearrangements in chronic psoriatic plaques indicates a common antigen in psoriasis vulgaris. Eur. J. Immunol. 29, 3360–3368 (1999).

Austin, L.M., Ozawa, M., Kikuchi, T., Walters, I.B. & Krueger, J.G. The majority of epidermal T cells in Psoriasis vulgaris lesions can produce type 1 cytokines, interferon-γ, interleukin-2, and tumor necrosis factor-α, defining TC1 (cytotoxic T lymphocyte) and TH1 effector populations: A type 1 differentiation bias is also measured in circulating blood T cells in psoriatic patients. J. Invest. Dermatol. 113, 752–759 (1999).

Robert, C. & Kupper, T.S. Inflammatory skin diseases, T cells, and immune surveillance. N. Engl. J. Med. 341, 1817–1828 (1999).

Nestle, F.O., Turka, L.A. & Nickoloff, B.J. Characterization of dermal dendritic cells in psoriasis. Autostimulation of T lymphocytes and induction of Th1 type cytokines. J. Clin. Invest. 94, 202–209 (1994).

Nickoloff, B.J. & Wrone-Smith, T. Injection of pre-psoriatic skin with CD4+ T cells induces psoriasis. Am. J. Pathol. 155, 145–158 (1999).

Lebwohl, M. et al. Cyclosporine consensus conference: With emphasis on the treatment of psoriasis. J. Am. Acad. Dermatol. 39, 464–475 (1998).

The European FK 506 Multicentre Psoriasis Study Group. Systemic tacrolimus (FK 506) is effective for the treatment of psoriasis in a double-blind, placebo-controlled study. Arch. Dermatol. 132, 419–423 (1996).

Abrams, J.R. et al. Blockade of T lymphocyte costimulation with cytotoxic T lymphocyte-associated antigen 4-immunoglobulin (CTLA4Ig) reverses the cellular pathology of psoriatic plaques, including the activation of keratinocytes, dendritic cells, and endothelial cells. J. Exp. Med. 192, 681–694 (2000).

Gottlieb, S.L. et al. Response of psoriasis to a lymphocyte-selective toxin (DAB389IL-2) suggests a primary immune, but not keratinocyte, pathogenic basis. Nature Med. 1, 442–447 (1995).

Ellis, C.N. & Krueger, G.G. Treatment of chronic plaque psoriasis by selective targeting of memory effector T lymphocytes. N. Engl. J. Med. 345, 248–255 (2001).

Reich, K. et al. Response of psoriasis to interleukin-10 is associated with suppression of cutaneous type 1 inflammation, downregulation of the epidermal interleukin-8/CXCR2 pathway and normalization of keratinocyte maturation. J. Invest. Dermatol. 116, 319–329 (2001).

Asadullah, K. et al. Effects of systemic interleukin-10 therapy on psoriatic skin lesions: Histologic, immunohistologic, and molecular biology findings. J. Invest. Dermatol. 116, 721–727 (2001).

Moore, K.W., de Waal Malefyt, R., Coffman, R.L. & O'Garra, A. Interleukin-10 and the interleukin-10 receptor. Annu. Rev. Immunol. 19, 683–765 (2001).

Trepicchio, W.L. et al. Interleukin-11 therapy selectively downregulates type I cytokine proinflammatory pathways in psoriasis lesions. J. Clin. Invest 104, 1527–1537 (1999).

Chaudhari, U. et al. Efficacy and safety of infliximab monotherapy for plaque-type psoriasis: A randomised trial. Lancet 357, 1842–1847 (2001).

Granstein, R.D. New treatments for psoriasis. N. Engl. J. Med. 345, 284–287 (2001).

Kamradt, T. & Mitchison, N.A. Tolerance and autoimmunity. N. Engl. J. Med. 344, 655–664 (2001).

Rocken, M., Racke, M. & Shevach, E.M. IL-4-induced immune deviation as antigen-specific therapy for inflammatory autoimmune disease. Immunol. Today 17, 225–231 (1996).

Biedermann, T. et al. Reversal of established delayed type hypersensitivity reactions following therapy with IL-4 or antigen-specific Th2 cells. Eur. J. Immunol. 31, 1582–1591 (2001).

Abbas, A.K., Murphy, K.M. & Sher, A. Functional diversity of helper T lymphocytes. Nature 383, 787–793 (1996).

Paul, W.E. & Seder, R.A. Lymphocyte responses and cytokines. Cell 76, 241–251 (1994).

Rocken, M., Urban, J. & Shevach, E.M. Antigen-specific activation, tolerization, and reactivation of the interleukin 4 pathway in vivo. J. Exp. Med. 179, 1885–1893 (1994).

Biedermann, T. et al. IL-4 instructs TH1 responses and resistance to Leishmania major in susceptible BALB/c mice. Nature Immunol. 11, 1054–1060 (2001).

Romagnani, S. Lymphokine production by human T cells in disease states. Annu. Rev. Immunol. 12, 227–257 (1994).

Wong, H.L., Costa, G.L., Lotze, M.T. & Wahl, S.M. Interleukin (IL) 4 differentially regulates monocyte IL-1 family gene expression and synthesis in vitro and in vivo. J. Exp. Med. 177, 775–781 (1993).

Whitehead, R.P. et al. Phase II trial of recombinant human interleukin-4 in patients with disseminated malignant melanoma: A Southwest Oncology Group study. J. Immunother. 21, 440–446 (1998).

Vokes, E.E., Figlin, R., Hochster, H., Lotze, M. & Rybak, M.E. A phase II study of recombinant human interleukin-4 for advanced or recurrent non-small cell lung cancer. Cancer J. Sci. Am. 4, 46–51 (1998).

Sornasse, T., Larenas, P.V., Davis, K.A., de Vries, J.E. & Yssel, H. Differentiation and stability of T helper 1 and 2 cells derived from naive human neonatal CD4+ T cells, analyzed at the single-cell level. J. Exp. Med. 184, 473–483 (1996).

Breit, S. et al. A strict requirement of interleukin-4 for interleukin-4 induction in antigen-stimulated human memory T cells. Eur J. Immunol. 26, 1860–1865 (1996).

Racke, M.K. et al. Cytokine-induced immune deviation as a therapy for inflammatory autoimmune disease. J. Exp. Med. 180, 1961–1966 (1994).

Loetscher, P. et al. CCR5 is characteristic of Th1 lymphocytes. Nature 391, 344–345 (1998).

Biedermann, T. et al. Mast cells control neutrophil recruitment during T cell-mediated delayed-type hypersensitivity reactions through tumor necrosis factor and macrophage inflammatory protein 2. J. Exp. Med. 192, 1441–1452 (2000).

Luftl, M., Degitz, K., Plewig, G. & Rocken, M. Psoralen bath plus UV-A therapy. Possibilities and limitations. Arch. Dermatol. 133, 1597–1603 (1997).

Blumberg, H. et al. Interleukin-20: Discovery, receptor identification and the role in epidermal function. Cell 104, 9–19 (2001).

Mazzucchelli, L. et al. Expression of interleukin-8 gene in inflammatory bowel disease is related to the histological grade of active inflammation. Am. J. Pathol. 144, 997–1007 (1994).

Koch, A.E. et al. Regulation of angiogenesis by the C-X-C chemokines interleukin-8 and epithelial neutrophil activating peptide 78 in the rheumatoid joint. Arthritis Rheum. 44, 31–40 (2001).

Nelms, K., Keegan, A.D., Zamorano, J. & Paul, W.E. The IL-4 receptor: Signaling mechanisms and biologic functions. Annu. Rev. Immunol. 17, 701–738 (1999).

Rodriguez-Palmero, M., Hara, T., Thumbs, A. & Hunig, T. Triggering of T cell proliferation through CD28 induces GATA-3 and promotes T helper type 2 differentiation in vitro and in vivo. Eur J. Immunol. 29, 3914–3924 (1999).

Bielekova, B. et al. Encephalitogenic potential of the myelin basic protein peptide (amino acids 83–99) in multiple sclerosis: Results of a phase II clinical trial with an altered peptide ligand. Nature Med. 6, 1167–1175 (2000).

Kalinski, P. et al. IL-4 is a mediator of IL-12p70 induction by human Th2 cells: Reversal of polarized Th2 phenotype by dendritic cells. J. Immunol. 165, 1877–1881 (2000).

Fickenscher, H. et al. The interleukin-10 family of cytokines. Trends Immunol. 23, 89–96 (2002).

Kappos, L. et al. Induction of a non-encephalitogenic type 2 T helper-cell autoimmune response in multiple sclerosis after administration of an altered peptide ligand in a placebo-controlled, randomized phase II trial. The Altered Peptide Ligand in Relapsing MS Study Group. Nature Med. 1176–1182 (2000).

Leach, M.W., Rybak, M.E. & Rosenblum, I.Y. Safety evaluation of recombinant human interleukin-4. II. Clinical studies. Clin. Immunol. Immunopathol 83, 12–14 (1997).

Mack, M. et al. Transfer of the chemokine receptor CCR5 between cells by membrane-derived microparticles: A mechanism for cellular human immunodeficiency virus 1 infection. Nature Med. 6, 769–775 (2000).
Acknowledgements
We thank E.M. Shevach, Maryland; A.D. Levine, Ohio; and G. Riethmüller, Munich for helpful discussions and critical reading of the manuscript. We appreciate the excellent technical support by S. Barnsdorf, D. Dick, R. Gläser, S. Harrasser, D. Jakob, S. Multhaup, C. Reitmeier and B. Summer. This work was supported by the Deutsche Forschungsgemeinschaft RO 764/8-1, SFB 217 and 456, Wilhelm Sander-Stiftung (97.041.2) and the Schering-Plough Research Institute.
Ethics declarations
Competing interests
The study described in this article was supported in part by Schering-Plough, which provided interleukin-4 and a portion of the costs of the study.
About this article
Cite this article
Ghoreschi, K., Thomas, P., Breit, S. et al. Interleukin-4 therapy of psoriasis induces Th2 responses and improves human autoimmune disease. Nat Med 9, 40–46 (2003). https://doi.org/10.1038/nm804
Received:

Accepted:

Published:

Issue Date:

DOI: https://doi.org/10.1038/nm804