Abstract
The psychoactive constituent of cannabis, Δ9-tetrahydrocannabinol, produces in humans subjective responses mediated by CB1 cannabinoid receptors, indicating that endogenous cannabinoids may contribute to the control of emotion. But the variable effects of Δ9-tetrahydrocannabinol obscure the interpretation of these results and limit the therapeutic potential of direct cannabinoid agonists. An alternative approach may be to develop drugs that amplify the effects of endogenous cannabinoids by preventing their inactivation. Here we describe a class of potent, selective and systemically active inhibitors of fatty acid amide hydrolase, the enzyme responsible for the degradation of the endogenous cannabinoid anandamide. Like clinically used anti-anxiety drugs, in rats the inhibitors exhibit benzodiazepine-like properties in the elevated zero-maze test and suppress isolation-induced vocalizations. These effects are accompanied by augmented brain levels of anandamide and are prevented by CB1 receptor blockade. Our results indicate that anandamide participates in the modulation of emotional states and point to fatty acid amide hydrolase inhibition as an innovative approach to anti-anxiety therapy.
Relevant articles
Open Access articles citing this article.
Daniel Ying-Heng Hua

,

Chandni Hindocha

…

Tom P. Freeman

Translational Psychiatry Open Access 21 April 2023

Rosaria Greco

,

Chiara Demartini

…

Cristina Tassorelli

The Journal of Headache and Pain Open Access 07 July 2022
Access options
Subscribe to this journal
Receive 12 print issues and online access
$209.00 per year
only $17.42 per issue
Rent or buy this article
Prices vary by article type
from$1.95
to$39.95
Prices may be subject to local taxes which are calculated during checkout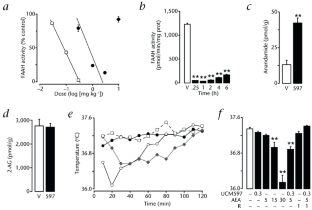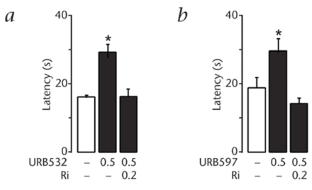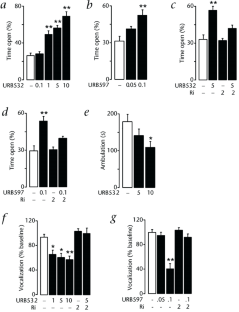 References
Devane, W.A. et al. Isolation and structure of a brain constituent that binds to the cannabinoid receptor. Science 258, 1946–1949 (1992).

Di Marzo, V. et al. Formation and inactivation of endogenous cannabinoid anandamide in central neurons. Nature 372, 686–691 (1994).

Giuffrida, A. et al. Dopamine activation of endogenous cannabinoid signaling in dorsal striatum. Nature Neurosci. 2, 358–363 (1999).

Beltramo, M. et al. Functional role of high-affinity anandamide transport, as revealed by selective inhibition. Science 277, 1094–1097 (1997).

Cravatt, B.F. et al. Molecular characterization of an enzyme that degrades neuromodulatory fatty-acid amides. Nature 384, 83–87 (1996).

Patricelli, M.P., Lovato, M.A. & Cravatt, B.F. Chemical and mutagenic investigations of fatty acid amide hydrolase: evidence for a family of serine hydrolases with distinct catalytic properties. Biochemistry 38, 9804–9812 (1999).

Rodríguez de Fonseca, F. et al. An anorexic lipid mediator regulated by feeding. Nature 414, 209–212 (2001).

Calignano, A., La Rana, G., Giuffrida, A. & Piomelli, D. Control of pain initiation by endogenous cannabinoids. Nature 394, 277–281 (1998).

Cravatt, B.F. et al. Supersensitivity to anandamide and enhanced endogenous cannabinoid signaling in mice lacking fatty acid amide hydrolase. Proc. Natl. Acad. Sci. USA 98, 9371–9376 (2001).

Hall, W. & Solowij, N. Adverse effects of cannabis. Lancet 352, 1611–1616 (1998).

Chaperon, F. & Thiébot, M.H. Behavioral effects of cannabinoid agents in animals. Crit. Rev. Neurobiol. 13, 243–281 (1999).

Koutek, B. et al. Inhibitors of arachidonoyl ethanolamide hydrolysis. J. Biol. Chem. 269, 22937–22940 (1994).

Beltramo, M., di Tomaso, E. & Piomelli, D. Inhibition of anandamide hydrolysis in rat brain tissue by (E)-6-(bromomethylene) tetrahydro-3-(1-naphthalenyl)-2H-pyran-2-one. FEBS Lett. 403, 263–267 (1997).

De Petrocellis, L. et al. Novel inhibitors of brain, neuronal, and basophilic anandamide amidohydrolase. Biochem. Biophys. Res. Commun. 231, 82–88 (1997).

Deutsch, D.G. et al. Fatty acid sulfonyl fluorides inhibit anandamide metabolism and bind to the cannabinoid receptor. Biochem. Biophys. Res. Commun. 231, 217–221 (1997).

Boger, D.L. et al. Exceptionally potent inhibitors of fatty acid amide hydrolase: the enzyme responsible for degradation of endogenous oleamide and anandamide. Proc. Natl. Acad. Sci. USA 97, 5044–5049 (2000).

Dinh, T.P. et al. Brain monoglyceride lipase participating in endocannabinoid inactivation. Proc. Natl. Acad. Sci. USA 99, 10819–10824 (2002).

Mechoulam, R. et al. Identification of an endogenous 2-monoglyceride, present in canine gut, that binds to cannabinoid receptors. Biochem. Pharmacol. 50, 83–90 (1995).

Sugiura, T. et al. 2-Arachidonoylglycerol: a possible endogenous cannabinoid receptor ligand in brain. Biochem. Biophys. Res. Commun. 215, 89–97 (1995).

Stella, N., Schweitzer, P. & Piomelli, D. A second endogenous cannabinoid that modulates long-term potentiation. Nature 388, 773–778 (1997).

Herkenham, M. et al. Cannabinoid receptor localization in brain. Proc. Natl. Acad. Sci. USA 87, 1932–1936 (1990).

Glass, M., Dragunow, M. & Faull, R.L. Cannabinoid receptors in the human brain: a detailed anatomical and quantitative autoradiographic study in the fetal, neonatal and adult human brain. Neuroscience 77, 299–318 (1997).

Katona, I. et al. Distribution of CB1 cannabinoid receptors in the amygdala and their role in the control of GABAergic transmission. J. Neurosci. 21, 9506–9518. (2001).

Robson, P. Therapeutic aspects of cannabis and cannabinoids. Br. J. Psychiatry 178, 107–115 (2001).

Rodríguez de Fonseca, F., Carrera, M.R.A., Navarro, M., Koob, G.F. & Weiss, F. Activation of corticotropin-releasing factor in the limbic system during cannabinoid withdrawal. Science 276, 2050–2054 (1997).

Arévalo, C., de Miguel, R. & Hernández-Tristán, R. Cannabinoid effects on anxiety-related behaviours and hypothalamic neurotransmitters. Pharmacol. Biochem. Behav. 70, 123–131 (2001).

Martin, M., Ledent, C., Parmentier, M., Maldonado, R. & Valverde, O. Involvement of CB1 cannabinoid receptors in emotional behaviour. Psychopharmacology (Berl) 159, 379–387 (2002).

Bickerdike, M.J., Marsden, C.A., Dourish, C.T. & Fletcher, A. The influence of 5-hydroxytryptamine re-uptake blockade on CCK receptor antagonist effects in the rat elevated zero-maze. Eur. J. Pharmacol. 271, 403–411 (1994).

Shepherd, J.K., Grewal, S.S., Fletcher, A., Bill, D.J. & Dourish, C.T. Behavioural and pharmacological characterisation of the elevated "zero-maze" as an animal model of anxiety. Psychopharmacology 116, 56–64 (1994).

Insel, T.R., Hill, J.L. & Mayor, R.B. Rat pup ultrasonic isolation calls: possible mediation by the benzodiazepine receptor complex. Pharmacol. Biochem. Behav. 24, 1263–1267 (1986).

Miczek, K.A., Weerts, E.M., Vivian, J.A. & Barros, H.M. Aggression, anxiety and vocalizations in animals: GABAA and 5-HT anxiolytics. Psychopharmacology 121, 38–56 (1995).

Winslow, J.T. & Insel, T.R. Infant rat separation is a sensitive test for novel anxiolytics. Prog. Neuropsychopharmacol. Biol. Psychiatry 15, 745–757 (1991).

Cahill, L. & McGaugh, J.L. Mechanisms of emotional arousal and lasting declarative memory. Trends Neurosci. 21, 294–299 (1998).

McDonald, A.J. & Mascagni, F. Localization of the CB1 type cannabinoid receptor in the rat basolateral amygdala: high concentrations in a subpopulation of cholecystokinin-containing interneurons. Neuroscience 107, 641–652 (2001).

Fink, H., Rex, A., Voits, M. & Voigt, J.P. Major biological actions of CCK: a critical evaluation of research findings. Exp. Brain Res. 123, 77–83 (1998).

Beinfeld, M.C. & Connolly, K. Activation of CB1 cannabinoid receptors in rat hippocampal slices inhibits potassium-evoked cholecystokinin release, a possible mechanism contributing to the spatial memory defects produced by cannabinoids. Neurosci. Lett. 301, 69–71 (2001).

Iversen, L. & Chapman, V. Cannabinoids: a real prospect for pain relief? Curr. Opin. Pharmacol. 2, 50–55 (2002).

Stella, N. & Piomelli, D. Receptor-dependent formation of endogenous cannabinoids in cortical neurons. Eur. J. Pharmacol. 425, 189–196 (2001).

Giuffrida, A., Rodríguez de Fonseca, F. & Piomelli, D. Quantification of bioactive acylethanolamides in rat plasma by electrospray mass spectrometry. Anal. Biochem. 280, 87–93 (2000).

Piomelli, D. et al. Structural determinants for recognition and translocation by the anandamide transporter. Proc. Natl. Acad. Sci. USA 96, 5802–5807 (1999).

Tseng, A.H. & Craft, R.M. Sex differences in antinociceptive and motoric effects of cannabinoids. Eur. J. Pharmacol. 430, 41–47 (2001).

Ali, M.M., Bawari, M., Misra, U.K. & Babu, G.N. Locomotor and learning deficits in adult rats exposed to monosodium-L-glutamate during early life. Neurosci. Lett. 284, 57–60 (2000).

Wedzony, K. et al. WAY 100135, an antagonist of 5-HT1A serotonin receptors, attenuates psychotomimetic effects of MK-801. Neuropsychopharmacology 23, 547–559 (2000).

Cuomo, V., Cagiano, R., Renna, G., De Salvia, M.A. & Racagni, G. Ultrasonic vocalization in rat pups: effects of early postnatal exposure to SCH 23390 (a DA1-receptor antagonist) and sulpiride (a DA2-receptor antagonist). Neuropharmacology 26, 701–705 (1987).

Haller, J., Bakus, N., Szirmay, M., Ledent, C. & Freund, T.F. The effects of genetic and pharmacological blockade of the CB1 cannabinoid receptor on anxiety. Eur. J. Neurosci. (in the press).
Acknowledgements
We thank A. Giuffrida and M. Solbrig for critical reading of the manuscript; B. Ferrer and F. Rodríguez de Fonseca for help with initial experiments; and J. Yoo and C. Park for technical assistance. The assistance of the Centro Interfacoltà Misure (CIM) and the Centro di Calcolo at the University of Parma is gratefully acknowledged. This research was supported by grants from the National Institute on Drug Abuse (to D.P.) and from MIUR, CNR and Universities of Parma and Urbino. D.P. is a Staglin Music Festival Investigator of the National Alliance for Research on Schizophrenia and Depression.
Ethics declarations
Competing interests
A patent has been filed, with A.D., A.T., M.M., G.T. and D.P. listed as inventors, the value of which may be affected by the publication of this work.
About this article
Cite this article
Kathuria, S., Gaetani, S., Fegley, D. et al. Modulation of anxiety through blockade of anandamide hydrolysis. Nat Med 9, 76–81 (2003). https://doi.org/10.1038/nm803
Received:

Accepted:

Published:

Issue Date:

DOI: https://doi.org/10.1038/nm803