Abstract
Secondary bacterial infection often occurs after pulmonary virus infection and is a common cause of severe disease in humans, yet the mechanisms responsible for this viral-bacterial synergy in the lung are only poorly understood. We now report that pulmonary interferon-γ (IFN-γ) produced during T cell responses to influenza infection in mice inhibits initial bacterial clearance from the lung by alveolar macrophages. This suppression of phagocytosis correlates with lung IFN-γ abundance, but not viral burden, and leads to enhanced susceptibility to secondary pneumococcal infection, which can be prevented by IFN-γ neutralization after influenza infection. Direct inoculation of IFN-γ can mimic influenza infection and downregulate the expression of the class A scavenger receptor MARCO on alveolar macrophages. Thus, IFN-γ, although probably facilitating induction of specific anti-influenza adaptive immunity, suppresses innate protection against extracellular bacterial pathogens in the lung.
Relevant articles
Open Access articles citing this article.
Michal Scur

,

Ahmad Bakur Mahmoud

…

Andrew P. Makrigiannis

Nature Communications Open Access 25 November 2022

Qinqin Pu

,

Kai Guo

…

Min Wu

Signal Transduction and Targeted Therapy Open Access 04 June 2021

Charles Feldman

&

Ronald Anderson

Pneumonia Open Access 25 April 2021
Access options
Subscribe to Journal
Get full journal access for 1 year
$79.00
only $6.58 per issue
All prices are NET prices.
VAT will be added later in the checkout.
Tax calculation will be finalised during checkout.
Buy article
Get time limited or full article access on ReadCube.
$32.00
All prices are NET prices.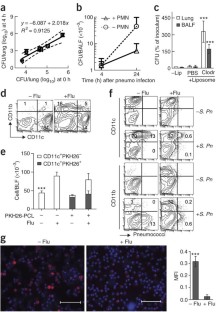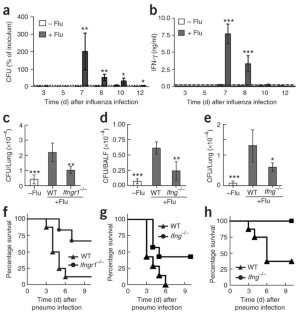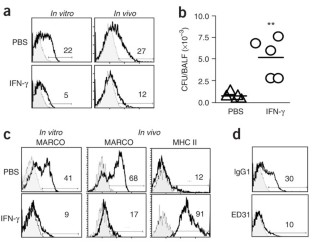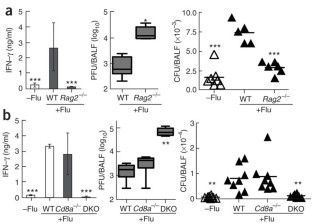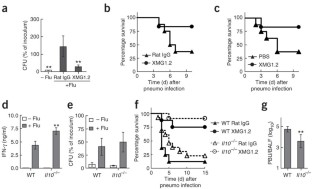 References
Brundage, J.F. Interactions between influenza and bacterial respiratory pathogens: implications for pandemic preparedness. Lancet Infect. Dis. 6, 303–312 (2006).

Stiver, H.G. The threat and prospects for control of an influenza pandemic. Expert Rev. Vaccines 3, 35–42 (2004).

Spooner, L.H., Scoot, L.H. & Heath, E.H. A bacteriologic study of the influenza epidemic at Camp Devens, Mass. J. Am. Med. Assoc. 72, 155–159 (1919).

Hall, J.N., Stone, M.C. & Simpson, J.C. The epidemic of pneumonia following influenza at Camp Logan, Texas. J. Am. Med. Assoc. 71, 1986–1987 (1918).

Klugman, K.P. & Madhi, S.A. Pneumococcal vaccines and flu preparedness. Science 316, 49–50 (2007).

Craft, A.W., Reid, M.M. & Low, W.T. Effect of virus infections on polymorph function in children. BMJ 1, 1570 (1976).

Abramson, J.S., Giebink, G.S., Mills, E.L. & Quie, P.G. Polymorphonuclear leukocyte dysfunction during influenza virus infection in chinchillas. J. Infect. Dis. 143, 836–845 (1981).

McNamee, L.A. & Harmsen, A.G. Both influenza-induced neutrophil dysfunction and neutrophil-independent mechanisms contribute to increased susceptibility to a secondary Streptococcus pneumoniae infection. Infect. Immun. 74, 6707–6721 (2006).

van der Sluijs, K.F. et al. Involvement of the platelet-activating factor receptor in host defense against Streptococcus pneumoniae during postinfluenza pneumonia. Am. J. Physiol. Lung Cell. Mol. Physiol. 290, L194–L199 (2006).

McCullers, J.A. & Rehg, J.E. Lethal synergism between influenza virus and Streptococcus pneumoniae: characterization of a mouse model and the role of platelet-activating factor receptor. J. Infect. Dis. 186, 341–350 (2002).

van der Sluijs, K.F. et al. IL-10 is an important mediator of the enhanced susceptibility to pneumococcal pneumonia after influenza infection. J. Immunol. 172, 7603–7609 (2004).

van der Sluijs, K.F. et al. Influenza-induced expression of indoleamine 2,3-dioxygenase enhances interleukin-10 production and bacterial outgrowth during secondary pneumococcal pneumonia. J. Infect. Dis. 193, 214–222 (2006).

LeVine, A.M., Koeningsknecht, V. & Stark, J.M. Decreased pulmonary clearance of S. pneumoniae following influenza A infection in mice. J. Virol. Methods 94, 173–186 (2001).

Dockrell, D.H. et al. Alveolar macrophage apoptosis contributes to pneumococcal clearance in a resolving model of pulmonary infection. J. Immunol. 171, 5380–5388 (2003).

Cleret, A., Quesnel-Hellmann, A., Mathieu, J., Vidal, D. & Tournier, J.N. Resident CD11c+ lung cells are impaired by anthrax toxins after spore infection. J. Infect. Dis. 194, 86–94 (2006).

La Gruta, N.L., Kedzierska, K., Stambas, J. & Doherty, P.C. A question of self-preservation: immunopathology in influenza virus infection. Immunol. Cell Biol. 85, 85–92 (2007).

Brown, D.M., Dilzer, A.M., Meents, D.L. & Swain, S.L. CD4 T cell–mediated protection from lethal influenza: perforin and antibody-mediated mechanisms give a one-two punch. J. Immunol. 177, 2888–2898 (2006).

Arredouani, M. et al. The scavenger receptor MARCO is required for lung defense against pneumococcal pneumonia and inhaled particles. J. Exp. Med. 200, 267–272 (2004).

Speert, D.P. & Thorson, L. Suppression by human recombinant γ interferon of in vitro macrophage nonopsonic and opsonic phagocytosis and killing. Infect. Immun. 59, 1893–1898 (1991).

Lundborg, M., Johansson, A., Lastbom, L. & Camner, P. Ingested aggregates of ultrafine carbon particles and interferon-γ impair rat alveolar macrophage function. Environ. Res. 81, 309–315 (1999).

Swain, S.L., Dutton, R.W. & Woodland, D.L. T cell responses to influenza virus infection: effector and memory cells. Viral Immunol. 17, 197–209 (2004).

Carneiro-Sampaio, M. & Coutinho, A. Immunity to microbes: lessons from primary immunodeficiencies. Infect. Immun. 75, 1544–1555 (2007).

Mellman, I. & Steinman, R.M. Dendritic cells: specialized and regulated antigen processing machines. Cell 106, 255–258 (2001).

Couch, R.B. The effects of influenza on host defenses. J. Infect. Dis. 144, 284–291 (1981).

McCullers, J.A. Insights into the interaction between influenza virus and pneumococcus. Clin. Microbiol. Rev. 19, 571–582 (2006).

Nugent, K.M. & Pesanti, E.L. Tracheal function during influenza infections. Infect. Immun. 42, 1102–1108 (1983).

Hayden, F.G. et al. Local and systemic cytokine responses during experimental human influenza A virus infection. Relation to symptom formation and host defense. J. Clin. Invest. 101, 643–649 (1998).

Kaiser, L., Fritz, R.S., Straus, S.E., Gubareva, L. & Hayden, F.G. Symptom pathogenesis during acute influenza: interleukin-6 and other cytokine responses. J. Med. Virol. 64, 262–268 (2001).

McCullers, J.A. & Bartmess, K.C. Role of neuraminidase in lethal synergism between influenza virus and Streptococcus pneumoniae. J. Infect. Dis. 187, 1000–1009 (2003).

Price, G.E., Gaszewska-Mastarlarz, A. & Moskophidis, D. The role of α/β and γ interferons in development of immunity to influenza A virus in mice. J. Virol. 74, 3996–4003 (2000).

Wiley, J.A., Cerwenka, A., Harkema, J.R., Dutton, R.W. & Harmsen, A.G. Production of interferon-γ by influenza hemagglutinin–specific CD8 effector T cells influences the development of pulmonary immunopathology. Am. J. Pathol. 158, 119–130 (2001).

Didierlaurent, A. et al. Sustained desensitization to bacterial Toll-like receptor ligands after resolution of respiratory influenza infection. J. Exp. Med. 205, 323–329 (2008).

Holt, P.G. et al. Downregulation of the antigen presenting cell function(s) of pulmonary dendritic cells in vivo by resident alveolar macrophages. J. Exp. Med. 177, 397–407 (1993).

Thepen, T., Hoeben, K., Breve, J. & Kraal, G. Alveolar macrophages down-regulate local pulmonary immune responses against intratracheally administered T cell–dependent, but not T cell–independent antigens. Immunology 76, 60–64 (1992).

Thepen, T., Van Rooijen, N. & Kraal, G. Alveolar macrophage elimination in vivo is associated with an increase in pulmonary immune response in mice. J. Exp. Med. 170, 499–509 (1989).

Iwasaki, A. Mucosal dendritic cells. Annu. Rev. Immunol. 25, 381–418 (2007).

Bot, A., Bot, S. & Bona, C.A. Protective role of γ interferon during the recall response to influenza virus. J. Virol. 72, 6637–6645 (1998).

Kodihalli, S., Sivanandan, V., Nagaraja, K.V., Shaw, D. & Halvorson, D.A. Effect of avian influenza virus infection on the phagocytic function of systemic phagocytes and pulmonary macrophages of turkeys. Avian Dis. 38, 93–102 (1994).

Jakab, G.J. Immune impairment of alveolar macrophage phagocytosis during influenza virus pneumonia. Am. Rev. Respir. Dis. 126, 778–782 (1982).

Kim, K.D. et al. Adaptive immune cells temper initial innate responses. Nat. Med. 13, 1248–1252 (2007).

Palm, N.W. & Medzhitov, R. Not so fast: adaptive suppression of innate immunity. Nat. Med. 13, 1142–1144 (2007).

Barton, E.S. et al. Herpesvirus latency confers symbiotic protection from bacterial infection. Nature 447, 326–329 (2007).

Raju, B. et al. Aerosolized γ interferon (IFN-γ) induces expression of the genes encoding the IFN-γ–inducible 10-kilodalton protein but not inducible nitric oxide synthase in the lung during tuberculosis. Infect. Immun. 72, 1275–1283 (2004).

van der Laan, L.J. et al. Regulation and functional involvement of macrophage scavenger receptor MARCO in clearance of bacteria in vivo. J. Immunol. 162, 939–947 (1999).
Acknowledgements
This work was supported by US National Institutes of Health grant RO1 AI41715. We thank J. Zhang and G. Kirimanjeswara for critical reading of the manuscript. Pneumococcal strain A66.1 was provided by D. Briles, University of Alabama at Birmingham. Pneumococcal strain D39 is provided by J. Zhang, Albany Medical College. Clodronate was a gift from Roche Diagnostics. We also thank the Center for Immunology and Microbial Disease Immunology Core Laboratory for experimental assistance.
Supplementary information
About this article
Cite this article
Sun, K., Metzger, D. Inhibition of pulmonary antibacterial defense by interferon-γ during recovery from influenza infection. Nat Med 14, 558–564 (2008). https://doi.org/10.1038/nm1765
Received:

Accepted:

Published:

Issue Date:

DOI: https://doi.org/10.1038/nm1765