Abstract
Methicillin-resistant Staphylococcus aureus (MRSA) remains a major human pathogen. Traditionally, MRSA infections occurred exclusively in hospitals and were limited to immunocompromised patients or individuals with predisposing risk factors. However, recently there has been an alarming epidemic caused by community-associated (CA)-MRSA strains, which can cause severe infections that can result in necrotizing fasciitis or even death in otherwise healthy adults outside of healthcare settings1,2. In the US, CA-MRSA is now the cause of the majority of infections that result in trips to the emergency room3. It is unclear what makes CA-MRSA strains more successful in causing human disease compared with their hospital-associated counterparts. Here we describe a class of secreted staphylococcal peptides that have a remarkable ability to recruit, activate and subsequently lyse human neutrophils, thus eliminating the main cellular defense against S. aureus infection. These peptides are produced at high concentrations by standard CA-MRSA strains and contribute significantly to the strains' ability to cause disease in animal models of infection. Our study reveals a previously uncharacterized set of S. aureus virulence factors that account at least in part for the enhanced virulence of CA-MRSA.
Your institute does not have access to this article
Relevant articles
Open Access articles citing this article.
Stuart W. McKellar

,

Ivayla Ivanova

…

Sander Granneman

Nature Communications Open Access 22 June 2022

Youwen Zhuang

,

Lei Wang

…

Cheng Zhang

Nature Communications Open Access 25 February 2022

Feng Liao

,

Wenpeng Gu

…

Yunhui Zhang

BMC Microbiology Open Access 02 October 2021
Access options
Subscribe to Journal
Get full journal access for 1 year
$59.00
only $4.92 per issue
All prices are NET prices.
VAT will be added later in the checkout.
Tax calculation will be finalised during checkout.
Buy article
Get time limited or full article access on ReadCube.
$32.00
All prices are NET prices.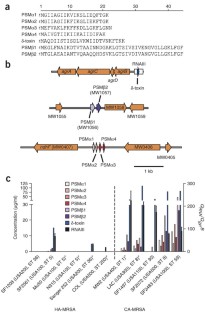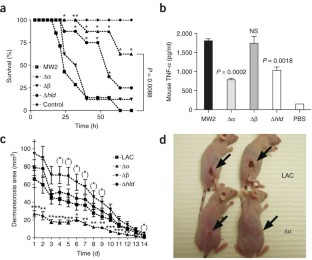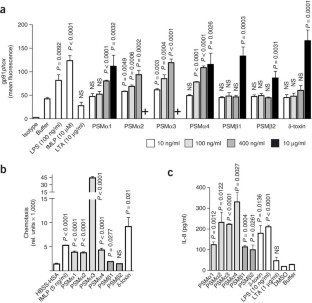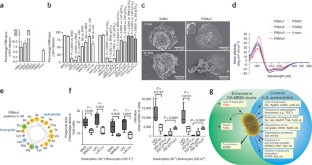 Accession codes
Accessions
GenBank/EMBL/DDBJ
References
Miller, L.G. et al. Necrotizing fasciitis caused by community-associated methicillin-resistant Staphylococcus aureus in Los Angeles. N. Engl. J. Med. 352, 1445–1453 (2005).

Chambers, H.F. Community-associated MRSA–resistance and virulence converge. N. Engl. J. Med. 352, 1485–1487 (2005).

Moran, G.J. et al. Methicillin-resistant S. aureus infections among patients in the emergency department. N. Engl. J. Med. 355, 666–674 (2006).

Baba, T. et al. Genome and virulence determinants of high virulence community-acquired MRSA. Lancet 359, 1819–1827 (2002).

Diep, B.A. et al. Complete genome sequence of USA300, an epidemic clone of community-acquired methicillin-resistant Staphylococcus aureus. Lancet 367, 731–739 (2006).

Vandenesch, F. et al. Community-acquired methicillin-resistant Staphylococcus aureus carrying Panton-Valentine leukocidin genes: worldwide emergence. Emerg. Infect. Dis. 9, 978–984 (2003).

Gillet, Y. et al. Association between Staphylococcus aureus strains carrying gene for Panton-Valentine leukocidin and highly lethal necrotising pneumonia in young immunocompetent patients. Lancet 359, 753–759 (2002).

Grojec, P.L. & Jeljaszewicz, J. Effect of staphylococcal leukocidin on mouse leukocyte system. Zentralbl. Bakteriol. Mikrobiol. Hyg. [A] 250, 446–455 (1981).

Cribier, B. et al. Staphylococcus aureus leukocidin: a new virulence factor in cutaneous infections? An epidemiological and experimental study. Dermatology 185, 175–180 (1992).

Labandeira-Rey, M. et al. Staphylococcus aureus Panton-Valentine leukocidin causes necrotizing pneumonia. Science 315, 1130–1133 (2007).

Fridkin, S.K. et al. Methicillin-resistant Staphylococcus aureus disease in three communities. N. Engl. J. Med. 352, 1436–1444 (2005).

Voyich, J.M. et al. Is Panton-Valentineleukocidin the major virulence determinant in community-associated methicillin-resistant Staphylococcus aureus disease? J. Infect. Dis. 194, 1761–1770 (2006).

Mehlin, C., Headley, C.M. & Klebanoff, S.J. An inflammatory polypeptide complex from Staphylococcus epidermidis: isolation and characterization. J. Exp. Med. 189, 907–918 (1999).

Voyich, J.M. et al. Insights into mechanisms used by Staphylococcus aureus to avoid destruction by human neutrophils. J. Immunol. 175, 3907–3919 (2005).

Adem, P.V. et al. Staphylococcus aureus sepsis and the Waterhouse-Friderichsen syndrome in children. N. Engl. J. Med. 353, 1245–1251 (2005).

Kravitz, G.R., Dries, D.J., Peterson, M.L. & Schlievert, P.M. Purpura fulminans due to Staphylococcus aureus. Clin. Infect. Dis. 40, 941–947 (2005).

Mellor, I.R., Thomas, D.H. & Sansom, M.S. Properties of ion channels formed by Staphylococcus aureus delta-toxin. Biochim. Biophys. Acta 942, 280–294 (1988).

Kong, K.F., Vuong, C. & Otto, M. Staphylococcus quorum sensing in biofilm formation and infection. Int. J. Med. Microbiol. 296, 133–139 (2006).

Redfield, R.J. Is quorum sensing a side effect of diffusion sensing? Trends Microbiol. 10, 365–370 (2002).

Holden, M.T. et al. Complete genomes of two clinical Staphylococcus aureus strains: evidence for the rapid evolution of virulence and drug resistance. Proc. Natl. Acad. Sci. USA 101, 9786–9791 (2004).

Gill, S.R. et al. Insights on evolution of virulence and resistance from the complete genome analysis of an early methicillin-resistant Staphylococcus aureus strain and a biofilm-producing methicillin-resistant Staphylococcus epidermidis strain. J. Bacteriol. 187, 2426–2438 (2005).

Kuroda, M. et al. Whole genome sequencing of meticillin-resistant Staphylococcus aureus. Lancet 357, 1225–1240 (2001).

Diep, B.A., Carleton, H.A., Chang, R.F., Sensabaugh, G.F. & Perdreau-Remington, F. Roles of 34 virulence genes in the evolution of hospital- and community-associated strains of methicillin-resistant Staphylococcus aureus. J. Infect. Dis. 193, 1495–1503 (2006).

Vuong, C., Gotz, F. & Otto, M. Construction and characterization of an agr deletion mutant of Staphylococcus epidermidis. Infect. Immun. 68, 1048–1053 (2000).

Bae, T. & Schneewind, O. Allelic replacement in Staphylococcus aureus with inducible counter-selection. Plasmid 55, 58–63 (2006).

Novick, R.P. et al. Synthesis of staphylococcal virulence factors is controlled by a regulatory RNA molecule. EMBO J. 12, 3967–3975 (1993).

Peschel, A., Ottenwalder, B. & Gotz, F. Inducible production and cellular location of the epidermin biosynthetic enzyme EpiB using an improved staphylococcal expression system. FEMS Microbiol. Lett. 137, 279–284 (1996).
Acknowledgements
We thank B. Diep and H. Chambers (University of California, San Francisco, USA) for S. aureus strains, T. Bae and O. Schneewind for plasmid pKOR1 (University of Chicago, Chicago, USA) and M. Teintze for help with circular dichroism measurements. This work was supported by the Intramural Research Program of the National Institute of Allergy and Infectious Diseases, US National Institutes of Health (to M.O. and F.R.D.) and the German Research Council (SFB 685) and the German Ministry of Education and Research (to A.P.).
Supplementary information
About this article
Cite this article
Wang, R., Braughton, K., Kretschmer, D. et al. Identification of novel cytolytic peptides as key virulence determinants for community-associated MRSA. Nat Med 13, 1510–1514 (2007). https://doi.org/10.1038/nm1656
Received:

Accepted:

Published:

Issue Date:

DOI: https://doi.org/10.1038/nm1656