Abstract
Ferritin, the iron storage protein, was recently suggested to be a candidate reporter for the detection of gene expression by magnetic resonance imaging (MRI). Here we report the generation of TET:EGFP-HAferritin (tet-hfer) transgenic mice, in which tissue-specific inducible transcriptional regulation of expression of the heavy chain of ferritin could be detected in vivo by MRI. We show organ specificity by mating the tet-hfer mice with transgenic mice expressing tetracycline transactivator (tTA) in liver hepatocytes and in vascular endothelial cells. Tetracycline-regulated overexpression of ferritin resulted in specific alterations of the transverse relaxation rate (R2) of water. Transgene-dependent changes in R2 were detectable by MRI in adult mice, and we also found fetal developmental induction of transgene expression in utero. Thus, the tet-hfer MRI reporter mice provide a new transgenic mouse platform for in vivo molecular imaging of reporter gene expression by MRI during both embryonic and adult life.
Access options
Subscribe to Journal
Get full journal access for 1 year
$209.00
only $17.42 per issue
All prices are NET prices.
VAT will be added later in the checkout.
Rent or Buy article
Get time limited or full article access on ReadCube.
from$8.99
All prices are NET prices.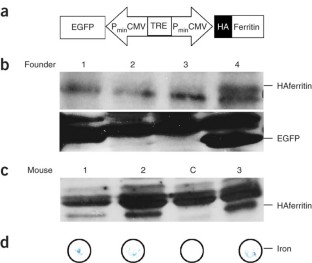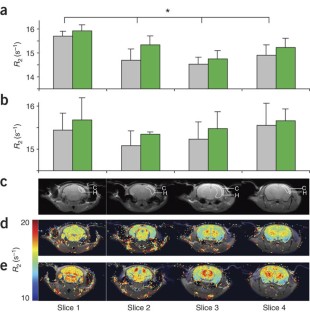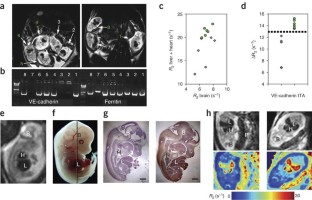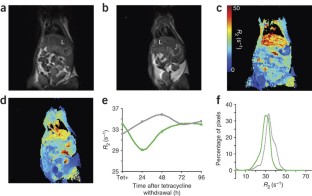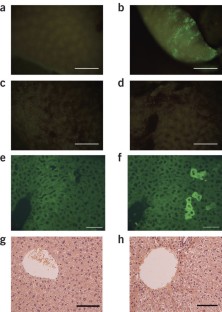 Accession codes
Accessions
GenBank/EMBL/DDBJ
References
1

Yang, M., Baranov, E., Moossa, A.R., Penman, S. & Hoffman, R.M. Visualizing gene expression by whole-body fluorescence imaging. Proc. Natl. Acad. Sci. USA 97, 12278–12282 (2000).

2

Contag, C.H. & Bachmann, M.H. Advances in in vivo bioluminescence imaging of gene expression. Annu. Rev. Biomed. Eng. 4, 235–260 (2002).

3

Ray, P., De, A., Min, J.J., Tsien, R.Y. & Gambhir, S.S. Imaging tri-fusion multimodality reporter gene expression in living subjects. Cancer Res. 64, 1323–1330 (2004).

4

Louie, A.Y. et al. In vivo visualization of gene expression using magnetic resonance imaging. Nat. Biotechnol. 18, 321–325 (2000).

5

Yu, J., Liu, L., Kodibagkar, V.D., Cui, W. & Mason, R.P. Synthesis and evaluation of novel enhanced gene reporter molecules: detection of beta-galactosidase activity using 19F NMR of trifluoromethylated aryl beta-D-galactopyranosides. Bioorg. Med. Chem. 14, 326–333 (2006).

6

Li, Z. et al. Creatine kinase, a magnetic resonance-detectable marker gene for quantification of liver-directed gene transfer. Hum. Gene Ther. 16, 1429–1438 (2005).

7

Walter, G., Barton, E.R. & Sweeney, H.L. Noninvasive measurement of gene expression in skeletal muscle. Proc. Natl. Acad. Sci. USA 97, 5151–5155 (2000).

8

Koretsky, A.P., Lin, Y.J., Schorle, H. & Jaenisch, R. Genetic control of MRI contrast by expression of the transferrin receptor. Proc. Int. Soc. for Magn. Reson. in Med. 4, 69 (1996).

9

Moore, A., Josephson, L., Bhorade, R.M., Basilion, J.P. & Weissleder, R. Human transferrin receptor gene as a marker gene for MR imaging. Radiology 221, 244–250 (2001).

10

Alfke, H. et al. In vitro MR imaging of regulated gene expression. Radiology 228, 488–492 (2003).

11

Weissleder, R. et al. MR imaging and scintigraphy of gene expression through melanin induction. Radiology 204, 425–429 (1997).

12

Cohen, B., Dafni, H., Meir, G., Harmelin, A. & Neeman, M. Ferritin as an endogenous MRI reporter for noninvasive imaging of gene expression in C6 glioma tumors. Neoplasia 7, 109–117 (2005).

13

Deans, A.E. et al. Cellular MRI contrast via coexpression of transferrin receptor and ferritin. Magn. Reson. Med. 56, 51–59 (2006).

14

Genove, G., DeMarco, U., Xu, H., Goins, W.F. & Ahrens, E.T. A new transgene reporter for in vivo magnetic resonance imaging. Nat. Med. 11, 450–454 (2005).

15

Gilad, A.A et al. Artificial reporter gene providing MRI contrast based on proton exchange. Nat. Biotechnol. 25, 217–219 (2007).

16

Theil, E.C. Ferritin: at the crossroads of iron and oxygen metabolism. J. Nutr. 133, 1549S–1553S (2003).

17

Gottesfeld, Z. & Neeman, M. Ferritin effect on the transverse relaxation of water: NMR microscopy at 9.4 T. Magn. Reson. Med. 35, 514–520 (1996).

18

Vymazal, J., Brooks, R.A., Bulte, J.W., Gordon, D. & Aisen, P. Iron uptake by ferritin: NMR relaxometry studies at low iron loads. J. Inorg. Biochem. 71, 153–157 (1998).

19

Vymazal, J., Zak, O., Bulte, J.W., Aisen, P. & Brooks, R.A. T1 and T2 of ferritin solutions: effect of loading factor. Magn. Reson. Med. 36, 61–65 (1996).

20

Gossuin, Y., Muller, R.N. & Gillis, P. Relaxation induced by ferritin: a better understanding for an improved MRI iron quantification. NMR Biomed. 17, 427–432 (2004).

21

Wood, J.C., Fassler, J.D. & Meade, T. Mimicking liver iron overload using liposomal ferritin preparations. Magn. Reson. Med. 51, 607–611 (2004).

22

Hardy, P.A. et al. Correlation of R2 with total iron concentration in the brains of rhesus monkeys. J. Magn. Reson. Imaging 21, 118–127 (2005).

23

Haacke, E.M. et al. Imaging iron stores in the brain using magnetic resonance imaging. Magn. Reson. Imaging 23, 1–25 (2005).

24

Bauminger, E.R. et al. Iron (II) oxidation and early intermediates of iron-core formation in recombinant human H-chain ferritin. Biochem. J. 296, 709–719 (1993).

25

Ferreira, C. et al. Early embryonic lethality of H ferritin gene deletion in mice. J. Biol. Chem. 275, 3021–3024 (2000).

26

Thompson, K. et al. Mouse brains deficient in H-ferritin have normal iron concentration but a protein profile of iron deficiency and increased evidence of oxidative stress. J. Neurosci. Res. 71, 46–63 (2003).

27

Orino, K. et al. Ferritin and the response to oxidative stress. Biochem. J. 357, 241–247 (2001).

28

Pham, C.G. et al. Ferritin heavy chain upregulation by NF-kappaB inhibits TNFalpha-induced apoptosis by suppressing reactive oxygen species. Cell 119, 529–542 (2004).

29

Giordani, A. et al. Contrasting effects of excess ferritin expression on the iron-mediated oxidative stress induced by tert-butyl hydroperoxide or ultraviolet-A in human fibroblasts and keratinocytes. J. Photochem. Photobiol. B 54, 43–54 (2000).

30

Kakhlon, O., Gruenbaum, Y. & Cabantchik, Z.I. Repression of the heavy ferritin chain increases the labile iron pool of human K562 cells. Biochem. J. 356, 311–316 (2001).

31

Wilkinson IV, J. et al. Tissue-specific expression of ferritin H regulates cellular iron homeostasis in vivo. Biochem. J. 395, 501–507 (2006).

32

Sun, J.F. et al. Microvascular patterning is controlled by fine-tuning the Akt signal. Proc. Natl. Acad. Sci. USA 102, 128–133 (2005).

33

Gory, S. et al. The vascular endothelial-cadherin promoter directs endothelial-specific expression in transgenic mice. Blood 93, 184–192 (1999).

34

Kistner, A. et al. Doxycycline-mediated quantitative and tissue-specific control of gene expression in transgenic mice. Proc. Natl. Acad. Sci. USA 93, 10933–10938 (1996).

35

Cozzi, A. et al. Overexpression of wild type and mutated human ferritin H-chain in HeLa cells: in vivo role of ferritin ferroxidase activity. J. Biol. Chem. 275, 25122–25129 (2000).

36

Haacke, E.M., Xu, Y., Cheng, Y.C. & Reichenbach, J.R. Susceptibility weighted imaging (SWI). Magn. Reson. Med. 52, 612–618 (2004).

37

Carmeliet, P. & Collen, D. Molecular basis of angiogenesis. Role of VEGF and VE-cadherin. Ann. NY Acad. Sci. 902, 249–262 (2000).

38

Kim, I., Yilmaz, O.H. & Morrison, S.J. CD144 (VE-cadherin) is transiently expressed by fetal liver hematopoietic stem cells. Blood 106, 903–905 (2005).

39

Grabill, C., Silva, A.C., Smith, S.S., Koretsky, A.P. & Rouault, T.A. MRI detection of ferritin iron overload and associated neuronal pathology in iron regulatory protein-2 knockout mice. Brain Res. 971, 95–106 (2003).

40

Kato, J. et al. A mutation, in the iron-responsive element of H ferritin mRNA, causing autosomal dominant iron overload. Am. J. Hum. Genet. 69, 191–197 (2001).

41

Furth, P.A. et al. Temporal control of gene expression in transgenic mice by a tetracycline-responsive promoter. Proc. Natl. Acad. Sci. USA 91, 9302–9306 (1994).

42

Plaks, V., Kalchenko, V., Dekel, N. & Neeman, M. MRI analysis of angiogenesis during mouse embryo implantation. Magn. Reson. Med. 55, 1013–1022 (2006).

43

Sheehan, D.C. & Hrapchak, B.B. Theory and Practice of Histotechnology 2nd edn, 217 (Mosby, St Louis, 1980).
Acknowledgements
We would like to acknowledge helpful discussions with A. Koretsky, P. Bendel, E. Keshet and Y. Dor. We would like to thank G. Damari and E. Ino for their help in generation and breeding of the transgenic mice. This work was supported by the Israel Science Foundation 391/02 and by the Minerva Foundation (to M.N.).
Ethics declarations
Competing interests
The authors declare no competing financial interests.
Supplementary information
About this article
Cite this article
Cohen, B., Ziv, K., Plaks, V. et al. MRI detection of transcriptional regulation of gene expression in transgenic mice. Nat Med 13, 498–503 (2007). https://doi.org/10.1038/nm1497
Received:

Accepted:

Published:

Issue Date: