Abstract
Multivariate analysis of 1H-NMR spectra of blood sera was reported previously to predict angiographically defined advanced coronary artery disease (CAD) with >90% accuracy and specificity. The analysis depended mainly on the major lipid regions of the spectra, but many variables, including gender and drug treatment, affect lipid composition and are potential confounders. We have determined the predictive power of the same methodology for angiographically defined CAD using plasma samples from groups of male patients, classified by statin treatment, who had normal coronary arteries (NCAs) or CAD. Predictions for NCA and CAD groups were only 80.3% correct for patients not treated with statins and 61.3% for treated patients, compared with random correct predictions of 50%. A confidence limit of >99% was achieved for 36.2% of predictions for untreated groups and 6.2% for treated groups. Detection of CAD by 1H-NMR with >99% confidence was therefore very weak compared with angiography.
Relevant articles
Open Access articles citing this article.
Camila Lema

,

Mireia Andrés

…

Ignasi Barba

Scientific Reports Open Access 20 October 2020

Ignasi Barba

,

Mireia Andrés

…

David Garcia-Dorado

Scientific Reports Open Access 20 February 2019

Pierre Zalloua

,

Hanane Kadar

…

Dominique Gauguier

Lipids in Health and Disease Open Access 02 February 2019
Access options
Subscribe to Journal
Get full journal access for 1 year
$79.00
only $6.58 per issue
All prices are NET prices.
VAT will be added later in the checkout.
Tax calculation will be finalised during checkout.
Buy article
Get time limited or full article access on ReadCube.
$32.00
All prices are NET prices.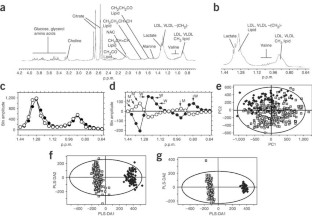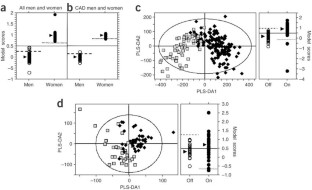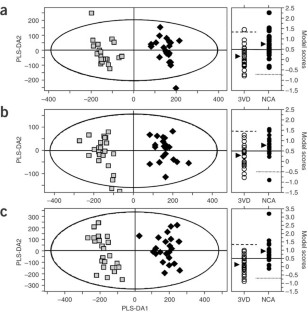 Notes
NOTE: In the version of this article initially published, the layout of the data in Tables 1 and 2 is incorrect. The error has been corrected in the HTML and PDF versions of the article.
References
Brindle, J.T. et al. Rapid and noninvasive diagnosis of the presence and severity of coronary heart disease using 1H-NMR-based metabonomics. Nat. Med. 8, 1439–1444 (2002).

Brindle, J.T., Nicholson, J.K., Schofield, P.M., Grainger, D.J. & Holmes, E. Application of chemometrics to 1H NMR spectroscopic data to investigate a relationship between human serum metabolic profiles and hypertension. Analyst 128, 32–36 (2003).

Bittner, V. Lipoprotein abnormalities related to women's health. Am. J. Cardiol. 90, 77I–84i (2002).

Scandinavian Simvastatin Survival Study Group. Randomised trial of cholesterol lowering in 4444 patients with coronary heart disease: the Scandinavian Simvastatin Survival Study (4S). Lancet 344, 1383–1389 (1994).

Legato, M.J. Dyslipidemia, gender, and the role of high-density lipoprotein cholesterol: implications for therapy. Am. J. Cardiol. 86, 15L–18L (2000).

Jousilahti, P., Vartiainen, E., Tuomilehto, J. & Puska, P. Sex, age, cardiovascular risk factors, and coronary heart disease: a prospective follow-up study of 14786 middle-aged men and women in Finland. Circulation 99, 1165–1172 (1999).

Lounila, J., Ala-Korpela, M., Jokisaari, J., Savolainen, M.J. & Kesaniemi, Y.A. Effects of orientational order and particle size on the NMR line positions of lipoproteins. Phys. Rev. Lett. 72, 4049–4052 (1994).

Freedman, D.S. et al. Sex and age differences in lipoprotein subclasses measured by nuclear magnetic resonance spectroscopy: the Framingham Study. Clin. Chem. 50, 1189–1200 (2004).

Blake, G.J., Otvos, J.D., Rifai, N. & Ridker, P.M. Low-density lipoprotein particle concentration and size as determined by nuclear magnetic resonance spectroscopy as predictors of cardiovascular disease in women. Circulation 106, 1930–1937 (2002).

Ransohoff, D.F. Rules of evidence for cancer molecular-marker discovery and validation. Nat. Rev. Cancer 4, 309–314 (2004).

Ransohoff, D.F. Bias as a threat to the validity of cancer molecular-marker research. Nat. Rev. Cancer 5, 142–149 (2005).

Craig, W.Y. et al. Effect of sample storage on the assay of lipoprotein(a) by commercially available radial immunodiffusion and enzyme-linked immunosorbent assay kits. Clin. Chem. 38, 550–553 (1992).

Lim, H.M. et al. Some factors that influence the plasma lipoprotein 1H NMR spectra of normal and cancer patients: an oncolipid test? Yale J. Biol. Med. 64, 63–77 (1991).

Bell, J.D., Sadler, P.J., Macleod, A.F., Turner, P.R. & La Ville, A. 1H NMR studies of human blood plasma. Assignment of resonances for lipoproteins. FEBS Lett. 219, 239–243 (1987).

Le Moyec, L., Valensi, P., Charniot, J.C., Hantz, E. & Albertini, J.P. Serum 1H-nuclear magnetic spectroscopy followed by principal component analysis and hierarchical cluster analysis to demonstrate effects of statins on hyperlipidemic patients. NMR Biomed. 18, 421–429 (2005).

Mierisova, S. & Ala-Korpela, M. MR spectroscopy quantitation: a review of frequency domain methods. NMR Biomed. 14, 247–259 (2001).

van der Veen, J.W., de Beer, R., Luyten, P.R. & van Ormondt, D. Accurate quantification of in vivo31P NMR signals using the variable projection method and prior knowledge. Magn. Reson. Med. 6, 92–98 (1988).

Vanhamme, L., van den Boogaart, A. & Van Huffel, S. Improved method for accurate and efficient quantification of MRS data with use of prior knowledge. J. Magn. Reson. 129, 35–43 (1997).

Clarke, S.C., Schofield, P.M., Grace, A.A., Metcalfe, J.C. & Kirschenlohr, H.L. Tamoxifen effects on endothelial function and cardiovascular risk factors in men with advanced atherosclerosis. Circulation 103, 1497–1502 (2001).

Clarke, S.C., Kelleher, J., Lloyd-Jones, H., Slack, M. & Schofiel, P.M. A study of hormone replacement therapy in postmenopausal women with ischaemic heart disease: the Papworth HRT atherosclerosis study. BJOG 109, 1056–1062 (2002).

Anthony, M.L., Sweatman, B.C., Beddell, C.R., Lindon, J.C. & Nicholson, J.K. Pattern recognition classification of the site of nephrotoxicity based on metabolic data derived from proton nuclear magnetic resonance spectra of urine. Mol. Pharmacol. 46, 199–211 (1994).

Eriksson, L., Johansson, E., Kettaneh-Wold, N. & Wold, S. in Multi- and Megavariate Data Analysis. Principles and Applications. 43–69, 71–112, 229–234 (Umetrics Academy, Umea, Sweden, 2001).

Gavaghan, C.L., Holmes, E., Lenz, E., Wilson, I.D. & Nicholson, J.K. An NMR-based metabonomic approach to investigate the biochemical consequences of genetic strain differences: application to the C57BL10J and Alpk:ApfCD mouse. FEBS Lett. 484, 169–174 (2000).
Acknowledgements
This study was funded by a Co-operative Group grant from the Medical Research Council (to J.C.M.) and a grant from the Biotechnology and Biological Sciences Research Council (to K.M.B.). Sample collections were funded by grants from the Dr Scholl Foundation, Chicago (to P.M.S.) and from NeoRx Corporation, Seattle (to A.A.G.). J.L.G. is a Royal Society University Research Fellow.
Ethics declarations
Competing interests
The authors declare no competing financial interests.
Supplementary information
About this article
Cite this article
Kirschenlohr, H., Griffin, J., Clarke, S. et al. Proton NMR analysis of plasma is a weak predictor of coronary artery disease. Nat Med 12, 705–710 (2006). https://doi.org/10.1038/nm1432
Received:

Accepted:

Published:

Issue Date:

DOI: https://doi.org/10.1038/nm1432