Abstract
The mechanism underlying the autoimmune polyglandular syndrome type-1 (APS1) has been attributed to defective T-cell negative selection resulting from reduced expression and presentation of autoantigens in thymic medullary epithelial cells (MECs). It has also been postulated that Aire is involved in development of regulatory T cells, although supporting evidence is lacking. Here we show that expression of Aire in MECs is required for development of iNKT cells, suggesting a role for iNKT cells in APS1. NOTE: We are retracting this report as it contains several errors, including duplications and manipulations of some flow cytometry plots in Figure 1a and in Supplementary Figure 2 online, incorrect juxtaposition of data in Figure 1g (spleen) that in fact derive from different experiments, and inaccurate reporting of the absolute number of iNKT cells and s.d. values, even though the statistical significance remains unchanged. Although original data exist for each figure that largely support the conclusions drawn, we believe that the number of figures affected means that the appropriate response is to retract this paper.
Access options
Subscribe to Journal
Get full journal access for 1 year
$79.00
only $6.58 per issue
All prices are NET prices.
VAT will be added later in the checkout.
Tax calculation will be finalised during checkout.
Buy article
Get time limited or full article access on ReadCube.
$32.00
All prices are NET prices.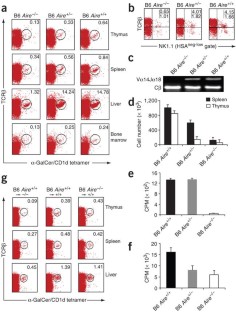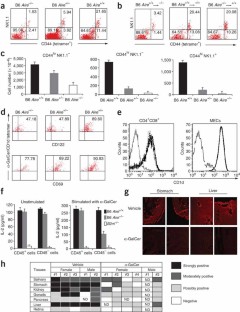 References
Ruan, Q.G. & She, J.X. Clin. Lab. Med. 24, 305–317 (2004).

Anderson, M.S. et al. Science 298, 1395–1401 (2002).

Kuroda, N. et al. J. Immunol. 174, 1862–1870 (2005).

Ramsey, C. et al. Hum. Mol. Genet. 11, 397–409 (2002).

Liston, A. et al. Nat. Immunol. 4, 350–354 (2003).

Anderson, M.S. et al. Immunity 23, 227–239 (2005).

Mathis, D. & Benoist, C. Immunity 20, 509–516 (2004).

Matsuda, J.L. & Gapin, L. Curr. Opin. Immunol. 17, 122–130 (2005).

Mi, Q.S. et al. Diabetes 53, 1303–1310 (2004).

Sivakumar, V. et al. J. Exp. Med. 197, 1613–1621 (2003).

Wagner, M.J. et al. J. Immunol. 174, 6764–6771 (2005).

Heino, M. et al. Eur. J. Immunol. 30, 1884–1893 (2000).

Zhou, D. et al. Science 306, 1786–1789 (2004).

Wei, D.G. et al. J. Exp. Med. 202, 239–248 (2005).

Chin, R.K. et al. Nat. Immunol. 4, 1121–1127 (2003).
Acknowledgements
We thank R. Brutkiewicz and K. Hayakawa for the gifts of NKT cell lines, L. Peltonen for providing the initial Aire−/− mice and Kirin Brewery Pharmaceutical Co. for α-GalCer. We acknowledge H. He for his assistance with artwork. This work was supported in part by grants from the American Diabetes Association (to Q.-S.M.), the Juvenile Diabetes Research Foundation International (to Q.-S.M.), the US National Institutes of Health (to J.-X.S.) and the Canadian Institutes of Health Research (to T.L.D.).
Ethics declarations
Competing interests
The authors declare no competing financial interests.
Supplementary information
About this article
Cite this article
Mi, QS., Deng, ZB., Joshi, S. et al. The autoimmune regulator (Aire) controls iNKT cell development and maturation. Nat Med 12, 624–626 (2006). https://doi.org/10.1038/nm1424
Received:

Accepted:

Published:

Issue Date:

DOI: https://doi.org/10.1038/nm1424
This article is cited by
Gurumoorthy Krishnamoorthy
Andreas Holz
Hartmut Wekerle

Journal of Molecular Medicine (2007)

Qing-Sheng Mi
Zhong-Bin Deng
Jin-Xiong She

Nature Medicine (2006)

Nature Reviews Immunology (2006)