Abstract
Endochondral ossification is an essential process not only for physiological skeletal development and growth, but also for pathological disorders. We recently identified a novel cartilage-specific molecule, carminerin (also known as cystatin 10 and encoded by Cst10), which is upregulated in synchrony with cartilage maturation and stimulates the later differentiation of cultured chondrocytes1. Although carminerin-deficient (Cst10−/−) mice developed and grew normally, they had a microscopic decrease in the calcification of hypertrophic chondrocytes at the growth plate. When we created experimental models of pathological endochondral ossification, we observed suppression of chondrocyte calcification during formation of osteoarthritic osteophytes, age-related ectopic ossification and healing of bone fractures in Cst10−/− mice. Cultured Cst10−/− chondrocytes showed a reduction in calcification with activation of an SRY site in the promoter of the gene encoding nucleotide pyrophosphatase phosphodiesterase 1 (NPP1, encoded by Enpp1). Functional NPP1 is required for carminerin deficiency to suppress the pathological endochondral ossifications listed above. Carminerin is the first cartilage-specific protein that contributes to chondrocyte calcification during endochondral ossification under physiological and pathological conditions through the transcriptional inhibition of NPP1.
Relevant articles
Open Access articles citing this article.
Zenta Joutoku

,

Tomohiro Onodera

…

Norimasa Iwasaki

Scientific Reports Open Access 26 March 2019

Dong-xing Xie

,

Jie Wei

…

Guang-hua Lei

BMC Musculoskeletal Disorders Open Access 16 December 2017
Access options
Subscribe to Journal
Get full journal access for 1 year
$79.00
only $6.58 per issue
All prices are NET prices.
VAT will be added later in the checkout.
Tax calculation will be finalised during checkout.
Buy article
Get time limited or full article access on ReadCube.
$32.00
All prices are NET prices.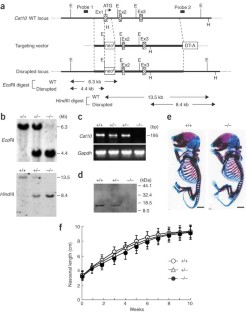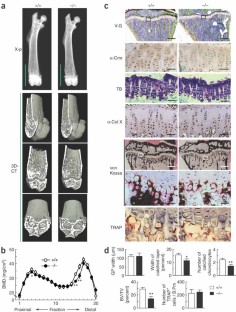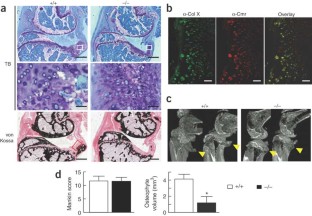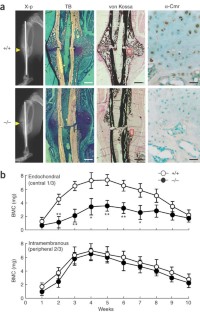 References
Koshizuka, Y. et al. Cystatin 10, a novel chondrocyte-specific protein, may promote the last steps of the chondrocyte differentiation pathway. J. Biol. Chem. 278, 48259–48266 (2003).

Kamekura, S. et al. Osteoarthritis development in novel experimental mouse models induced by knee joint instability. Osteoarthritis Cartilage 13, 632–641 (2005).

Mankin, H.J., Johnson, M.E. & Lippiello, L. Biochemical and metabolic abnormalities in articular cartilage from osteoarthritic human hips. III. Distribution and metabolism of amino sugar-containing macromolecules. J. Bone Joint Surg. Am. 63, 131–139 (1981).

Shimoaka, T. et al. Impairment of bone healing by insulin receptor substrate-1 deficiency. J. Biol. Chem. 279, 15314–15322 (2004).

Chikuda, H. et al. Cyclic GMP-dependent protein kinase II is a molecular switch from proliferation to hypertrophic differentiation of chondrocytes. Genes Dev. 18, 2418–2429 (2004).

Wolbach, S.B. Vitamin-A deficiency and excess in relation to skeletal growth. J. Bone Joint Surg. 29, 171–192 (1947).

Terkeltaub, R.A. Inorganic pyrophosphate generation and disposition in pathophysiology. Am. J. Physiol. Cell Physiol. 281, C1–C11 (2001).

Bollen, M., Gijsbers, R., Ceulemans, H., Stalmans, W. & Stefan, C. Nucleotide pyrophosphatases/phosphodiesterases on the move. Crit. Rev. Biochem. Mol. Biol. 35, 393–432 (2000).

Balcerzak, M. et al. The roles of annexins and alkaline phosphatase in mineralization process. Acta Biochim. Pol. 50, 1019–1038 (2003).

Ryan, L.M. The ank gene story. Arthritis Res. 3, 77–79 (2001).

de Crombrugghe, B., Lefebvre, V. & Nakashima, K. Regulatory mechanisms in the pathways of cartilage and bone formation. Curr. Opin. Cell Biol. 13, 721–727 (2001).

Akiyama, H., Chaboissier, M.C., Martin, J.F., Schedl, A. & de Crombrugghe, B. The transcription factor Sox9 has essential roles in successive steps of the chondrocyte differentiation pathway and is required for expression of Sox5 and Sox6. Genes Dev. 16, 2813–2828 (2002).

Lotz, M. et al. Interleukin 1 beta suppresses transforming growth factor-induced inorganic pyrophosphate (PPi) production and expression of the PPi-generating enzyme PC-1 in human chondrocytes. Proc. Natl. Acad. Sci. USA 92, 10364–10368 (1995).

Solan, J.L., Deftos, L.J., Goding, J.W. & Terkeltaub, R.A. Expression of the nucleoside triphosphate pyrophosphohydrolase PC-1 is induced by basic fibroblast growth factor (bFGF) and modulated by activation of the protein kinase A and C pathways in osteoblast-like osteosarcoma cells. J. Bone Miner. Res. 11, 183–192 (1996).

Oyajobi, B.O., Caswell, A.M. & Russell, R.G. Transforming growth factor beta increases ecto-nucleoside triphosphate pyrophosphatase activity of human bone-derived cells. J. Bone Miner. Res. 9, 99–109 (1994).

Okawa, A. et al. Mutation in Npps in a mouse model of ossification of the posterior longitudinal ligament of the spine. Nat. Genet. 19, 271–273 (1998).

Goldfine, I.D., Maddux, B.A., Youngren, J.F., Trischitta, V. & Frittitta, L. Role of PC-1 in the etiology of insulin resistance. Ann. NY Acad. Sci. 892, 204–222 (1999).

Shukunami, C. et al. Chondrogenic differentiation of clonal mouse embryonic cell line ATDC5 in vitro: differentiation-dependent gene expression of parathyroid hormone (PTH)/PTH-related peptide receptor. J. Cell Biol. 133, 457–468 (1996).

Laroche, M. Phosphate, the renal tubule, and the musculoskeletal system. Joint Bone Spine 68, 211–215 (2001).

Jono, S. et al. Phosphate regulation of vascular smooth muscle cell calcification. Circ. Res. 87, E10–E17 (2000).

Nakamichi, Y. et al. Chondromodulin I is a bone remodeling factor. Mol. Cell. Biol. 23, 636–644 (2003).

Parfitt, A.M. et al. Bone histomorphometry: standardization of nomenclature, symbols, and units. Report of the ASBMR Histomorphometry Nomenclature Committee. J. Bone Miner. Res. 2, 595–610 (1987).
Acknowledgements
This study was supported by a Grant-in-aid for Scientific Research from the Japanese Ministry of Education, Culture, Sports, Science, and Technology (#14370454), and by the Investigation Committee on the Ossification of Spinal Ligaments, Japanese Ministry of Public Health and Welfare.
Ethics declarations
Competing interests
The authors declare no competing financial interests.
Supplementary information
About this article
Cite this article
Yamada, T., Kawano, H., Koshizuka, Y. et al. Carminerin contributes to chondrocyte calcification during endochondral ossification. Nat Med 12, 665–670 (2006). https://doi.org/10.1038/nm1409
Received:

Accepted:

Published:

Issue Date:

DOI: https://doi.org/10.1038/nm1409