Abstract
The mechanisms through which hematopoietic cytokines accelerate revascularization are unknown. Here, we show that the magnitude of cytokine-mediated release of SDF-1 from platelets and the recruitment of nonendothelial CXCR4+VEGFR1+ hematopoietic progenitors, 'hemangiocytes,' constitute the major determinant of revascularization. Soluble Kit-ligand (sKitL), thrombopoietin (TPO, encoded by Thpo) and, to a lesser extent, erythropoietin (EPO) and granulocyte-macrophage colony-stimulating factor (GM-CSF) induced the release of SDF-1 from platelets, enhancing neovascularization through mobilization of CXCR4+VEGFR1+ hemangiocytes. Although revascularization of ischemic hindlimbs was partially diminished in mice deficient in both GM-CSF and G-CSF (Csf2−/−Csf3−/−), profound impairment in neovascularization was detected in sKitL-deficient Mmp9−/− as well as thrombocytopenic Thpo−/− and TPO receptor–deficient (Mpl−/−) mice. SDF-1–mediated mobilization and incorporation of hemangiocytes into ischemic limbs were impaired in Thpo−/−, Mpl−/− and Mmp9−/− mice. Transplantation of CXCR4+VEGFR1+ hemangiocytes into Mmp9−/− mice restored revascularization, whereas inhibition of CXCR4 abrogated cytokine- and VEGF-A–mediated mobilization of CXCR4+VEGFR1+ cells and suppressed angiogenesis. In conclusion, hematopoietic cytokines, through graded deployment of SDF-1 from platelets, support mobilization and recruitment of CXCR4+VEGFR1+ hemangiocytes, whereas VEGFR1 is essential for their angiogenic competency for augmenting revascularization. Delivery of SDF-1 may be effective in restoring angiogenesis in individuals with vasculopathies.
Access options
Subscribe to Journal
Get full journal access for 1 year
$209.00
only $17.42 per issue
All prices are NET prices.
VAT will be added later in the checkout.
Rent or Buy article
Get time limited or full article access on ReadCube.
from$8.99
All prices are NET prices.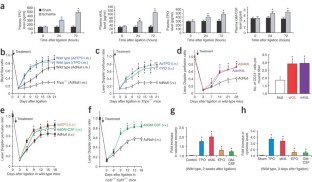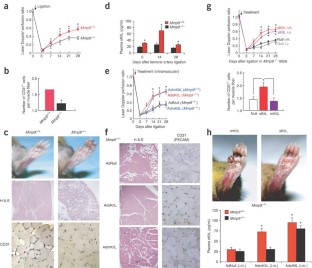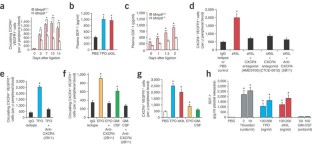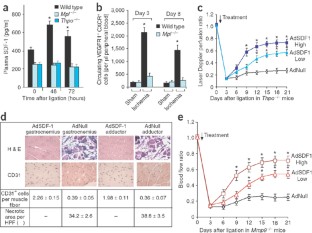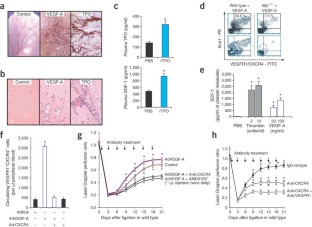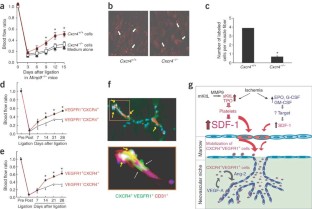 Notes
1.

NOTE: In the version of this article initially published, one of the micrographs in Figure 4d was incorrect. In Figure 4d, the micrograph showing CD31 staining of AdNull-treated adductor muscle is overlapping with the micrograph showing CD31 staining of the AdNull-treated gastrocnemius muscle. The authors of the article have indicated that the micrograph shown for the adductor muscle was incorrectly included due to an inadvertent error during manuscript preparation, and that the error does not affect the quantitative results shown in Figure 4d or any of the conclusions of the article. The error has been corrected in the HTML and PDF versions of the article.
References
1

Rafii, S. & Lyden, D. Therapeutic stem and progenitor cell transplantation for organ vascularization and regeneration. Nat. Med. 9, 702–712 (2003).

2

Coussens, L.M. & Werb, Z. Inflammation and cancer. Nature 420, 860–867 (2002).

3

Coussens, L.M., Tinkle, C.L., Hanahan, D. & Werb, Z. MMP-9 supplied by bone marrow-derived cells contributes to skin carcinogenesis. Cell 103, 481–490 (2000).

4

Takakura, N. et al. A role for hematopoietic stem cells in promoting angiogenesis. Cell 102, 199–209 (2000).

5

Aicher, A. et al. Essential role of endothelial nitric oxide synthase for mobilization of stem and progenitor cells. Nat. Med. 9, 1370–1376 (2003).

6

Luttun, A. et al. Revascularization of ischemic tissues by PlGF treatment, and inhibition of tumor angiogenesis, arthritis and atherosclerosis by anti-Flt1. Nat. Med. 8, 831–840 (2002).

7

Cursiefen, C. et al. VEGF-A stimulates lymphangiogenesis and hemangiogenesis in inflammatory neovascularization via macrophage recruitment. J. Clin. Invest. 113, 1040–1050 (2004).

8

Yang, L. et al. Expansion of myeloid immune suppressor Gr+CD11b+ cells in tumor-bearing host directly promotes tumor angiogenesis. Cancer Cell 6, 409–421 (2004).

9

Lyden, D. et al. Impaired recruitment of bone-marrow-derived endothelial and hematopoietic precursor cells blocks tumor angiogenesis and growth. Nat. Med. 7, 1194–1201 (2001).

10

Conejo-Garcia, J.R. et al. Tumor-infiltrating dendritic cell precursors recruited by a beta-defensin contribute to vasculogenesis under the influence of Vegf-A. Nat. Med. 10, 950–958 (2004).

11

De Palma, M. et al. Tie2 identifies a hematopoietic lineage of proangiogenic monocytes required for tumor vessel formation and a mesenchymal population of pericyte progenitors. Cancer Cell 8, 211–226 (2005).

12

Takahashi, T. et al. Ischemia- and cytokine-induced mobilization of bone marrow-derived endothelial progenitor cells for neovascularization. Nat. Med. 5, 434–438 (1999).

13

Heeschen, C. et al. Erythropoietin is a potent physiologic stimulus for endothelial progenitor cell mobilization. Blood 102, 1340–1346 (2003).

14

Kertesz, N., Wu, J., Chen, T.H., Sucov, H.M. & Wu, H. The role of erythropoietin in regulating angiogenesis. Dev. Biol. 276, 101–110 (2004).

15

Henke, M. et al. Erythropoietin to treat head and neck cancer patients with anaemia undergoing radiotherapy: randomised, double-blind, placebo-controlled trial. Lancet 362, 1255–1260 (2003).

16

Matsui, J., Wakabayashi, T., Asada, M., Yoshimatsu, K. & Okada, M. Stem cell factor/c-kit signaling promotes the survival, migration, and capillary tube formation of human umbilical vein endothelial cells. J. Biol. Chem. 279, 18600–18607 (2004).

17

Brizzi, M.F. et al. Thrombopoietin stimulates endothelial cell motility and neoangiogenesis by a platelet-activating factor-dependent mechanism. Circ. Res. 84, 785–796 (1999).

18

Zou, Y.R., Kottmann, A.H., Kuroda, M., Taniuchi, I. & Littman, D.R. Function of the chemokine receptor CXCR4 in haematopoiesis and in cerebellar development. Nature 393, 595–599 (1998).

19

Avecilla, S.T. et al. Chemokine-mediated interaction of hematopoietic progenitors with the bone marrow vascular niche is required for thrombopoiesis. Nat. Med. 10, 64–71 (2004).

20

Petit, I. et al. G-CSF induces stem cell mobilization by decreasing bone marrow SDF-1 and up-regulating CXCR4. Nat. Immunol. 3, 687–694 (2002).

21

Butler, J.M. et al. SDF-1 is both necessary and sufficient to promote proliferative retinopathy. J. Clin. Invest. 115, 86–93 (2005).

22

Walter, D.H. et al. Impaired CXCR4 signaling contributes to the reduced neovascularization capacity of endothelial progenitor cells from patients with coronary artery disease. Circ. Res. 97, 1142–1151 (2005).

23

Ceradini, D.J. et al. Progenitor cell trafficking is regulated by hypoxic gradients through HIF-1 induction of SDF-1. Nat. Med. 10, 858–864 (2004).

24

De Falco, E. et al. SDF-1 involvement in endothelial phenotype and ischemia-induced recruitment of bone marrow progenitor cells. Blood 104, 3472–3482 (2004).

25

Kaplan, R.N. et al. VEGFR1-positive haematopoietic bone marrow progenitors initiate the pre-metastatic niche. Nature 438, 820–827 (2005).

26

Hattori, K. et al. Placental growth factor reconstitutes hematopoiesis by recruiting VEGFR1(+) stem cells from bone-marrow microenvironment. Nat. Med. 8, 841–849 (2002).

27

Bunting, S. et al. Normal platelets and megakaryocytes are produced in vivo in the absence of thrombopoietin. Blood 90, 3423–3429 (1997).

28

Gurney, A.L., Carver-Moore, K., de Sauvage, F.J. & Moore, M.W. Thrombocytopenia in c-mpl-deficient mice. Science 265, 1445–1447 (1994).

29

Basu, S. et al. "Emergency" granulopoiesis in G-CSF-deficient mice in response to Candida albicans infection. Blood 95, 3725–3733 (2000).

30

Heissig, B. et al. Recruitment of stem and progenitor cells from the bone marrow niche requires mmp-9 mediated release of kit-ligand. Cell 109, 625–637 (2002).

31

Johnson, C., Sung, H.J., Lessner, S.M., Fini, M.E. & Galis, Z.S. Matrix metalloproteinase-9 is required for adequate angiogenic revascularization of ischemic tissues: potential role in capillary branching. Circ. Res. 94, 262–268 (2004).

32

Forster, R. et al. Intracellular and surface expression of the HIV-1 coreceptor CXCR4/fusin on various leukocyte subsets: rapid internalization and recycling upon activation. J. Immunol. 160, 1522–1531 (1998).

33

Crump, M.P. et al. Solution structure and basis for functional activity of stromal cell-derived factor-1; dissociation of CXCR4 activation from binding and inhibition of HIV-1. EMBO J. 16, 6996–7007 (1997).

34

Perez, L.E. et al. Increased plasma levels of stromal-derived factor-1 (SDF-1/CXCL12) enhance human thrombopoiesis and mobilize human colony-forming cells (CFC) in NOD/SCID mice. Exp. Hematol. 32, 300–307 (2004).

35

Dar, A. et al. Chemokine receptor CXCR4-dependent internalization and resecretion of functional chemokine SDF-1 by bone marrow endothelial and stromal cells. Nat. Immunol. 6, 1038–1046 (2005).

36

Mohle, R., Green, D., Moore, M.A., Nachman, R.L. & Rafii, S. Constitutive production and thrombin-induced release of vascular endothelial growth factor by human megakaryocytes and platelets. Proc. Natl. Acad. Sci. USA 94, 663–668 (1997).

37

Li, J.J., Huang, Y.Q., Basch, R. & Karpatkin, S. Thrombin induces the release of angiopoietin-1 from platelets. Thromb. Haemost. 85, 204–206 (2001).

38

Avraham, H. et al. Effects of the stem cell factor, c-kit ligand, on human megakaryocytic cells. Blood 79, 365–371 (1992).

39

Kirito, K. & Kaushansky, K. Thrombopoietin stimulates vascular endothelial cell growth factor (VEGF) production in hematopoietic stem cells. Cell Cycle 4, 1729–1731 (2005).

40

Selheim, F., Holmsen, H. & Vassbotn, F.S. Identification of functional VEGF receptors on human platelets. FEBS Lett. 512, 107–110 (2002).

41

Grunewald, M. et al. VEGF-induced adult neovascularization: recruitment, retention, and role of accessory cells. Cell 124, 175–189 (2006).

42

Lapidot, T., Dar, A. & Kollet, O. How do stem cells find their way home? Blood 106, 1901–1910 (2005).

43

Papayannopoulou, T. Current mechanistic scenarios in hematopoietic stem/progenitor cell mobilization. Blood 103, 1580–1585 (2004).

44

Hattori, K., Heissig, B. & Rafii, S. The regulation of hematopoietic stem cell and progenitor mobilization by chemokine SDF-1. Leuk. Lymphoma 44, 575–582 (2003).

45

Hattori, K. et al. Plasma elevation of stromal cell-derived factor-1 induces mobilization of mature and immature hematopoietic progenitor and stem cells. Blood 97, 3354–3360 (2001).

46

Pelus, L.M. et al. The CXCR4 agonist peptide, CTCE-0021, rapidly mobilizes polymorphonuclear neutrophils and hematopoietic progenitor cells into peripheral blood and synergizes with granulocyte colony-stimulating factor. Exp. Hematol. 33, 295–307 (2005).

47

Broxmeyer, H.E. et al. Rapid mobilization of murine and human hematopoietic stem and progenitor cells with AMD3100, a CXCR4 antagonist. J. Exp. Med. 201, 1307–1318 (2005).

48

Liles, W.C. et al. Mobilization of hematopoietic progenitor cells in healthy volunteers by AMD3100, a CXCR4 antagonist. Blood 102, 2728–2730 (2003).

49

Losordo, D.W. & Dimmeler, S. Therapeutic angiogenesis and vasculogenesis for ischemic disease: part II: cell-based therapies. Circulation 109, 2692–2697 (2004).

50

Orimo, A. et al. Stromal fibroblasts present in invasive human breast carcinomas promote tumor growth and angiogenesis through elevated SDF-1/CXCL12 secretion. Cell 121, 335–348 (2005).
Acknowledgements
We wish to acknowledge the technical assistance of P. Lau, M. Choy, G. Kanhai, R. Tejada, G. Lam and A. Intrator. We would also like to thank F. de Sauvage from Genentech for providing the Thpo−/− and Mpl−/− mice. S.R. is an investigator of Howard Hughes Medical Institute and is supported by the American Cancer Society, the Lymphoma and Leukemia Society and the National Institutes of Health (RO1-HL075234, HL59312, HL66592 and HL67839). D.K.J. is supported by the Hermione Foundation. D.L. is supported by the Doris Duke Charitable Foundation, the Children's Blood Foundation and a grant from the National Cancer Institute.
Ethics declarations
Competing interests
Daniel Hicklin, Yan Wu and Zhenping Zhu are employees of ImClone Systems, Inc. Hassan Salari is an employee of Chemokine Therapeutics Corporation.
Supplementary information
About this article
Cite this article
Jin, D., Shido, K., Kopp, HG. et al. Cytokine-mediated deployment of SDF-1 induces revascularization through recruitment of CXCR4+ hemangiocytes. Nat Med 12, 557–567 (2006). https://doi.org/10.1038/nm1400
Received:

Accepted:

Published:

Issue Date: