Abstract
We analyzed urinary polypeptides from individuals with neonatal ureteropelvic junction (UPJ) obstruction to predict which individuals with this condition will evolve toward obstruction that needs surgical correction. We identified polypeptides that enabled diagnosis of the severity of obstruction and validated these biomarkers in urine collected in a prospective blinded study. Using these noninvasive biomarkers, we were able to predict, several months in advance and with 94% precision, the clinical evolution of neonates with UPJ obstruction.
Access options
Access options
Subscribe to Journal
Get full journal access for 1 year
$225.00
only $18.75 per issue
All prices are NET prices.
VAT will be added later in the checkout.
Rent or Buy article
Get time limited or full article access on ReadCube.
from$8.99
All prices are NET prices.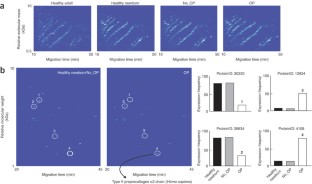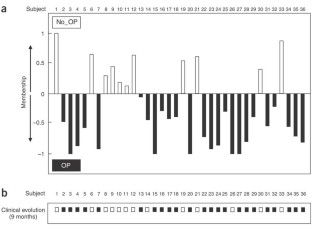 References
1

Hanash, S. Nature 422, 226–232 (2003).

2

Kolch, W., Mischak, H., Chalmers, M.J., Pitt, A. & Marshall, A.G. Rapid Commun. Mass Spectrom. 18, 2365–2366 (2004).

3

Haubitz, M. et al. Kidney Int. 67, 2313–2320 (2005).

4

Kolch, W., Neusüß, C., Pelzing, M. & Mischak, H. Mass Spectrom. Rev. 24, 959–977 (2005).

5

Csaicsich, D., Greenbaum, L.A. & Aufricht, C. Curr. Opin. Urol. 14, 213–217.

6

Chevalier, R.L. J. Urol. 172, 852–857 (2004).

7

Chevalier, R.L. & Peters, C.A. Pediatr. Nephrol. 18, 576–606 (2003).

8

Kaiser, T. et al. Blood 104, 340–349 (2004).

9

Theodorescu, D. et al. Electrophoresis 26, 2797–2808 (2005).

10

Eyre, D. Arthritis Res. 4, 30–35 (2002).

11

Bonnemann, C.G. et al. Proc. Natl. Acad. Sci. USA 97, 1212–1217 (2000).

12

Cochrane, A.L. et al. J. Am. Soc. Nephrol. 16, 3623–3630 (2005).

13

Wittke, S. et al. Electrophoresis 26, 1476–1487 (2005).
Acknowledgements
This work was supported by a grant from the Clinical Research Hospital Program from the French Ministry of Health (Programme Hospitalier de Recherche Clinique 2004) and sponsored by the University Hospital of Toulouse for regulatory and ethic submission. J.P.S. was supported by Inserm and the "Direction Régional de la Recherche" (Centre Hospitalier Universitaire de Toulouse) under the Interface program. We would like to thank P. Koester for his technical assistance during the MS/MS experiments.
Ethics declarations
Competing interests
Harald Mischak is founder and co-owner of Mosaiques Diagnostics, which developed the CE-MS technology and software solutions utilized in this manuscript.
Supplementary information