The chromatin remodeling complex SWI-SNF is altered in cancer. New findings now show that the core component SNF5 can block a Hedgehog (Hh) effector, which promotes malignant rhabdoid tumor growth when SNF5 is lost (pages 1429–1433). Targeting this Hh effector may be a way to combat these aggressive childhood tumors.
Access options
Subscribe to Journal
Get full journal access for 1 year
$79.00
only $6.58 per issue
All prices are NET prices.
VAT will be added later in the checkout.
Tax calculation will be finalised during checkout.
Buy article
Get time limited or full article access on ReadCube.
$32.00
All prices are NET prices.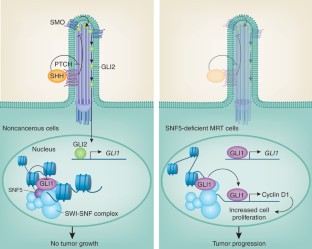 References
Tamkun, J.W. et al. Cell 68, 561–572 (1992).

Versteege, I. et al. Nature 394, 203–206 (1998).

Lee, D. et al. J. Biol. Chem. 277, 22330–22337 (2002).

Cheng, S.W. et al. Nat. Genet. 22, 102–105 (1999).

Roberts, C.W., Galusha, S.A., McMenamin, M.E., Fletcher, C.D. & Orkin, S.H. Proc. Natl. Acad. Sci. USA 97, 13796–13800 (2000).

Zhang, Z.K. et al. Mol. Cell. Biol. 22, 5975–5988 (2002).

Gresh, L. et al. EMBO J. 24, 3313–3324 (2005).

Jagani, Z. et al. Nat. Med. 16, 1429–1433 (2010).

Nilsson, M. et al. Proc. Natl. Acad. Sci. USA 97, 3438–3443 (2000).

Dahmane, N., Lee, J., Robins, P., Heller, P. & Ruiz i Altaba, A. Nature 389, 876–881 (1997).

Park, H.L. et al. Development 127, 1593–1605 (2000).

Isaacs, H. Jr. J. Pediatr. Surg. 45, 619–626 (2010).

Simone, C. et al. Nat. Genet. 36, 738–743 (2004).
Ethics declarations
Competing interests
The author declares no competing financial interests.
About this article
Cite this article
Reiter, J. Crippling SWI-SNF makes tumors GLI-ful. Nat Med 16, 1374–1376 (2010). https://doi.org/10.1038/nm1210-1374
Published:

Issue Date:

DOI: https://doi.org/10.1038/nm1210-1374