Excessive stimulation of glutamate receptors results in excitotoxicity and has a role in a variety of neurodegenerative disorders, including Huntington's disease. By blocking pathological extrasynaptic activity but preserving normal synaptic function, the N-methyl-D-aspartic acid (NMDA) receptor antagonist memantine—at the proper dosage—emerges as a potential treatment for such neurological disorders (pages 1407–1413).
Access options
Subscribe to Journal
Get full journal access for 1 year
$99.00
only $8.25 per issue
All prices are NET prices.
VAT will be added later in the checkout.
Tax calculation will be finalised during checkout.
Buy article
Get time limited or full article access on ReadCube.
$32.00
All prices are NET prices.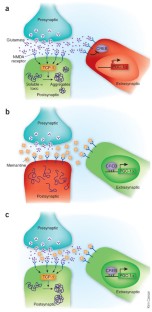 References
Okamoto, S. et al. Nat. Med. 15, 1407–1413 (2009).

Shao, J. & Diamond, M.I. Hum. Mol. Genet. 16 Spec. No. 2, R115–R123 (2007).

Arrasate, M. et al. Nature 431, 805–810 (2004).

Lipton, S.A. Nat. Rev. Drug Disc. 5, 160–170 (2006).

Chen, H.-S.V. et al. J. Neurosci. 12, 4427–4436 (1992).

Orgogozo, J.M. et al. Stroke 33, 1834–1839 (2002).

Reisberg, B. et al. N. Engl. J. Med. 348, 1333–1341 (2003).

Spiess, C. et al. Trends Cell Biol. 14, 598–604 (2004).

Pickett, J. Nat. Rev. Neurosci. 7, 832–833 (2006).

Cui, L. et al. Cell 127, 59–69 (2006).

Weydt, P. et al. Cell Metab. 4, 349–362 (2006).

Beister, A. et al. J. Neural Transm. Suppl. 68, 117–122 (2004).
About this article
Cite this article
La Spada, A. Memantine strikes the perfect balance. Nat Med 15, 1355–1356 (2009). https://doi.org/10.1038/nm1209-1355
Issue Date:

DOI: https://doi.org/10.1038/nm1209-1355
Further reading
Jayashri Kulkarni
Natalie Thomas
Caroline Gurvich

CNS Drugs (2018)