Researcher faces legal action because of new informed consent rules.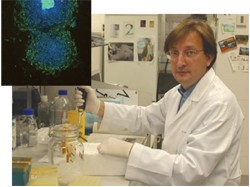 The Spanish health ministry is considering legal action against one of the country's top stem cell scientists, saying he conducted research without proper authorization.
But the researcher, Carlos Simón, and the local government in Valencia, where he works, say the ministry's actions are politically motivated.
Simón, scientific director of the Valencian Infertility Institute, created two undifferentiated embryonic stem cell lines in March 2004. Two months later, along with former health minister Ana Pastor and Vicente Rambla, head of Valencia's health department, he publicly presented the lines.
Our research is halted because of political motives. Carlos Simón, Valencian Infertility Institute
He and his colleagues also published a full characterization of the lines in January (Fertil. Steril. 83, 246–249; 2005). He now says he has succeeded in differentiating them into cells resembling those in the pancreas, heart and brain.
But in late September, the central health ministry announced that the cell lines could no longer be used for research. Roberto Rodríguez, a spokesperson for the ministry, says Simón did not have informed consent from parents for the 40 embryos he used for his research, nor did he have formal approval from the ministry. "That is a clear violation of the current rules," Rodríguez says.
Simón says his stem cell lines were developed during the previous administration, when a different law on assisted human reproduction was effective. That law, approved in November 2003, allowed research on stem cells from spare embryos donated before it took effect.
After the Socialist Party came to power in April 2004 it enacted a new, less restrictive, law that allows the use of embryos for research purposes at any time and set up informed-consent procedures. In November 2004, the new government also created a health ministry committee to evaluate research on human embryos.
In January 2005, Simón requested formal approval for his projects from this new committee and obtained informed consent from parents of the 40 source embryos. But it was too late. The ministry says the informed consents do not apply because they were signed after the embryos were already used.
But the ministry granted approval to similar projects by Catalan and Andalusian scientists, where the regional governments are socialist, notes Rambla.
"Our research is halted because of political motives," adds Simón. "If we stick to scientific, legal, ethical and rational parameters, we are unable to understand the decision."
The ministry is contemplating penalizing the scientists for violating the law. In the meantime, Simón—with the support of the Valencian government—is continuing work on his cell lines.
Related links
Related links
Related links in Nature Research
Related external links
About this article
Cite this article
Bosch, X. Changing ethics rules land Spanish stem cell scientist in hot water. Nat Med 11, 1262 (2005). https://doi.org/10.1038/nm1205-1262a
Published:

Issue Date:

DOI: https://doi.org/10.1038/nm1205-1262a
This article is cited by
R. P. Cervera
M. Stojkovic

Stem Cell Reviews and Reports (2009)