The US Food and Drug Administration has approved only one therapy for ischemic stroke, recombinant tissue plasminogen activator (tPA), which can increase blood flow to damaged brain tissue—but it can also have severe side effects and must be administered shortly after stroke. Experiments combining the drug with activated protein C (APC) may provide a solution (pages 1379–1383).
Access options
Subscribe to Journal
Get full journal access for 1 year
$225.00
only $18.75 per issue
All prices are NET prices.
VAT will be added later in the checkout.
Rent or Buy article
Get time limited or full article access on ReadCube.
from$8.99
All prices are NET prices.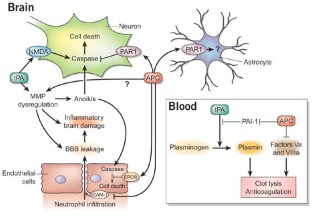 References
1

Kaur, J., Zhao, Z., Klein, G.M., Lo, E.H. & Buchan, A.M. J. Cereb. Blood Flow Metab. 24, 945–963 (2004).

2

Liu, D. et al. Nat. Med. 10, 1379–1383 (2004).

3

Bernard GR, et al. N. Engl. J. Med. 344, 699–709 (2001).

4

Wang, Y.F. et al. Nat. Med. 4, 228–231 (1998).

5

Nicole, O. et al. Nat. Med. 7, 59–64 (2001).

6

Wang, X. et al. Nat. Med. 9, 1313–1317 (2003).

7

Lee, S.R. & Lo, E.H. J. Cereb. Blood Flow Metab. 24, 720–727 (2004).

8

Yepes, M. et al. J. Clin. Invest. 112, 1533–1540 (2003).

9

Cheng, T. et al. Nat. Med. 9, 338–342 (2003).

10

Guo, H. et al. Neuron 41, 563–572 (2004).

11

Tagaya, M. et al. Stroke 28, 1245–1254 (1997).

12

Junge, C.E. et al. Proc. Natl. Acad. Sci. USA 100, 13019–13024 (2003).

13

Nguyen, M., Arkell, J. & Jackson, C.J. J. Biol. Chem. 275, 9095–9098 (2000).

14

Lo, E.H., Dalkara, T. & Moskowitz, M.A. Nat. Rev. Neurosci. 4, 399–415 (2003)
About this article
Cite this article
Lo, E. Combination stroke therapy: easy as APC?. Nat Med 10, 1295–1296 (2004) doi:10.1038/nm1204-1295