Abstract
Respiratory syncytial virus (RSV) and parainfluenza virus (PIV) are two respiratory pathogens of paramount medical significance that exert high mortality. At present, there is no reliable vaccine or antiviral drug against either virus. Using an RNA interference (RNAi) approach, we show that individual as well as joint infection by RSV and PIV can be specifically prevented and inhibited by short interfering RNAs (siRNAs), instilled intranasally in the mouse, with or without transfection reagents. The degree of protection matched the antiviral activity of the siRNA in cell culture, allowing an avenue for quick screening of an efficacious siRNA. When targeting both viruses in a joint infection, excess of one siRNA moderated the inhibitory effect of the other, suggesting competition for the RNAi machinery. Our results suggest that, if properly designed, low dosages of inhaled siRNA might offer a fast, potent and easily administrable antiviral regimen against respiratory viral diseases in humans.
Your institute does not have access to this article
Relevant articles
Open Access articles citing this article.
Wenping Hu

,

Haixue Zheng

…

Ning Li

Scientific Reports Open Access 12 August 2021

Guijie Guo

,

Ming Gao

…

Zhenkun Lou

Nature Communications Open Access 12 April 2021

Otávio Valério de Carvalho

,

Marcus Rebouças Santos

…

Abelardo Silva-Júnior

BMC Veterinary Research Open Access 19 November 2020
Access options
Subscribe to Journal
Get full journal access for 1 year
$59.00
only $4.92 per issue
All prices are NET prices.
VAT will be added later in the checkout.
Tax calculation will be finalised during checkout.
Buy article
Get time limited or full article access on ReadCube.
$32.00
All prices are NET prices.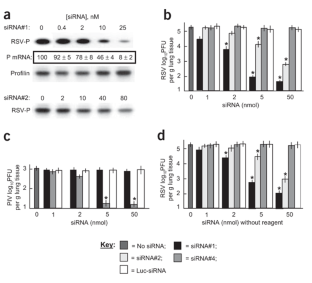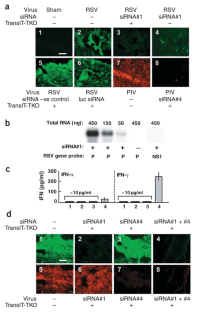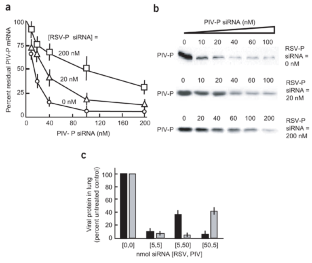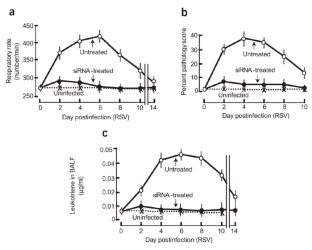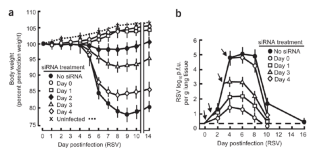 References
Openshaw, P.J.M. Potential therapeutic implications of new insights into respiratory syncytial virus disease. Respir. Res. 3 (Suppl 1), S15–S20 (2002).

Easton, A.J., Domachowske, J.B. & Rosenberg, H.F. Animal pneumoviruses: molecular genetics and pathogenesis. Clin. Microbiol. Rev. 17, 390–412 (2004).

Maggon, K. & Barik, S. New drugs and treatment for respiratory syncytial virus. Rev. Med. Virol. 14, 149–168 (2004).

Sullender, W.M. Respiratory syncytial virus genetic and antigenic diversity. Clin. Microbiol. Rev. 13, 1–15 (2000).

Razinkov, V., Huntley, C.C., Ellestad, G. & Krishnamurthy, G. RSV entry inhibitors block F-protein mediated fusion with model membranes. Antivir. Res. 55, 189–200 (2002).

Morton, C.J. et al. Structural characterization of respiratory syncytial virus fusion inhibitor escape mutants: homology model of the F protein and a syncytium formation assay. Virology 311, 275–288 (2003).

Burke, E., Dupuy, L., Wall, C. & Barik, S. Role of cellular actin in the gene expression and morphogenesis of human respiratory syncytial virus. Virology 252, 137–148 (1998).

Burke, E., Mahoney, N.M., Almo, S.C. & Barik, S. Profilin is required for optimal actin-dependent transcription of respiratory syncytial virus genome RNA. J. Virol. 74, 669–675 (2000).

Gupta, S., De, B.P., Drazba, J.A. & Banerjee, A.K. Involvement of actin microfilaments in the replication of human parainfluenza virus type 3. J. Virol. 72, 2655–2662 (1998).

Peebles, R.S., Jr., Hashimoto, K. & Graham, B.S. The complex relationship between respiratory syncytial virus and allergy in lung disease. Viral. Immunol. 16, 25–34 (2003).

Haynes, L.M., Jones, L.P., Barskey, A., Anderson, L.J. & Tripp, R.A. Enhanced disease and pulmonary eosinophilia associated with formalin-inactivated respiratory syncytial virus vaccination are linked to G glycoprotein CX3C-CX3CR1 interaction and expression of substance P. J. Virol. 77, 9831–9844 (2003).

Polack, F.P. et al. A role for immune complexes in enhanced respiratory syncytial virus disease. J. Exp. Med. 196, 859–865 (2002).

Novina, C.D. & Sharp, P.A. The RNAi revolution. Nature 430, 161–164 (2004).

Bitko, V. & Barik, S. Phenotypic silencing of cytoplasmic genes using sequence-specific double-stranded short interfering RNA and its application in the reverse genetics of wild type negative-strand RNA viruses. BMC Microbiol. 1, 34 (2001).

Barik, S. Control of nonsegmented negative-strand RNA virus replication by siRNA. Virus Res. 102, 27–35 (2004).

Elbashir, S.M. et al. Duplexes of 21-nucleotide RNAs mediate RNA interference in cultured mammalian cells. Nature 411, 494–498 (2001).

Reynolds, A. et al. Rational siRNA design for RNA interference. Nat. Biotechnol. 22, 326–330 (2004).

Schwarz, D.S. et al. Asymmetry in the assembly of the RNAi enzyme complex. Cell 115, 199–208 (2003).

Khvorova, A., Reynolds, A. & Jayasena, S.D. Functional siRNAs and miRNAs exhibit strand bias. Cell 115, 209–216 (2003). Erratum in: Cell 115, 505 (2003).

Graham, B.S., Perkins, M.D., Wright, P.F. & Karzon, D.T. Primary respiratory syncytial virus infection in mice. J. Med. Virol. 26, 153–162 (1988).

van Schaik, S.M., Enhorning, G., Vargas, I. & Welliver, R.C. Respiratory syncytial virus affects pulmonary function in BALB/c mice. J. Infect. Dis. 177, 269–276 (1998).

Haeberle, H.A. et al. Inducible expression of inflammatory chemokines in respiratory syncytial virus-infected mice: role of MIP-1alpha in lung pathology. J. Virol. 75, 878–890 (2001).

Durbin, A.P., Elkins, W.R. & Murphy, B.R. African green monkeys provide a useful nonhuman primate model for the study of human parainfluenza virus types-1, -2, and -3 infection. Vaccine 18, 2462–2469 (2000).

Ge, Q., Filip, L., Bai, A., Nguyen, T., Eisen, H.N. & Chen, J. Inhibition of influenza virus production in virus-infected mice by RNA interference. Proc. Natl. Acad. Sci. USA 101, 8676–8681 (2004).

Schlender, J., Bossert, B., Buchholz, U. & Conzelmann, K.-K. Bovine respiratory syncytial virus nonstructural proteins NS1 and NS2 cooperatively antagonize alpha/beta interferon-induced antiviral response. J. Virol. 74, 8234–8242 (2000)

Ramaswamy, M., Shi, L., Monick, M.M., Hunninghake, G.W. & Look, D.C. Specific inhibition of type I interferon signal transduction by respiratory syncytial virus. Am. J. Respir. Cell Mol. Biol. 30, 893–900 (2004).

Coiras, M.T., Aguilar, J.C., Garcia, M.L., Casas, I. & Perez-Brena, P. Simultaneous detection of fourteen respiratory viruses in clinical specimens by two multiplex reverse transcription nested-PCR assays. J. Med. Virol. 72, 484–495 (2004).

Haller, A.A., Mitiku, M. & MacPhail, M. Bovine parainfluenza virus type 3 (PIV3) expressing the respiratory syncytial virus (RSV) attachment and fusion proteins protects hamsters from challenge with human PIV3 and RSV. J. Gen. Virol. 84, 2153–2162 (2003).

Schmidt, A.C., McAuliffe, J.M., Murphy, B.R. & Collins, P.L. Recombinant bovine/human parainfluenza virus type 3 (B/HPIV3) expressing the respiratory syncytial virus (RSV) G and F proteins can be used to achieve simultaneous mucosal immunization against RSV and HPIV3. J. Virol. 75, 4594–4603 (2001).

Bernhard, W. et al. Phosphatidylcholine molecular species in lung surfactant: composition in relation to respiratory rate and lung development. Am. J. Respir. Cell Mol. Biol. 25, 725–731 (2001).

Volovitz, B., Welliver, R.C., De Castro, G., Krystofik, D.A. & Ogra, P.L. The release of leukotrienes in the respiratory tract during infection with respiratory syncytial virus: role in obstructive airway disease. Pediatr. Res. 24, 504–507 (1988).

Welliver, R.C., 2nd, Hintz, K.H., Glori, M. & Welliver, R.C., Sr. Zileuton reduces respiratory illness and lung inflammation, during respiratory syncytial virus infection, in mice. J. Infect. Dis. 187, 1773–1779 (2003).

McCaffrey, A.P. et al. Inhibition of hepatitis B virus in mice by RNA interference. Nat Biotechnol. 21, 639–644 (2003).

Song, E. et al. RNA interference targeting Fas protects mice from fulminant hepatitis. Nat. Med. 9, 347–351 (2003).

Tompkins, S.M., Lo, C.Y., Tumpey, T.M. & Epstein, S.L. Protection against lethal influenza virus challenge by RNA interference in vivo. Proc. Natl. Acad. Sci. USA 101, 8682–8686 (2004).

Jackson, A.L. et al. Expression profiling reveals off-target gene regulation by RNAi. Nat. Biotechnol. 21, 635–637 (2003).

Sledz, C.A., Holko, M., de Veer, M.J., Silverman, R.H. & Williams, B.R. Activation of theinterferon system by short-interfering RNAs. Nat. Cell Biol. 5, 834–839 (2003).

Persengiev, S.P., Zhu, X. & Green, M.R. Nonspecific, concentration-dependent stimulation and repression of mammalian gene expression by small interfering RNAs (siRNAs). RNA 10, 12–18 (2004).

Bridge, A., Pebernard, S., Ducraux, A., Nicoulaz, A.L. & Iggo, R. Induction of an interferonresponse by RNAi vectors in mammalian cells. Nat. Genet. 34, 263–264 (2003).

Kim, D.H. et al. Interferon induction by siRNAs and ssRNAs synthesized by phage polymerase. Nat. Biotechnol. 22, 321–325 (2004).

Hutvagner, G., Simard, M.J., Mello, C.C. & Zamore, P.D. Sequence-specific inhibition of small RNA function. PLoS Biol. 2, E98 (2004).

Das, A.T. et al. Human immunodeficiency virus type 1 escapes from RNA interference-mediated inhibition. J. Virol. 78, 2601–2605 (2004).

Ueba, O. Respiratory syncytial virus. I. Concentration and purification of the infectious virus. Acta. Med. Okayama 32, 265–272 (1978).

Durbin, J.E. et al. The role of IFN in respiratory syncytial virus pathogenesis. J. Immunol. 168, 2944–2952 (2002).

Reinhart, B.J., Weinstein, E.G., Rhoades, M.W., Bartel, B. & Bartel, D.P. MicroRNAs in plants. Genes Dev. 16, 1616–1626 (2002).
Acknowledgements
We thank A. Gard for use of the immunofluorescence microscope, S. Moyer (University of Florida) for a fresh HPIV3 inoculum, S. Pfeffer and T. Tuschl (Rockefeller University, NY) for advice on small RNA isolation, M. Ramaswamy (University of Iowa) for information on RSV-IFN relationship, R. Meyers (Alnylam Pharmaceuticals, Cambridge) for critical comments, and T. Barik for figure preparation. This research was supported in part by a grant from National Eye Institute (EY013826) and a NRSA Fellowship (AI049682) from the National Institute of Allergy and Infectious Diseases (NIH). Preliminary results were presented in the Keystone Symposium on "siRNAs and miRNAs," April 14–19, 2004, Keystone, Colorado, USA.
Ethics declarations
Competing interests
The authors declare no competing financial interests.
About this article
Cite this article
Bitko, V., Musiyenko, A., Shulyayeva, O. et al. Inhibition of respiratory viruses by nasally administered siRNA. Nat Med 11, 50–55 (2005). https://doi.org/10.1038/nm1164
Received:

Accepted:

Published:

Issue Date:

DOI: https://doi.org/10.1038/nm1164