Abstract
Here we report that epidermal keratinocytes in psoriatic lesions are characterized by activated Stat3. Transgenic mice with keratinocytes expressing a constitutively active Stat3 (K5.Stat3C mice) develop a skin phenotype either spontaneously, or in response to wounding, that closely resembles psoriasis. Keratinocytes from K5.Stat3C mice show upregulation of several molecules linked to the pathogenesis of psoriasis. In addition, the development of psoriatic lesions in K5.Stat3C mice requires cooperation between Stat3 activation in keratinocytes and activated T cells. Finally, abrogation of Stat3 function by a decoy oligonucleotide inhibits the onset and reverses established psoriatic lesions in K5.Stat3C mice. Thus, targeting Stat3 may be potentially therapeutic in the treatment of psoriasis.
Relevant articles
Open Access articles citing this article.
Jiangmei Xu

,

Hao Chen

…

Yunsheng Xu

Journal of Nanobiotechnology Open Access 14 October 2022

Hoda Y. Abdallah

,

Noha Z. Tawfik

…

Loaa A. Tag Eldeen

Molecular Diagnosis & Therapy Open Access 27 June 2022

Yiwen Chen

,

Panpan Lian

…

Zhonglan Su

Cell Death Discovery Open Access 30 March 2022
Access options
Subscribe to Journal
Get full journal access for 1 year
$79.00
only $6.58 per issue
All prices are NET prices.
VAT will be added later in the checkout.
Tax calculation will be finalised during checkout.
Buy article
Get time limited or full article access on ReadCube.
$32.00
All prices are NET prices.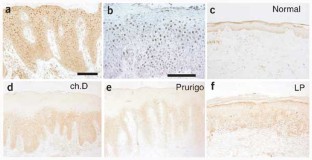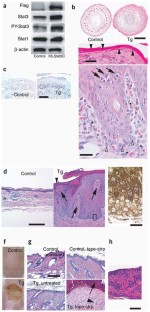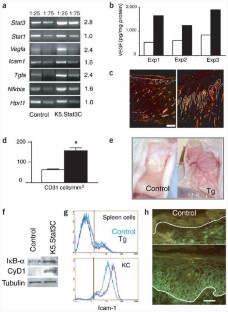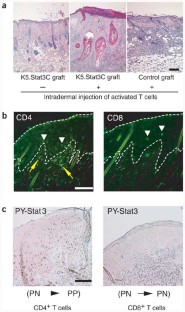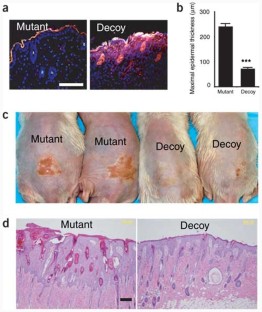 References
Gottlieb, A., and Bos, J. Recombinantly engineered human proteins: transforming the treatment of psoriasis. Clin. Immunol. 105, 105–116 (2002).

Valdimarsson, H., Baker, B.S., Jonsdottir, I., Powles, A. & Fry, L. Psoriasis: a T-cell-mediated autoimmune disease induced by streptococcal superantigens? Immunol. Today 16, 145–149 (1995).

Christophers, E. The immunopathology of psoriasis. Int. Arch. Allergy Immunol. 110, 199–206 (1996).

Bos, J.D. & De Rie, M.A. The pathogenesis of psoriasis: immunological facts and speculations. Immunol. Today 20, 40–46 (1999).

Koo, J., Nguyen, Q. & Gambla, C. Advances in psoriasis therapy. Adv. Dermatol. 12, 47–72 (1997).

Eedy, D.J., Burrows, D., Bridges, J.M. & Jones, F.G. Clearance of severe psoriasis after allogenic bone marrow transplantation. BMJ 300, 908 (1990).

Gardembas-Pain, M. et al. Psoriasis after allogeneic bone marrow transplantation. Arch. Dermatol. 126, 1523 (1990).

Lewis, H.M. et al. Restricted T-cell receptor V beta gene usage in the skin of patients with guttate and chronic plaque psoriasis. Br. J. Dermatol. 129, 514–520 (1993).

Leung, D.Y. et al. Evidence for a streptococcal superantigen-driven process in acute guttate psoriasis. J. Clin. Invest. 96, 2106–2112 (1995).

Wrone-Smith, T. & Nickoloff, B.J. Dermal injection of immunocytes induces psoriasis. J. Clin. Invest. 98, 1878–1887 (1996).

Nickoloff, B.J. & Wrone-Smith, T. Injection of pre-psoriatic skin with CD4+ T cells induces psoriasis. Am. J. Pathol. 155, 145–58 (1999).

Gilhar, A., David, M., Ullmann, Y., Berkutski, T. & Kalish, R.S. T-lymphocyte dependence of psoriatic pathology in human psoriatic skin grafted to SCID mice. J. Invest. Dermatol. 109, 283–288 (1997).

Schon, M.P. Animal models of psoriasis—what can we learn from them? J. Invest. Dermatol. 112, 405–410 (1999).

Li, A.G., Wang, D., Feng, X.H. & Wang, X.J. Latent TGFβ1 overexpression in keratinocytes results in a severe psoriasis-like skin disorder. EMBO J. 23, 1770–1781 (2004).

Cook, P.W. et al. Transgenic expression of the human amphiregulin gene induces a psoriasis-like phenotype. J. Clin. Invest. 100, 2286–2294 (1997).

Xia, Y.P. et al. Transgenic delivery of VEGF to mouse skin leads to an inflammatory condition resembling human psoriasis. Blood 102, 161–168 (2003).

Blumberg, H. et al. Interleukin 20: discovery, receptor identification, and role in epidermal function. Cell 104, 9–19 (2001).

Leonard, W.J. & O'Shea, J.J. Jaks and STATs: biological implications. Annu. Rev. Immunol. 16, 293–322 (1998).

Levy, D.E. & Darnell, J.E., Jr. Stats: transcriptional control and biological impact. Nat. Rev. Mol. Cell Biol. 3 (9), 651–662 (2002).

Hirano, T., Ishihara, K. & Hibi, M. Roles of STAT3 in mediating the cell growth, differentiation and survival signals relayed through the IL-6 family of cytokine receptors. Oncogene 19, 2548–2456 (2000).

Turkson, J. & Jove, R. STAT proteins: novel molecular targets for cancer drug discovery. Oncogene 19, 6613–6626 (2000).

Sano, S. et al. Keratinocyte-specific ablation of Stat3 exhibits impaired skin remodeling, but does not affect skin morphogenesis. EMBO J. 18, 4657–4668 (1999).

Sano, S., Takeda, J., Yoshikawa, K. & Itami, S. Tissue regeneration: hair follicle as a model. J. Investig. Dermatol. Symp. Proc. 6, 43–48 (2001).

Takeda, J., Sano, S., Tarutani, M., Umeda, J. & Kondoh, G. Conditional gene targeting and its application in the skin. J. Dermatol. Sci. 23, 147–54 (2000).

Hertle, M.D., Kubler, M.D., Leigh, I.M. & Watt, F.M. Aberrant integrin expression during epidermal wound healing and in psoriatic epidermis. J. Clin. Invest. 89, 1892–1901 (1992).

Ortonne, J.P. Aetiology and pathogenesis of psoriasis. Br. J. Dermatol. 135 Suppl 49, 1–5 (1996).

Piepkorn, M., Pittelkow, M.R. & Cook, P.W. Autocrine regulation of keratinocytes: the emerging role of heparin-binding, epidermal growth factor-related growth factors. J. Invest. Dermatol. 111, 715–721 (1998).

Bromberg, J.F. et al. Stat3 as an oncogene. Cell 98, 295–303 (1999).

Murillas, R. et al. Expression of a dominant negative mutant of epidermal growth factor receptor in the epidermis of transgenic mice elicits striking alterations in hair follicle development and skin structure. EMBO J. 14, 5216–5223 (1995).

Chan, K.S. et al. Epidermal growth factor receptor-mediated activation of Stat3 during multistage skin carcinogenesis. Cancer Res. 64, 2382–2389 (2004).

Chan, K.S. et al. Disruption of Stat3 reveals a critical role in both the initiation and the promotion stages of epithelial carcinogenesis. J. Clin. Invest. 114, 720–728 (2004).

Thewes, M., Stadler, R., Korge, B. & Mischke, D. Normal psoriatic epidermis expression of hyperproliferation-associated keratins. Arch. Dermatol. Res. 283, 465–471 (1991).

Ghadially, R., Reed, J.T. & Elias, P.M. Stratum corneum structure and function correlates with phenotype in psoriasis. J. Invest. Dermatol. 107, 558–564 (1996).

Miller, R.A. The Koebner phenomenon. Int. J. Dermatol. 21, 192–197 (1982).

Detmar, M. et al. Overexpression of vascular permeability factor/vascular endothelial growth factor and its receptors in psoriasis. J. Exp. Med. 180, 1141–1146 (1994).

Leong, P.L. et al. Targeted inhibition of Stat3 with a decoy oligonucleotide abrogates head and neck cancer cell growth. Proc. Natl. Acad. Sci. USA 100, 4138–4143 (2003).

McKenzie, R.C. & Sabin, E. Aberrant signalling and transcription factor activation as an explanation for the defective growth control and differentiation of keratinocytes in psoriasis: a hypothesis. Exp. Dermatol. 12, 337–345 (2003).

Griffiths, C.E., Voorhees, J.J. & Nickoloff, B.J. Characterization of intercellular adhesion molecule-1 and HLA-DR expression in normal and inflamed skin: modulation by recombinant gamma interferon and tumor necrosis factor. J. Am. Acad. Dermatol. 20, 617–629 (1989).

Caldenhoven, E. et al. Activation of the STAT3/acute phase response factor transcription factor by interleukin-5. J. Biol. Chem. 270, 25778–25784 (1995).

Lebwohl, M. et al. A novel targeted T-cell modulator, efalizumab, for plaque psoriasis. N. Engl. J. Med. 349, 2004–2013 (2003).

Krueger, J.G. The immunologic basis for the treatment of psoriasis with new biologic agents. J. Am. Acad. Dermatol. 46, 1–23 (2002).

Lew, W. et al. Psoriasis vulgaris: cutaneous lymphoid tissue supports T-cell activation and "Type 1" inflammatory gene expression. Trends Immunol. 25, 295–305 (2004).

Baker, B.S., Powles, A.V., Valdimarsson, H., & Fry, L. An altered response by psoriatic keratinocytes to gamma interferon. Scand J. Immunol. 28, 735–740 (1988).

Nickoloff, B.J., Mitra, R.S., Elder, J.T., Fisher, G.J., & Voorhees, J.J. Decreased growth inhibition by recombinant γ interferon is associated with increased transforming growth factor-alpha production in keratinocytes cultured from psoriatic lesions. Br. J. Dermatol. 121, 161–174 (1989).

Sato, T., Selleri, C., Young, N.S., & Maciejewski, J.P. Inhibition of interferon regulatory factor-1 expression results in predominance of cell growth stimulatory effects of interferon-γ due to phosphorylation of Stat1 and Stat3. Blood 90, 4749–4758 (1997).

Qing, Y. & Stark, G.R. Alternative activation of STAT1 and STAT3 in response to interferon-gamma. J. Biol. Chem. 279, 41679–41685 (2004).
Acknowledgements
We thank V. Edwards and L. Beltran for editorial assistance. This work was supported by US National Institutes of Health grants CA76520 (J.D.), AR40065 (B.J.N), U01 ES11047, University of Texas M.D. Anderson Cancer Center Support Grant CA16672 and National Institute of Environmental Health Sciences Center Grant ES07784.
Ethics declarations
Competing interests
The authors declare no competing financial interests.
Supplementary information
About this article
Cite this article
Sano, S., Chan, K., Carbajal, S. et al. Stat3 links activated keratinocytes and immunocytes required for development of psoriasis in a novel transgenic mouse model. Nat Med 11, 43–49 (2005). https://doi.org/10.1038/nm1162
Received:

Accepted:

Published:

Issue Date:

DOI: https://doi.org/10.1038/nm1162