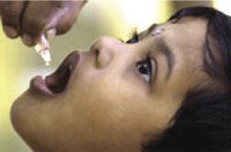 India is struggling to contain a polio outbreak that's threatening to undermine global efforts to eradicate the disease.
As of 17 October, India has 383 cases of polio, compared with 66 in all of 2005. More than 90% of this year's toll is in one district of the most populous state, Uttar Pradesh.
"Unless you clear this area, no other place in India is safe. Shobhan Sarkar, India's Ministry of Health and Family Welfare"
"Unless you clear this area, no other place in India is safe," says Shobhan Sarkar, assistant commissioner in charge of immunization in India's Ministry of Health and Family Welfare.
The Uttar Pradesh strain has also made its way into Nepal, Bangladesh, Angola, Namibia and the Democratic Republic of the Congo. "The risk of exportation of the virus from India into other countries remains high," says Margaret Thorley, public health advisor at the polio eradication branch of the US Centers for Disease Control and Prevention.
Many of these countries had been polio free for years before this strain created a problem. India, Pakistan, Afghanistan and Nigeria are the only four reservoirs of the wild poliovirus.
Experts have traced the spurt in India's polio cases to children in Uttar Pradesh missed during immunization campaigns in late 2005 and early 2006. The state is saddled with poor infrastructure, inaccessible roads and inadequate water supply.
In Moradabad district, the proportion of houses with missed children rose from 8% in January 2005 to 12% in January 2006. That seemingly small difference adds up to a lot of people in Uttar Pradesh, where more than 500,000 children are born each month.
The state's health minister initially alleged that the outbreak was a result of substandard vaccines. But the World Health Organization has dismissed those charges.
The outbreak has renewed a long-standing debate over India's reliance on the oral polio vaccine (OPV). Made from a weakened virus, the oral vaccine is cheaper than an injectable vaccine developed from a killed virus.
"OPV is not as effective in India as in developed countries," says T. Jacob John, a member of India's advisory group on polio eradication The difference, he says, might be a result of microbes in the gut of Indian children and frequent diarrhea that makes children expel some of the vaccine.
But others disagree. "Every country before has been able to get rid of polio with OPV," notes David Heymann, the WHO's executive director of communicable diseases.
OPV is best suited for outbreaks, adds Thorley, because it doesn't depend on clean syringes, trained medical personnel or waste management.
About this article
Cite this article
Padma, T. India's polio exports undermine global eradication push. Nat Med 12, 1225 (2006). https://doi.org/10.1038/nm1106-1225b