Toll-like receptors act as mediators of injury or repair in the inflamed lung, and the balance depends on the integrity of a component of the extracellular matrix (pages 1173–1179).
Access options
Subscribe to Journal
Get full journal access for 1 year
$225.00
only $18.75 per issue
All prices are NET prices.
VAT will be added later in the checkout.
Rent or Buy article
Get time limited or full article access on ReadCube.
from$8.99
All prices are NET prices.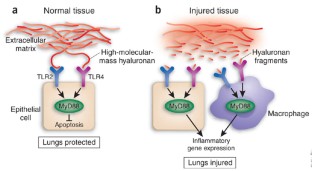 References
1

Jiang, D. et al. Nat. Med. 11, 1173–1179 (2005).

2

O'Neill, L.A.J. Sci. Am. 292, 24–31 (2005).

3

Fitzgerald, K.A. et al. J. Immunol. 164, 2053–2063 (2000).

4

Taylor, K.R. et al. J. Biol. Chem. 279, 17079–17084 (2004).

5

Rakoff-Nahoum, S. et al. Cell 118, 229–241 (2004).
About this article
Cite this article
O'Neill, L. TLRs play good cop, bad cop in the lung. Nat Med 11, 1161–1162 (2005) doi:10.1038/nm1105-1161