Abstract
Suramin is a polysulfonated derivative of urea and has been widely used both to treat infections and as a chemotherapeutic drug. Suramin has been shown to inhibit growth factor signaling pathways; however, its effect on apoptosis is unknown. Here we show that suramin inhibits apoptosis induced through death receptors in hepatoma and lymphoma cells. It also inhibits the proapoptotic effect of chemotherapeutic drugs. The antiapoptotic mechanism is specific to cell type and is caused by reduced activation, but not altered composition, of the death-inducing signaling complex (DISC), and by inhibition of the initiator caspases 8, 9 and 10. Suramin also shows similar effects in in vivo models: apoptotic liver damage induced by CD95 stimulation and endotoxic shock mediated by tumor-necrosis factor (TNF) are inhibited in mice, but necrotic liver damage is not inhibited in a rat model of liver transplantation. Thus, the antiapoptotic property of suramin in the liver may be therapeutically exploited.
Access options
Access options
Subscribe to Journal
Get full journal access for 1 year
$225.00
only $18.75 per issue
All prices are NET prices.
VAT will be added later in the checkout.
Rent or Buy article
Get time limited or full article access on ReadCube.
from$8.99
All prices are NET prices.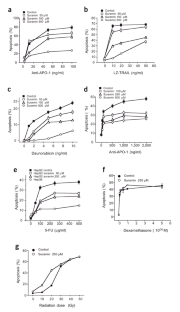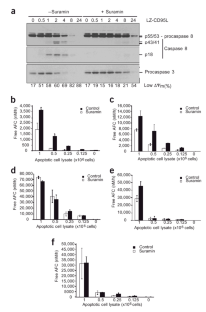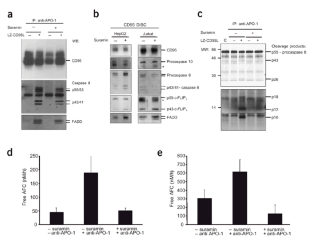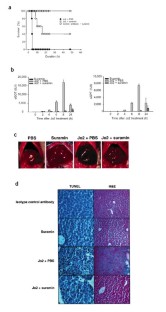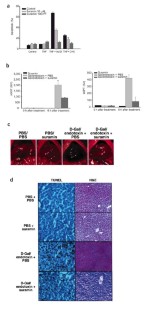 References
1

Krammer, P.H., Galle, P.R., Moller, P. & Debatin, K.M. CD95(APO-1/Fas)-mediated apoptosis in normal and malignant liver, colon, and hematopoietic cells. Adv. Cancer Res. 75, 251–273 (1998).

2

Krammer, P.H. CD95(APO-1/Fas)-mediated apoptosis: live and let die. Adv. Immunol. 71, 163–210 (1999).

3

Galle, P.R. et al. Involvement of the CD95 (APO-1/Fas) receptor and ligand in liver damage. J. Exp. Med. 182, 1223–1230 (1995).

4

Voogd, T.E., Vansterkenburg, E.L., Wilting, J. & Janssen, L.H. Recent research on the biological activity of suramin. Pharmacol. Rev. 45, 177–203 (1993).

5

Mitsuya, H. et al. Suramin protection of T cells in vitro against infectivity and cytopathic effect of HTLV-III. Science 226, 172–174 (1984).

6

Yarchoan, R. & Broder, S. Development of antiretroviral therapy for the acquired immunodeficiency syndrome and related disorders. A progress report. N. Engl. J. Med. 316, 557–564 (1987).

7

Cheson, B.D. et al. Suramin therapy in AIDS and related disorders. Report of the US Suramin Working Group. J. Am. Med. Assoc. 258, 1347–1351 (1987).

8

Allolio, B. et al. Treatment of metastatic adrenal carcinoma with suramin. Dtsch. Med. Wochenschr. 114, 381–384 (1989).

9

La Rocca, R.V., Stein, C.A. & Myers, C.E. Suramin: prototype of a new generation of antitumor compounds. Cancer Cells 2, 106–115 (1990).

10

Eisenberger, M.A. & Reyno, L.M. Suramin. Cancer Treat. Rev. 20, 259–273 (1994).

11

Krueger, A., Schmitz, I., Baumann, S., Krammer, P.H. & Kirchhoff, S. Cellular FLICE-inhibitory protein splice variants inhibit different steps of caspase-8 activation at the CD95 death-inducing signaling complex. J. Biol. Chem. 276, 20633–20640 (2001).

12

Muller, M. et al. p53 activates the CD95 (APO-1/Fas) gene in response to DNA damage by anticancer drugs. J. Exp. Med. 188, 2033–2045 (1998).

13

Eichhorst, S.T., Muerkoster, S., Weigand, M.A. & Krammer, P.H. The chemotherapeutic drug 5-fluorouracil induces apoptosis in mouse thymocytes in vivo via activation of the CD95(APO-1/Fas) system. Cancer Res. 61, 243–248 (2001).

14

Collette, Y., Razanajaona, D., Ghiotto, M. & Olive, D. CD28 can promote T cell survival through a phosphatidylinositol 3-kinase-independent mechanism. Eur. J. Immunol. 27, 3283–3289 (1997).

15

Scaffidi, C. et al. Two CD95 (APO-1/Fas) signaling pathways. EMBO J. 17, 1675–1687 (1998).

16

Rokhlin, O.W. et al. Fas-mediated apoptosis in human prostatic carcinoma cell lines. Cancer Res. 57, 1758–1768 (1997).

17

Troy, C.M. & Shelanski, M.L. Caspase-2 redux. Cell Death Differ. 10, 101–107 (2003).

18

Sprick, M.R. et al. Caspase-10 is recruited to and activated at the native TRAIL and CD95 death-inducing signalling complexes in a FADD-dependent manner but can not functionally substitute caspase-8. EMBO J. 21, 4520–4530 (2002).

19

Ogasawara, J. et al. Lethal effect of the anti-Fas antibody in mice. Nature 364, 806–809 (1993).

20

Jaeschke, H. et al. Activation of caspase 3 (CPP32)-like proteases is essential for TNF-α–induced hepatic parenchymal cell apoptosis and neutrophil-mediated necrosis in a murine endotoxin shock model. J. Immunol. 160, 3480–3486 (1998).

21

Peterlin, B.M. & Trono, D. Hide, shield and strike back: how HIV-infected cells avoid immune eradication. Nat. Rev. Immunol. 3, 97–107 (2003).

22

Kuyu, H., Lee, W.R., Bare, R., Hall, M.C. & Torti, F.M. Recent advances in the treatment of prostate cancer. Ann. Oncol. 10, 891–898 (1999).

23

Small, E.J. et al. Randomized study of three different doses of suramin administered with a fixed dosing schedule in patients with advanced prostate cancer: results of intergroup 0159, cancer and leukemia group B 9480. J. Clin. Oncol. 20, 3369–3375 (2002).

24

Song, S., Wientjes, M.G., Gan, Y. & Au, J.L. Fibroblast growth factors: an epigenetic mechanism of broad spectrum resistance to anticancer drugs. Proc. Natl. Acad. Sci. USA 97, 8658–8663 (2000).

25

Zhao, X.M. et al. Costimulation of human CD4+ T cells by fibroblast growth factor-1 (acidic fibroblast growth factor). J. Immunol. 155, 3904–3911 (1995).

26

Higuchi, H. et al. Bile acids stimulate cFLIP phosphorylation enhancing TRAIL-mediated apoptosis. J. Biol. Chem. 278, 454–461 (2003).

27

Reinehr, R., Graf, D., Fischer, R., Schliess, F. & Haussinger, D. Hyperosmolarity triggers CD95 membrane trafficking and sensitizes rat hepatocytes toward CD95L-induced apoptosis. Hepatology 36, 602–614 (2002).

28

Huwiler, A., Rolz, W., Dorsch, S., Ren, S. & Pfeilschifter, J. Extracellular ATP and UTP activate the protein kinase B/Akt cascade via the P2Y2 purinoceptor in renal mesangial cells. Br. J. Pharmacol. 136, 520–529 (2002).

29

Lambrecht, G. et al. Structure-activity relationships of suramin and pyridoxal-5′-phosphate derivatives as P2 receptor antagonists. Curr. Pharm. Des. 8, 2371–2399 (2002).

30

Kharlamov, A., Jones, S.C. & Kim, D.K. Suramin reduces infarct volume in a model of focal brain ischemia in rats. Exp. Brain Res. 147, 353–359 (2002).

31

Chen, E.Y., Mazure, N.M., Cooper, J.A. & Giaccia, A.J. Hypoxia activates a platelet-derived growth factor receptor/phosphatidylinositol 3-kinase/Akt pathway that results in glycogen synthase kinase-3 inactivation. Cancer Res. 61, 2429–2433 (2001).

32

McNally, W.P., DeHart, P.D., Lathia, C. & Whitfield, L.R. Distribution of [14C]suramin in tissues of male rats following a single intravenous dose. Life Sci. 67, 1847–1857 (2000).

33

Scaffidi, C., Medema, J.P., Krammer, P.H. & Peter, M.E. FLICE is predominantly expressed as two functionally active isoforms, caspase-8/a and caspase-8/b. J. Biol. Chem. 272, 26953–26958 (1997).

34

Scaffidi, C., Krammer, P.H. & Peter, M.E. Isolation and analysis of components of CD95 (APO-1/Fas) death-inducing signaling complex. Methods 17, 287–291 (1999).

35

Trauth, B.C. et al. Monoclonal antibody-mediated tumor regression by induction of apoptosis. Science 245, 301–305 (1989).

36

Walczak, H. et al. Tumoricidal activity of tumor necrosis factor-related apoptosis-inducing ligand in vivo. Nat. Med. 5, 157–163 (1999).

37

Nicoletti, I., Migliorati, G., Pagliacci, M.C., Grignani, F. & Riccardi, C. A rapid and simple method for measuring thymocyte apoptosis by propidium iodide staining and flow cytometry. J. Immunol. Methods 139, 271–279 (1991).

38

Kischkel, F.C. et al. Cytotoxicity-dependent APO-1 (Fas/CD95)-associated proteins form a death-inducing signaling complex (DISC) with the receptor. EMBO J. 14, 5579–5588 (1995).

39

Medema, J.P. et al. Cleavage of FLICE (caspase-8) by granzyme B during cytotoxic T lymphocyte-induced apoptosis. Eur. J. Immunol. 27, 3492–3498 (1997).
Acknowledgements
We thank C. Kuntzen for critically reading the manuscript and M. Börner for help with transaminase measurements. This work was partially supported by grants of the Deutsche Forschungsgemeinschaft (EI480-1 to S.T.E. and FOR 440).
Ethics declarations
Competing interests
The authors declare no competing financial interests.
Supplementary information