Abstract
Macrophages play host to Leishmania major, a parasite that causes leishmaniasis in 500,000 people annually. Macrophage-expressed CD40, a costimulatory molecule1, induces interleukin-12 (IL-12)-dependent and interferon-γ (IFN-γ)-dependent host-protective immune responses to Leishmania and other intracellular pathogens2,3,4,5,6. Paradoxically, IL-10, another CD40-induced cytokine in macrophages7, promotes Leishmania infection8. How CD40 signaling regulates the secretion of these two counteractive cytokines remains unknown. Here we show that weak CD40 signals induce extracellular stress–related kinase-1/2 (ERK-1/2)-dependent IL-10 expression, whereas stronger signals induce p38 mitogen-activated protein kinase (p38MAPK)-dependent IL-12 production. p38MAPK and ERK-1/2 therefore have counter-regulatory actions. Leishmania skews CD40 signaling toward ERK-1/2, inducing IL-10, which inhibits activation of CD40-induced p38MAPK and expression of inducible nitric oxide synthase-2 (iNOS-2) and IL-12. ERK-1/2 inhibition or IL-10 neutralization restores CD40-induced p38MAPK activation and parasite killing in macrophages and the BALB/c mouse, a susceptible host. These data uncover a new immune evasion strategy, whereby Leishmania differentially modulates CD40-engaged, reciprocally functioning signaling modules, and provide a new conceptual framework for immune homeostasis.
Relevant articles
Open Access articles citing this article.
Arathi Nair

,

Sushmita Chakraborty

…

Bhaskar Saha

Cell Communication and Signaling Open Access 06 January 2020

Haifeng Wang

,

Kan Gao

…

Lijuan Yuan

BMC Microbiology Open Access 14 June 2016

Somenath Banerjee

,

Dipayan Bose

…

Krishna Das Saha

Scientific Reports Open Access 01 March 2016
Access options
Subscribe to Journal
Get full journal access for 1 year
$79.00
only $6.58 per issue
All prices are NET prices.
VAT will be added later in the checkout.
Tax calculation will be finalised during checkout.
Buy article
Get time limited or full article access on ReadCube.
$32.00
All prices are NET prices.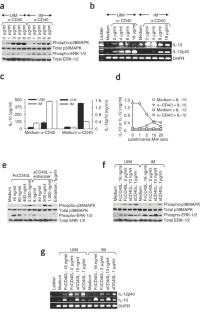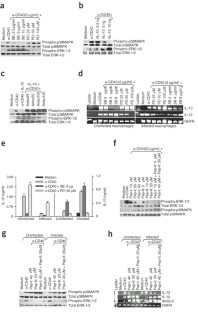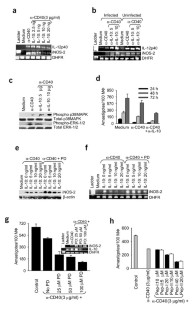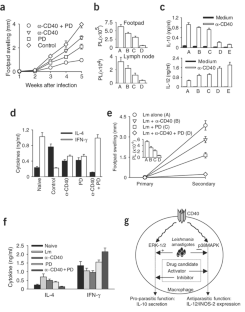 References
Grewal, I.S. & Flavell, R.A. CD40 and CD154 in cell-mediated immunity. Annu. Rev. Immunol. 16, 111–135 (1998).

Samten, B. et al. CD40 ligand trimer enhances the response of CD8+ T cells to Mycobacterium tuberculosis. J. Immunol. 170, 3180–3186 (2003).

Speirs, K., Caamano, J., Goldschmidt, M.H., Hunter, C.A. & Scott, P. NF-κB2 is required for optimal CD40-induced IL-12 production but dispensable for Th1 cell differentiation. J. Immunol. 168, 4406–4413 (2002).

Xu, D. et al. Protective effect on Leishmania major infection of migration inhibitory factor, TNF-α, and IFN-γ administered orally via attenuated Salmonella typhimurium. J. Immunol. 160, 1285–1289 (1998).

Kamanaka, M. et al. Protective role of CD40 in Leishmania major infection at two distinct phases of cell-mediated immunity. Immunity 4, 275–281 (1996).

Heinzel, F.P., Rerko, R.M. & Hujer, A.M. Underproduction of interleukin-12 in susceptible mice during progressive leishmaniasis is due to decreased CD40 activity. Cell. Immunol. 184, 129–142 (1998).

Foey, A.D., Feldmann, M. & Brennan, F.M. Route of monocyte differentiation determines their cytokine production profile: CD40 ligation induces interleukin 10 expression. Cytokine 12, 1496–1505 (2000).

Groux, H. et al. A transgenic model to analyze the immunoregulatory role of IL-10 secreted by antigen-presenting cells. J. Immunol. 162, 1723–1729 (1999).

Dong, C. & Flavell, R.A. Th1 and Th2 cells. Curr. Opin. Hematol. 8, 47–51 (2001).

Mosmann, T.R. & Moore, K.W. The role of IL-10 in cross-regulation of Th1 and Th2 responses. Immunol. Today 12, A49–A53 (1991).

Liew, F.Y. Functional heterogeneity of CD4+ T cells in leishmaniasis. Immunol. Today 10, 40–45 (1989).

Scott, P. Differentiation, regulation, and death of T helper cell subsets during infection with Leishmania major. Immunol. Res. 17, 229–238 (1998).

Reiner, S.L. & Locksley, R.M. The regulation of immunity to L. major. Annu. Rev. Immunol. 13, 151–177 (1995).

Cano, E. & Mahadevan, L.C. Parallel signal processing among mammalian MAPKs. Trends Biochem. Sci. 20, 117–122 (1995).

Clayton, A.L. & Mahadevan, L.C. MAP kinase-mediated phosphoacetylation of histone H3 and inducible gene regulation. FEBS Lett. 546, 51–58 (2003).

Feng, G.J. et al. Extracellular signal-related kinase (ERK) and p38 mitogen-activated protein (MAP) kinases differentially regulate the LPS-mediated induction of inducible nitric oxide synthase and IL-12 in macrophages: Leishmania phosphoglycans subvert macrophage IL-12 production by targeting ERK MAP kinase. J. Immunol. 163, 6403–6412 (1999).

Lu, H.-T. et al. Defective IL-12 production in mitogen-activated protein (MAP) kinase kinase 3 (Mkk3)-deficient mice. EMBO J. 18, 1845–1857 (1999).

Yi, A.K. et al. Role of mitogen-activated protein kinases in CpG DNA-mediated IL-10 and IL-12 production: central role of extracellular signal-regulated kinase in the negative feedback loop of the CpG DNA-mediated Th1 response. J. Immunol. 168, 4711–4720 (2002).

Awasthi, A. et al. CD40 signaling is impaired in L. major-infected macrophages and is rescued by a p38MAPK activator establishing a host-protective memory T cell response. J. Exp. Med. 197, 1037–1043 (2003).

Carrera, L. et al. Leishmania promastigotes selectively inhibit IL-12 induction in bone-marrow-derived macrophages from susceptible and resistant mice. J. Exp. Med. 183, 515–526 (1996).

Belkaid, Y., Butcher, B. & Sacks, D.L. Analysis of cytokine production by inflammatory mouse macrophages at the single-cell level: selective impairment of IL-12 induction in Leishmania-infected cells. Eur. J. Immunol. 28, 1389–1400 (1998).

Sutterwala, F.S., Noel, G.J., Clynes, R. & Mosser, D.M. Selective suppression of interleukin-12 induction after macrophage receptor ligation. J. Exp. Med. 185, 1977–1985 (1997).

Crawley, J.B. et al. T cell proliferation in response to interleukins 2 and 7 requires p38MAP kinase activation. J. Biol. Chem. 272, 15023–15027 (1997).

Watts, S.W. Serotonin activates the mitogen-activated protein kinase pathway in vascular smooth muscle: use of the mitogen-activated protein kinase kinase inhibitor PD098059. J. Pharmacol. Exp. Ther. 279, 1541–1550 (1996).

Belkaid, Y. et al. The role of interleukin (IL)-10 in the persistence of Leishmania major in the skin after healing and the therapeutic potential of IL-10-specific receptor antibody for sterile cure. J. Exp. Med. 194, 1497–1506 (2001).

Padigel, U.M., Alexander, J. & Farrell, J.P. The role of interleukin-10 in susceptibility of BALB/c mice to infection with Leishmania mexicana and Leishmania amazonensis. J. Immunol. 171, 3705–3710 (2003).

Krummel, M.F. & Allison, J.P. CD28 and CTLA-4 have opposing effects on the response of T cells to stimulation. J. Exp. Med. 182, 459–465 (1995).

Tachimoto, H. et al. Reciprocal regulation of cultured human mast cells cytokine production by IL-4 and IFN-γ. J. Allergy Clin. Immunol. 106, 141–149 (2000).

Park, S.J. et al. Opposite role of Ras in tumor necrosis factor-α-induced cell cycle regulation: competition for Raf kinase. Biochem. Biophys. Res. Commun. 287, 1140–1147 (2001).

Hermiston, M.L., Xu, Z. & Weiss, A. CD45: a critical regulator of signaling thresholds in immune cells. Annu. Rev. Immunol. 21, 107–137 (2003).
Acknowledgements
This work was supported by grants from the Department of Science and Technology, Department of Biotechnology, Indian Council of Medical Research, Council of Scientific and Industrial Research and Life Science Research Board, Government of India.
Ethics declarations
Competing interests
The authors declare no competing financial interests.
About this article
Cite this article
Mathur, R., Awasthi, A., Wadhone, P. et al. Reciprocal CD40 signals through p38MAPK and ERK-1/2 induce counteracting immune responses. Nat Med 10, 540–544 (2004). https://doi.org/10.1038/nm1045
Received:

Accepted:

Published:

Issue Date:

DOI: https://doi.org/10.1038/nm1045