Abstract
Skin is the most commonly affected organ in graft-versus-host disease (GVHD). To explore the role of Langerhans cells in GVHD, the principal dendritic cells of the skin, we studied the fate of these cells in mice transplanted with allogeneic bone marrow. In contrast to other dendritic cells, host Langerhans cells were replaced by donor Langerhans cells only when donor T cells were administered along with bone marrow, and the extent of Langerhans cell chimerism correlated with the dose of donor T cells injected. Donor T cells depleted host Langerhans cells through a Fas-dependent pathway and induced the production in skin of CCL20, which was required for the recruitment of donor Langerhans cells. Administration of donor T cells to bone marrow–chimeric mice with persistent host Langerhans cells, but not to mice whose Langerhans cells had been replaced, resulted in marked skin GVHD. These findings indicate a crucial role for donor T cells in host Langerhans cell replacement, and show that host dendritic cells can persist in nonlymphoid tissue for the duration of an animal's life and can trigger GVHD despite complete blood chimerism.
Relevant articles
Open Access articles citing this article.
Dagmar von Máriássy

,

Roland Reibke

…

Katja Anslinger

International Journal of Legal Medicine Open Access 03 June 2022

Huijie Jia

,

Tiesuo Zhao

…

Kailin Xu

Cell Death & Disease Open Access 01 December 2016

Sabrina Peters

,

Christian Junghanss

…

Sandra Lange

BMC Hematology Open Access 27 April 2016
Access options
Subscribe to this journal
Receive 12 print issues and online access
$189.00 per year
only $15.75 per issue
Rent or buy this article
Get just this article for as long as you need it
$39.95
Prices may be subject to local taxes which are calculated during checkout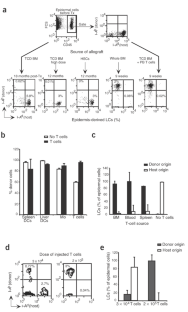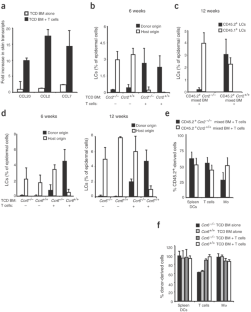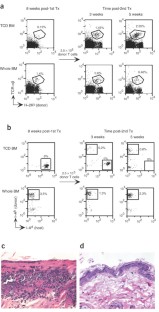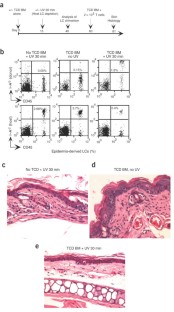 References
Teshima, T. & Ferrara, J.L. Understanding the alloresponse: new approaches to graft-versus-host disease prevention. Semin. Hematol. 39, 15–22 (2002).

Goker, H., Haznedaroglu, I.C. & Chao, N.J. Exp. Hematol. 29, 259–277 (2001).

Ferrara, J.L., Levy, R. & Chao, N.J. Pathophysiologic mechanisms of acute graft-vs.-host disease. Biol. Blood Marrow Transplant. 5, 347–356 (1999).

Ho, V.T. & Soiffer, R.J. The history and future of T-cell depletion as graft-versus-host disease prophylaxis for allogeneic hematopoietic stem cell transplantation. Blood 98, 3192–3204 (2001).

Shlomchik, W.D. et al. Prevention of graft versus host disease by inactivation of host antigen-presenting cells. Science 285, 412–415 (1999).

Zhang, Y., Louboutin, J.P., Zhu, J., Rivera, A.J. & Emerson, S.G. Preterminal host dendritic cells in irradiated mice prime CD8+ T cell-mediated acute graft-versus-host disease. J. Clin. Invest. 109, 1335–1344 (2002).

Katz, S.I. & Breathnach, S.M. Immunopathology of cutaneous graft-versus-host disease. Am. J. Dermatopathol. 9, 343–348 (1987).

Stingl, G., Tamaki, K. & Katz, S.I. Origin and function of epidermal Langerhans cells. Immunol. Rev. 53, 149–174 (1980).

Schuler, G. & Steinman, R.M. Murine epidermal Langerhans cells mature into potent immunostimulatory dendritic cells in vitro . J. Exp. Med. 161, 526–546 (1985).

Banchereau, J. et al. Immunobiology of dendritic cells. Annu. Rev. Immunol. 18, 767–811 (2000).

Merad, M. et al. Langerhans cells renew in the skin throughout life under steady-state conditions. Nat. Immunol. 3, 1135–1141 (2002).

Zeng, D. et al. Bone marrow NK1.1− and NK1.1+ T cells reciprocally regulate acute graft versus host disease. J. Exp. Med. 189, 1073–1081 (1999).

Caux, C. et al. Dendritic cell biology and regulation of dendritic cell trafficking by chemokines. Springer Semin. Immunopathol. 22, 345–369 (2000).

Homey, B. et al. Up-regulation of macrophage inflammatory protein-3 α/CCL20 and CC chemokine receptor 6 in psoriasis. J. Immunol. 164, 6621–6632 (2000).

Katz, S.I., Tamaki, K. & Sachs, D.H. Epidermal Langerhans cells are derived from cells originating in bone marrow. Nature 282, 324–326 (1979).

Frelinger, J.G., Hood, L., Hill, S. & Frelinger, J.A. Mouse epidermal Ia molecules have a bone marrow origin. Nature 282, 321–323 (1979).

Emile, J.F. et al. Detection of donor-derived Langerhans cells in MHC class II immunodeficient patients after allogeneic bone marrow transplantation. Br. J. Haematol. 98, 480–484 (1997).

Cook, D.N. et al. CCR6 mediates dendritic cell localization, lymphocyte homeostasis, and immune responses in mucosal tissue. Immunity 12, 495–503 (2000).

Okada, T. et al. Chemokine requirements for B cell entry to lymph nodes and Peyer's patches. J. Exp. Med. 196, 65–75 (2002).

Pugh, C.W., MacPherson, G.G. & Steer, H.W. Characterization of nonlymphoid cells derived from rat peripheral lymph. J. Exp. Med. 157, 1758–1779 (1983).

Huang, F.P. et al. A discrete subpopulation of dendritic cells transports apoptotic intestinal epithelial cells to T cell areas of mesenteric lymph nodes. J. Exp. Med. 191, 435–444 (2000).

Liu, K. et al. Immune tolerance after delivery of dying cells to dendritic cells in situ. J. Exp. Med. 196, 1091–1097 (2002).

Scheinecker, C., McHugh, R., Shevach, E.M. & Germain, R.N. Constitutive presentation of a natural tissue autoantigen exclusively by dendritic cells in the draining lymph node. J. Exp. Med. 196, 1079–1090 (2002).

Belz, G.T. et al. The CD8α+ dendritic cell is responsible for inducing peripheral self-tolerance to tissue-associated antigens. J. Exp. Med. 196, 1099–1104 (2002).

Drexhage, H.A., Mullink, H., de Groot, J., Clarke, J. & Balfour, B.M. A study of cells present in peripheral lymph of pigs with special reference to a type of cell resembling the Langerhans cell. Cell Tissue Res. 202, 407–430 (1979).

Kelly, R.H., Balfour, B.M., Armstrong, J.A. & Griffiths, S. Functional anatomy of lymph nodes. II. Peripheral lymph-borne mononuclear cells. Anat. Rec. 190, 5–21 (1978).

Hemmi, H. et al. Skin antigens in the steady state are trafficked to regional lymph nodes by transforming growth factor-β1-dependent cells. Int. Immunol. 13, 695–704 (2001).

Zhang, Y. et al. APCs in the liver and spleen recruit activated allogeneic CD8+ T cells to elicit hepatic graft-versus-host disease. J. Immunol. 169, 7111–7118 (2002).

Teshima, T. et al. Acute graft-versus-host disease does not require alloantigen expression on host epithelium. Nat. Med. 6, 575–581 (2002).

Vogelsang, G.B. How I treat chronic graft-versus-host disease. Blood 97, 1196–1201 (2001).

Perreault, C. et al. Persistence of host Langerhans cells following allogeneic bone marrow transplantation: possible relationship with acute graft-versus-host disease. Br. J. Haematol. 60, 253–260 (1985).

Takahashi, T. et al. Generalized lymphoproliferative disease in mice, caused by a point mutation in the Fas ligand. Cell 76, 969–976 (1994).

Kagi, D. et al. Cytotoxicity mediated by T cells and natural killer cells is greatly impaired in perforin-deficient mice. Nature 369, 31–37 (1994).

Boring, L. et al. Impaired monocyte migration and reduced type 1 (Th1) cytokine responses in C-C chemokine receptor 2 knockout mice. J. Clin. Invest. 100, 2552–2561 (1997).

Kondo, M., Weissman, I.L. & Akashi, K. Identification of clonogenic common lymphoid progenitors in mouse bone marrow. Cell 91, 661–672 (1997).

Zeng, D., Dejbakhsh-Jones, S. & Strober, S. Granulocyte colony-stimulating factor reduces the capacity of blood mononuclear cells to induce graft-versus-host disease: impact on blood progenitor cell transplantation. Blood 90, 453–463 (1997).

Cvetovic-Cvrlje, M., Roers, B.A., Waurzyniak, B., Liu, X. & Uckun, F. Targeting janus kinase 3 to attenuate the severity of acute graft versus host disease across the major histocompatibility barrier in mice. Blood 98, 1607–1613 (2001).
Acknowledgements
E.G.E. was funded by grant HL57443 from the National Institutes of Health (National Heart, Lung and Blood Institute). S.A.L. is an Irene Diamond Associate Professor in Immunology.
Ethics declarations
Competing interests
The authors declare no competing financial interests.
Supplementary information
About this article
Cite this article
Merad, M., Hoffmann, P., Ranheim, E. et al. Depletion of host Langerhans cells before transplantation of donor alloreactive T cells prevents skin graft-versus-host disease. Nat Med 10, 510–517 (2004). https://doi.org/10.1038/nm1038
Received:

Accepted:

Published:

Issue Date:

DOI: https://doi.org/10.1038/nm1038