Many individuals with chronic myeloid leukemia have benefited from the drug imatinib (Gleevec)—but if they are taken off the drug, relapse occurs. Two mathematical models to explain this phenomenon, one described in this issue, have come to different conclusions (1181–1184).
Access options
Subscribe to Journal
Get full journal access for 1 year
$79.00
only $6.58 per issue
All prices are NET prices.
VAT will be added later in the checkout.
Tax calculation will be finalised during checkout.
Buy article
Get time limited or full article access on ReadCube.
$32.00
All prices are NET prices.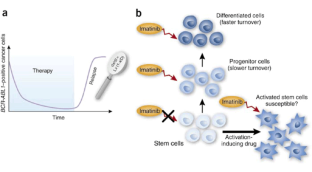 References
Smith, J.K., Mamoon, N.M. & Duhe, R.J. Oncol. Res. 14, 175–225 (2004).

Druker, B.J. Adv. Cancer Res. 91, 1–30 (2004).

Gorre, M.E. et al. Science 293, 876–880 (2001).

Cortes, J., O'Brien, S. & Kantarjian, H. Blood 104, 2204–2205 (2004).

Higashi, T. et al. Am. J. Hematol. 76, 275–278 (2004).

Michor, F. et al. Nature 435, 1267–1270 (2005).

Roeder, I. et al. Nat. Med. 12, 1181–1184 (2006).

Melo, J.V., Hughes, T.P. & Apperley, J.F. Hematology Am. Soc. Hematol. Educ. Program 2003, 132–152 (2003).

Wodarz, D. & Komarova, N.L. Computational Biology of Cancer: Lecture Notes and Mathematical Modeling (World Scientific Publishing, Singapore, 2005).

Graham, S.M. et al. Blood 99, 319–325 (2002).

Jorgensen, H.G. et al. Clin. Cancer Res. 12, 626–633 (2006).

Komarova, N.L. & Wodarz, D. Proc. Natl. Acad. Sci. USA 102, 9714–9719 (2005).
About this article
Cite this article
Wodarz, D. Targeted cancer treatment: resisting arrest. Nat Med 12, 1125–1126 (2006). https://doi.org/10.1038/nm1006-1125
Issue Date:

DOI: https://doi.org/10.1038/nm1006-1125