Genetic approaches in animal models have recently led to new ways of thinking about inherited neuropsychiatric disorders. Many such disorders were thought to originate during early development, but newer findings have suggested that processes in the adult nervous system also contribute. Dan Ehninger and Alcino J. Silva outline how such events in the adult may be amenable to therapy, including some approaches in clinical trials. In Bedside to Bench, Petrus de Vries questions the utility of genome-wide association studies for autism spectrum disorders and other neuropsychiatric conditions.
Access options
Subscribe to Journal
Get full journal access for 1 year
$225.00
only $18.75 per issue
All prices are NET prices.
VAT will be added later in the checkout.
Rent or Buy article
Get time limited or full article access on ReadCube.
from$8.99
All prices are NET prices.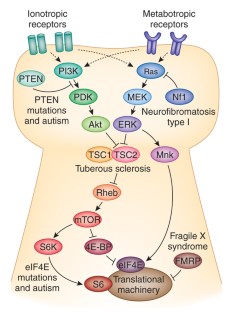 References
1

Ehninger, D., Li, W., Fox, K., Stryker, M.P. & Silva, A.J. Neuron 60, 950–960 (2008).

2

Bear, M.F., Huber, K.M. & Warren, S.T. Trends Neurosci. 27, 370–377 (2004).

3

Dölen, G. et al. Neuron 56, 955–962 (2007).

4

Yan, Q.J., Rammal, M., Tranfaglia, M. & Bauchwitz, R.P. Neuropharmacology 49, 1053–1066 (2005).

5

de Vrij, F.M. et al. Neurobiol. Dis. 31, 127–132 (2008).

6

McBride, S.M. et al. Neuron 45, 753–764 (2005).

7

Bolduc, F.V., Bell, K., Cox, H., Broadie, K.S. & Tully, T. Nat. Neurosci. 11, 1143–1145 (2008).

8

Ehninger, D. et al. Nat. Med. 14, 843–848 (2008).

9

Berry-Kravis, E. et al. J. Dev. Behav. Pediatr. 29, 293–302 (2008).

10

Berry-Kravis, E. et al. J. Med. Genet. 46, 266–271 (2009).

11

Li, W. et al. Curr. Biol. 15, 1961–1967 (2005).

12

Krab, L.C. et al. J. Am. Med. Assoc. 300, 287–294 (2008).
About this article
Cite this article
Ehninger, D., Silva, A. Genetics and neuropsychiatric disorders: Treatment during adulthood. Nat Med 15, 849–850 (2009). https://doi.org/10.1038/nm0809-849