Rosacea is a common skin disorder marked by chronic inflammation and vascular abnormalities. Two new features of the skin lesions have been identified: elevated levels of cathelicidin antimicrobial peptides and of a related serine protease. These molecules of innate immunity may represent key elements of pathogenesis, as well as new targets for effective therapies (pages 975–981).
This is a preview of subscription content
Access options
Subscribe to Journal
Get full journal access for 1 year
$59.00
only $4.92 per issue
All prices are NET prices.
VAT will be added later in the checkout.
Tax calculation will be finalised during checkout.
Buy article
Get time limited or full article access on ReadCube.
$32.00
All prices are NET prices.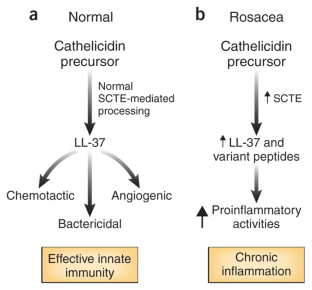 References
Buechner, S.A. Dermatology 210, 100–108 (2005).

Crawford, G.H., Pelle, M.T. & James, W.D. J. Am. Acad. Dermatol. 51, 327–341 (2004).

Neumann, E. & Frithz, A. Int. J. Dermatol. 37, 263–266 (1998).

Fredricks, D.N. J. Investig. Dermatol. Symp. Proc. 6, 167–169 (2001).

Yamasaki, K. et al. Nat. Med. 13, 975–981 (2007).

Nizet, V. et al. Nature 414, 454–457 (2001).

Zanetti, M. Curr. Issues Mol. Biol. 7, 179–196 (2005).

Ong, P.Y. et al. N. Engl. J. Med. 347, 1151–1160 (2002).

Chung, W.O., Hansen, S.R., Rao, D. & Dale, B.A. J. Immunol. 173, 5165–5170 (2004).

Asokananthan, N. et al. J. Immunol. 169, 4572–4578 (2002).

Brown, A. et al. Am. J. Respir. Cell Mol. Biol. 29, 381–389 (2003).

Koczulla, R. et al. J. Clin. Invest. 111, 1665–1672 (2003).

Acharya, M.R., Venitz, J., Figg, W.D. & Sparreboom, A. Drug Resist. Updat. 7, 195–208 (2004).
Ethics declarations
Competing interests
The authors declare no competing financial interests.
About this article
Cite this article
Bevins, C., Liu, FT. Rosacea: skin innate immunity gone awry?. Nat Med 13, 904–906 (2007). https://doi.org/10.1038/nm0807-904
Issue Date:

DOI: https://doi.org/10.1038/nm0807-904