Staphylococcal pneumonia is associated with a huge influx of inflammatory cells into the lungs. A major trigger for this event is now revealed. Protein A, a bacterial surface protein, binds the receptor for TNFα, a prominent activator of the innate immune system (pages 842–848).
Access options
Subscribe to Journal
Get full journal access for 1 year
$225.00
only $18.75 per issue
All prices are NET prices.
VAT will be added later in the checkout.
Rent or Buy article
Get time limited or full article access on ReadCube.
from$8.99
All prices are NET prices.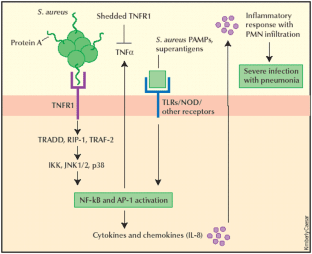 References
1

Cole, A.M. et al. Clin. Diagn. Lab. Immunol. 8, 1064–1069 (2001).

2

Stefani, S. & Varaldo, P.E. Clin. Microbiol. Infect. 9, 1179–1186 (2003).

3

Gomez, M. et al. Nat. Med. 10, 842–848 (2004).

4

Hertz, C.J. et al. J. Immunol. 171, 6820–6826 (2003).

5

Gao, J.-L., Lee, E.J. & Murphy, P.M. J. Exp. Med. 189, 657–662 (1999).

6

Papageorgiou, A.C. et al. EMBO J. 18, 9–21 (1999).

7

Graille, M. et al. Proc. Natl. Acad. Sci USA 97, 5399–5404 (2000).

8

Skerrett, S.J., Liggitt, H.D., Hajjar, A.M. & Wilson, C.B. J. Immunol. 172, 3377–3381 (2004).

9

Herwald, H. et al. Cell 116, 367–379 (2004).

10

Banno, T., Gazel, A. & Blumenberg, M. J. Biol. Chem. published online, 15 May 2004 (doi: 10.1074/jbc.M400642200.)
About this article
Cite this article
Normark, B., Normark, S. & Norrby-Teglund, A. Staphylococcal protein A inflames the lungs. Nat Med 10, 780–781 (2004). https://doi.org/10.1038/nm0804-780
Further reading
S. N. Al-Bahry

,

I. Y. Mahmoud

,

S. K. Al-Musharafi

&

N. Sivakumar

International Journal of Chemical Engineering and Applications (2014)