RNA interference in the brain inhibits neurodegeneration in a polyglutamine disease, SCA1. Is this now the way forward for the clinical treatment of certain genetic disorders (pages 816–820)?
Access options
Subscribe to Journal
Get full journal access for 1 year
$99.00
only $8.25 per issue
All prices are NET prices.
VAT will be added later in the checkout.
Tax calculation will be finalised during checkout.
Buy article
Get time limited or full article access on ReadCube.
$32.00
All prices are NET prices.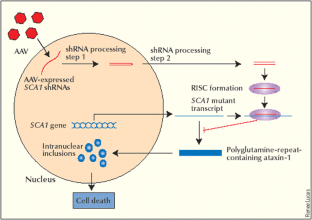 References
Elbashir, S.M. et al. Nature 411, 494–498 (2001).

Caplen, N.J., Parrish, S., Imani, F., Fire, A. & Morgan, R.A. Proc. Natl. Acad. Sci. USA 98, 9742–9747 (2001).

Xia, H. et al. Nat. Med. 8, 816–820 (2004).

Schols, L., Bauer, P., Schmidt, T., Schulte, T. & Riess, O. Lancet Neurol 3, 291–304 (2004).

Taylor, J.P., Hardy, J. & Fischbeck, K.H. Science 296, 1991–1995 (2002).

Paulson, H. Nat. Med. 9, 825–826 (2003).

Caplen, N.J. Gene Ther. 11, in the press (2004).

Dykxhoorn, D.M., Novina, C.D. & Sharp, P.A. Nat. Rev. Mol. Cell. Biol. 4, 457–467 (2003).

Flotte, T. Gene Ther. 11, 805–810 (2004).

Howard, K. Nat. Biotechnol. 21, 1117–1118 (2003).
About this article
Cite this article
Caplen, N. RNAi quashes polyQ. Nat Med 10, 775–776 (2004). https://doi.org/10.1038/nm0804-775
Issue Date:

DOI: https://doi.org/10.1038/nm0804-775