From the identification of HIV as the agent that causes AIDS, to the development of effective antiretroviral drugs, the scientific achievements in HIV research in the past 20 years have been formidable. Some of the other important areas of accomplishment include the development of blood tests for HIV and increased knowledge of the molecular virology, epidemiology and pathogenesis of this virus.
Access options
Access options
Subscribe to Journal
Get full journal access for 1 year
$225.00
only $18.75 per issue
All prices are NET prices.
VAT will be added later in the checkout.
Rent or Buy article
Get time limited or full article access on ReadCube.
from$8.99
All prices are NET prices.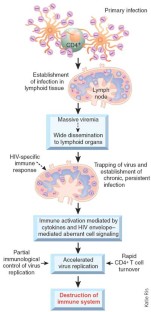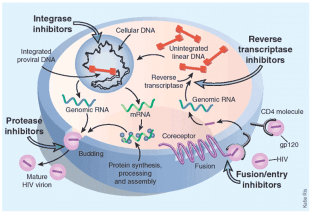 References
1

Fauci, A.S. The AIDS epidemic—considerations for the 21st century. N. Engl. J. Med. 341, 1046–1050 (1999).

2

Kaposi's sarcoma and pneumocystis pneumonia among homosexual men—New York City and California. Morb. Mortal. Wkly. Rep. 30, 305–308 (1981).

3

Pneumocystis pneumonia—Los Angeles. Morb. Mort. Wkly. Rep. 30, 250–252 (1981).

4

Joint United Nations Programme on HIV/AIDS (UNAIDS). AIDS epidemic update <http://www.unaids.org/worldaidsday/2002/press/Epiupdate.html>(UNAIDS, Geneva, 2002).

5

Fauci, A.S. The human immunodeficiency virus: infectivity and mechanisms of pathogenesis. Science 239, 617–622 (1988).

6

Fauci, A.S. Host factors and the pathogenesis of HIV-induced disease. Nature 384, 529–534 (1996).

7

Greene, W.C. & Peterlin, B.M. Charting HIV's remarkable voyage through the cell: basic science as a passport to future therapy. Nat. Med. 8, 673–680 (2002).

8

Rowland-Jones, S.L. Timeline: AIDS pathogenesis: what have two decades of HIV research taught us? Nat. Rev. Immunol. 3, 343–348 (2003).

9

Gallo, R.C. Historical essay. The early years of HIV/AIDS. Science 298, 1728–1730 (2002).

10

Montagnier, L. Historical essay. A history of HIV discovery. Science 298, 1727–1728 (2002).

11

Gottlieb, M.S. et al. Pneumocystis carinii pneumonia and mucosal candidiasis in previously healthy homosexual men: evidence of a new acquired cellular immunodeficiency. N. Engl. J. Med. 305, 1425–1431 (1981).

12

Masur, H. et al. An outbreak of community-acquired pneumocystis carinii pneumonia: initial manifestation of cellular immune dysfunction. N. Engl. J. Med. 305, 1431–1438 (1981).

13

Francis, D.P., Curran, J.W. & Essex, M. Epidemic acquired immune deficiency syndrome: epidemiologic evidence for a transmissible agent. J. Natl. Cancer Inst. 71, 1–4 (1983).

14

Varmus, H. Retroviruses. Science 240, 1427–1435 (1988).

15

Barre-Sinoussi, F. et al. Isolation of a T-lymphotropic retrovirus from a patient at risk for acquired immune deficiency syndrome (AIDS). Science 220, 868–871 (1983).

16

Levy, J.A. et al. Isolation of lymphocytopathic retroviruses from San Francisco patients with AIDS. Science 225, 840–842 (1984).

17

Raju, T.N. The Nobel chronicles. 1975: Renato Dulbecco (b 1914), David Baltimore (b 1938), and Howard Martin Temin (1934–94). Lancet 354, 1308 (1999).

18

Morgan, D.A., Ruscetti, F.W. & Gallo, R. Selective in vitro growth of T lymphocytes from normal human bone marrows. Science 193, 1007–1008 (1976).

19

Smith, T.F., Srinivasan, A., Schochetman, G., Marcus, M. & Myers, G. The phylogenetic history of immunodeficiency viruses. Nature 333, 573–575 (1988).

20

Osmanov, S., Pattou, C., Walker, N., Schwardlander, B. & Esparza, J. Estimated global distribution and regional spread of HIV-1 genetic subtypes in the year 2000. J. Acquired Immune Defic. Syndr. 29, 184–190 (2002).

21

Clavel, F. et al. Isolation of a new human retrovirus from West African patients with AIDS. Science 233, 343–346 (1986).

22

Gao, F. et al. Origin of HIV-1 in the chimpanzee Pan troglodytes troglodytes. Nature 397, 436–441 (1999).

23

Sarngadharan, M.G., Popovic, M., Bruch, L., Schupbach, J. & Gallo, R.C. Antibodies reactive with human T-lymphotropic retroviruses (HTLV-III) in the serum of patients with AIDS. Science 224, 506–508 (1984).

24

Perkins, H.A. Safety of the blood supply. J. Clin. Apheresis 8, 110–116 (1993).

25

Joint United Nations Programme on HIV/AIDS (UNAIDS). Report on the Global HIV/AIDS Epidemic <http://www.unaids.org/epidemic_update/report_july02/index.html> (UNAIDS, Geneva, 2002).

26

Lemp, G.F., Payne, S.F., Neal, D., Temelso, T. & Rutherford, G.W. Survival trends for patients with AIDS. J. Am. Med. Assoc. 263, 402–406 (1990).

27

Fauci, A.S. Multifactorial nature of human immunodeficiency virus disease: implications for therapy. Science 262, 1011–1018 (1993).

28

Kinter, A., Arthos, J., Cicala, C. & Fauci, A.S. Chemokines, cytokines and HIV: a complex network of interactions that influence HIV pathogenesis. Immunol. Rev. 177, 88–98 (2000).

29

Dalgleish, A.G. et al. The CD4 (T4) antigen is an essential component of the receptor for the AIDS retrovirus. Nature 312, 763–767 (1984).

30

Klatzmann, D. et al. T-lymphocyte T4 molecule behaves as the receptor for human retrovirus LAV. Nature 312, 767–768 (1984).

31

D'Souza, M.P. & Harden, V.A. Chemokines and HIV-1 second receptors. Confluence of two fields generates optimism in AIDS research. Nat. Med. 2, 1293–1300 (1996).

32

O'Brien, S.J. & Moore, J.P. The effect of genetic variation in chemokines and their receptors on HIV transmission and progression to AIDS. Immunol. Rev. 177, 99–111 (2000).

33

Embretson, J. et al. Massive covert infection of helper T lymphocytes and macrophages by HIV during the incubation period of AIDS. Nature 362, 359–362 (1993).

34

Pantaleo, G. et al. HIV infection is active and progressive in lymphoid tissue during the clinically latent stage of disease. Nature 362, 355–358 (1993).

35

Piatak, M. Jr. et al. High levels of HIV-1 in plasma during all stages of infection determined by competitive PCR. Science 259, 1749–1754 (1993).

36

Dybul, M., Fauci, A.S., Bartlett, J.G., Kaplan, J.E. & Pau, A.K. Guidelines for using antiretroviral agents among HIV-infected adults and adolescents. Recommendations of the Panel on Clinical Practices for Treatment of HIV. MMWR Recomm. Rep. 51, 1–55 (2002).

37

Ho, D.D. et al. Rapid turnover of plasma virions and CD4 lymphocytes in HIV-1 infection. Nature 373, 123–126 (1995).

38

Wei, X. et al. Viral dynamics in human immunodeficiency virus type 1 infection. Nature 373, 117–122 (1995).

39

Mellors, J.W. et al. Quantitation of HIV-1 RNA in plasma predicts outcome after seroconversion. Ann. Intern. Med. 122, 573–579 (1995).

40

Blankson, J.N., Persaud, D. & Siliciano, R.F. The challenge of viral reservoirs in HIV-1 infection. Annu. Rev. Med. 53, 557–593 (2002).

41

Chun, T.W. & Fauci, A.S. Latent reservoirs of HIV: obstacles to the eradication of virus. Proc. Natl. Acad. Sci. USA 96, 10958–10961 (1999).

42

Haynes, B.F., Pantaleo, G. & Fauci, A.S. Toward an understanding of the correlates of protective immunity to HIV infection. Science 271, 324–328 (1996).

43

McLeod, G.X. & Hammer, S.M. Zidovudine: five years later. Ann. Intern. Med. 117, 487–501 (1992).

44

Gulick, R.M. New antiretroviral drugs. Clin. Microbiol. Infect. 9, 186–193 (2003).

45

Flexner, C. HIV-protease inhibitors. N. Engl. J. Med. 338, 1281–1292 (1998).

46

Burton, A. Enfuvirtide approved for defusing HIV. Lancet Infect. Dis. 3, 260 (2003).

47

Nabel, G.J. Challenges and opportunities for development of an AIDS vaccine. Nature 410, 1002–1007 (2001).

48

Goulder, P.J. & Walker, B.D. HIV-1 superinfection—a word of caution. N. Engl. J. Med. 347, 756–758 (2002).
Acknowledgements
I thank G. Folkers for help with preparing the manuscript and H.C. Lane for critically reading the manuscript.