Breast cancer patients who respond to tamoxifen and other estrogen-antagonizing drugs can succumb to disease when cancer growth becomes independent of the hormone. One protein, Efp, that might have a role in estrogen independence has now been linked to proteolytic events in the cell cycle.
Access options
Access options
Subscribe to Journal
Get full journal access for 1 year
$225.00
only $18.75 per issue
All prices are NET prices.
VAT will be added later in the checkout.
Rent or Buy article
Get time limited or full article access on ReadCube.
from$8.99
All prices are NET prices.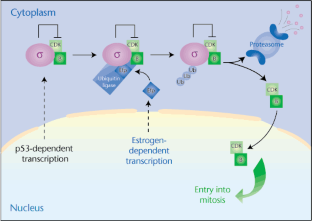 References
1

Urano, T. et al. Estrogen-responsive RING finger protein efp targets 13-3-3σ ubiquitination and promotes tumor growth of breast cancer. Nature 417, 871–875 (2002).

2

The ubiquitin system. Hershko, A. & Ciechanover, A. Annu. Rev. Biochem. 67, 425–479 (1998).

3

Koepp, D.M., Harper, J.W. & Elledge, S.J. How the cyclin became a cyclin: Regulated proteolysis in the cell cycle. Cell 97, 431–434 (1999).

4

Joazeiro, C.A. & Weissman, A.M. . RING finger proteins: Mediators of ubiquitin ligase activity. Cell 102, 549–552 (2000).

5

Jackson, P.K., Eldridge, A.G., Freed, E, Furstenthal L., Hsu, J.Y., Kaiser. B.K., & Reimann, J.D. The lore of the RINGs: Substrate recognition and catalysis by ubiquitin ligases. Trends Cell. Biol. 10, 429–439 (2000).

6

McKenna, N.J. & O'Malley, B.W. An issue of tissues: Divining the split personalities of selective estrogen receptor modulators. Nature Med. 6, 960–962 (2000).

7

Hermeking H. et al. 14-3-3σ is a p53-regulated inhibitor of G2/M progression. Mol. Cell 1, 3–11 (1997).

8

Chan, T.A., et al. 14-3-3σ is required to prevent mitotic catastrophe after DNA damage. Nature 401, 616–620 (1999).

9

Gasco, M. et al. Coincident inactivation of 14-3-3σ and p16INK4a is an early event in vulval squamous neoplasia. Oncogene 21, 1876–1881 (2002).

10

Gasco, M. et al. Epigenetic inactivation of 14-3-3σ in oral carcinoma: Association with p16(INK4a) silencing and human papillomavirus negativity. Cancer Res. 62, 2072–2076 (2002).

11

Ikeda, K., Orimo, A., Higashi, Y., Muramatsu, M. & Inoue, S. Efp as a primary estrogen-responsive gene in human breast cancer. FEBS Lett. 472, 9–13 (2000).

12

Thomson, S.D. et al. Analysis of estrogen-responsive finger protein expression in benign and malignant human breast. Int. J. Cancer 91, 152–158 (2001).

13

Hondermarck, H. et al. Proteomics of breast cancer for marker discovery and signal pathway profiling. Proteomics 1, 1216–1232 (2001).

14

Chan, T.A., Hwang P.M., Hermeking H., Kinzler K.W. & Vogelstein B. Cooperative effects of genes controlling the G(2)/M checkpoint. Genes Dev. 14, 1584–1588 (2000).
Further reading
Logan A. Walsh

,

Mariano J. Alvarez

,

Erich Y. Sabio

,

Marsha Reyngold

,

Vladimir Makarov

,

Suranjit Mukherjee

,

Ken-Wing Lee

,

Alexis Desrichard

,

Şevin Turcan

,

Martin G. Dalin

,

Vinagolu K. Rajasekhar

,

Shuibing Chen

,

Linda T. Vahdat

,

Andrea Califano

&

Timothy A. Chan

Cell Reports (2017)

Ying Qin

,

He Cui

&

Hua Zhang

Technology in Cancer Research & Treatment (2016)

Paulette Mhawech

,

Vincent Greloz

,

Mounia Assaly

&

Francois Herrmann

Pathology International (2005)