Antiobesity medications have a weighty history in the US. Throughout the post-war era, amphetamines were widely touted for their appetite-suppressing effects until their addictive potential prompted the US Food and Drug Administration (FDA) to ban their use as a weight-loss aid in 1979. The mid-1990s then saw the surge in popularity of fen-phen—a combination of the two anorectics, fenfluramine and phentermine—before that diet pill, too, was pulled from the market due to concerns over serious heart valve problems. More recent attempts haven't fared much better: Meridia, Acomplia and Ephedra all had to be yanked from pharmacy shelves owing to spotty safety records.
Will the latest obesity remedies—Lorqess (lorcaserin) and Qnexa (a combination of phentermine and topiramate)—stand the test of time? In 2010, the FDA, worried about dangerous side effects, rejected both agents. But in February, FDA advisors reviewed new data and recommended granting market approval to Qnexa, a drug from Mountain View, California–based Vivus that combines an appetite suppressant and an antiepileptic, as an obesity treatment. And last month, the same committee ruled in favor of licensing Lorqess, a serotonin receptor agonist from San Diego–based Arena Pharmaceuticals.
If the FDA follows its panel's advice—decisions are expected before mid-July—these drugs would be the first new prescription antiobesity pills to reach the US market in 13 years. Here we give the skinny on the recent checkered past of weight-loss drugs.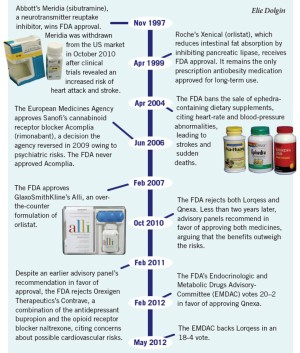 About this article
Cite this article
Dolgin, E. A history of drugs on the weight list. Nat Med 18, 843 (2012). https://doi.org/10.1038/nm0612-843