Being in constant contact with the environment, the lung has evolved special mechanisms for resisting infections such as influenza. A newly discovered mechanism assures that influenza-specific T cells do not enter the general circulation. Instead, they recirculate between the draining lymph node and the respiratory mucosa—so remaining close to the site of infection.
Access options
Subscribe to Journal
Get full journal access for 1 year
$79.00
only $6.58 per issue
All prices are NET prices.
VAT will be added later in the checkout.
Tax calculation will be finalised during checkout.
Buy article
Get time limited or full article access on ReadCube.
$32.00
All prices are NET prices.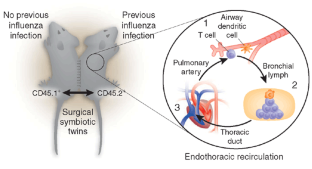 References
Mizgerd, J.P. PLoS Med. 3, e76 (2006).

Zammit, D.J., Turner, D.L., Klonowski, K.D., Lefrancois, L. & Cauley, L.S. Immunity 24, 439–449 (2006).

Vermaelen, K.Y., Carro-Muino, I., Lambrecht, B.N. & Pauwels, R.A. J. Exp. Med. 193, 51–60 (2001).

Kohlmeier, J.E. & Woodland, D.L. Curr. Opin. Immunol. 18, 357–362 (2006).

Lawrence, C.W. & Braciale, T.J. J. Immunol. 173, 1209–1218 (2004).

Cannon, M.J., Openshaw, P.J.M. & Askonas, B.A. J. Exp. Med. 168, 1163–1168 (1988).

Julia, V. et al. Immunity 16, 271–283 (2002).

Klenerman, P., Hengartner, H. & Zinkernagel, R.M. Nature 390, 298–301 (1997).

Sykulev, Y., Joo, M., Vturina, I., Tsomides, T.J. & Eisen, H.N. Immunity 4, 565–571 (1996).

Chen, H.D. et al. Nat. Immunol. 2, 1067–1076 (2001).
About this article
Cite this article
Openshaw, P. T cells take the inside track. Nat Med 12, 614–615 (2006). https://doi.org/10.1038/nm0606-614
Issue Date:

DOI: https://doi.org/10.1038/nm0606-614