Allergens stimulate lymphocytes to become factories for secreted proteins that cause organ dysfunction in allergic diseases. Allergens are now shown to target dendritic cells, the cells responsible for processing and presenting antigens to T cells (pages 565–573).
Access options
Subscribe to Journal
Get full journal access for 1 year
$79.00
only $6.58 per issue
All prices are NET prices.
VAT will be added later in the checkout.
Tax calculation will be finalised during checkout.
Buy article
Get time limited or full article access on ReadCube.
$32.00
All prices are NET prices.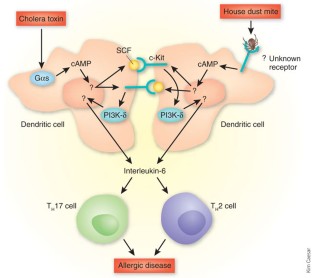 References
Hellings, P.W. et al. Am. J. Respir. Cell Mol. Biol. 28, 42–50 (2003).

Ansel, K.M., Djuretic, I., Tanasa, B. & Rao, A. Annu. Rev. Immunol. 24, 607–656 (2006).

Bettelli, E. et al. Nature 441, 235–238 (2006).

Krishnamoorthy, N. et al. Nat. Med. 14, 565–573 (2008).

Medzhitov, R. Nature 449, 819–826 (2007).

Marinaro, M. et al. J. Immunol. 155, 4621–4629 (1995).

Chen, C.L. et al. J. Immunol. 170, 528–536 (2003).

Veldhoen, M., Hocking, R.J., Atkins, C.J., Locksley, R.M. & Stockinger, B. Immunity 24, 179–189 (2006).

Rincon, M., Anguita, J., Nakamura, T., Fikrig, E. & Flavell, R.A. J. Exp. Med. 185, 461–469 (1997).

Yu, M. et al. J. Clin. Invest. 116, 1633–1641 (2006).

Reese, T.A. et al. Nature 447, 92–96 (2007).
About this article
Cite this article
Sheppard, D. Dust mites' dirty dealings with dendritic cells. Nat Med 14, 487–488 (2008). https://doi.org/10.1038/nm0508-487
Issue Date:

DOI: https://doi.org/10.1038/nm0508-487
This article is cited by
Nature Reviews Immunology (2008)